As we enter 2022 it is an honour and a privilege to be Chair of the RTPI North East. With the past two years having been dominated by the global pandemic and the numerous challenges that it has presented for us all on both a personal and professional level, it genuinely feels like there is growing optimism for the year ahead with the majority of people having now adapted to a new normal in terms of employment, socialising, recreation and the way we live our lives.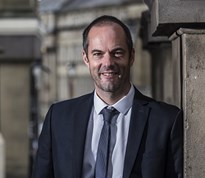 It is essential that planning remains at the forefront of economic recovery, both in the North East and nationally, and as a collective of planning professionals across the region we should applaud ourselves and be proud of the significant role that we have already played in ensuring continuity of the planning system throughout difficult and wholly unexpected circumstances. However, the role of the planning system has never been more important than it is right now as the region, and the country as a whole, looks to cement the recent steps towards economic bounce back.
As the Chair for 2022 my priority is to tackle the design agenda so that we can all better understand and work towards achieving the Government's ambition of delivering beautiful buildings and beautiful places that was emphasised so strongly in last year's update to the NPPF. To that end we will be hosting a number of design focussed events throughout the year including workshops, seminars, engagement sessions with developers and Local Authorities, and reaching out to those heavily involved in the design process such as architects, landscape designers, engineers and many others. In recognising that the planning profession is multi-disciplinary covering an ever increasing range of technical specialisms however, our programme of CPD events for the coming year will also seek to equip professionals with the skills and confidence to tackle the numerous challenges presented by the planning system and its role in supporting recovery from the Covid pandemic.
There is also a need to promote the benefits of membership of the RTPI to planners working in Local Government where there is a significant under-representation in the region. We are seeking to engage with Local Authorities to ensure that the profession is represented at a senior level and to continue championing the role of Chief Planning Officer as an executive role. We will also be launching a Local Authority Outreach Project aimed at breaking down barriers between the public and private sectors across the region to ensure that as professionals we are collectively pulling in the same direction and working towards the same objectives.
These are just some of the aims for the year ahead and there will undoubtedly be other challenges that present themselves along the way. I hope to see many of you (virtually and in person) over the course of the coming year at some of our events.
Mark Ketley BA (Hons), Dip TP, MRTPI
RTPI North East Chair 2022
Joe Nugent - Chair's Introduction - January 2021

I am excited and optimistic in terms of entering into 2021 as the RTPI North East Chair. As we are all aware 2020 was largely dominated by the global pandemic with society needing to adapt to a new normal in terms of employment, recreation, education, healthcare, environment, and travel. 2021 continues the direct and indirect effects of 2020, with the additional matter of Brexit and the UK having exited the European Union on 31 December 2020.

As Planners it is essential to remain at the forefront of the UK recovery. Planning is able to directly deliver the sustainable socio-economic and environmental return to the required spatial development.

For Planners to effectively support the delivery of a UK recovery we need to be resilient. This can be underpinned by supporting our colleagues, peers, family, and their positive mental health. In terms of delivering sustainable development supporting a socio-economic and environment recovery this has the ability to generate positive effects across all age groups and therefore deliver mitigation to negative factors of mental health in society.

We should applaud ourselves for the intrinsic ability to effectively deliver a professional and complex service in an otherwise difficult, unexpected and abnormal environment. If we were having the 2021 Members Reception I would take the opportunity to applaud those attending and the profession as a whole.

In terms of taking on this year with a positive mindset we have demonstrated that Planners are resourceful, adaptable and agile in their ability to deliver in an abnormal, unexpected, inconvenient, and often onerous working environment. We are agile in terms of remote / home working, teamworking, delivering decisions / meetings / committee meetings / appeals, and online learning (CPD).

Continuing into 2021 we continue to create great places that support a healthy society, protect and enhance the environment, and support sustainable development.

I hope to see (virtually and hopefully in person) many of you in the coming year at our events.

Joe Nugent 

 

As we continue into 2021 there appears a light at the end of the (lockdown) tunnel as measures are being put into place to allow society to return to a degree of normality. Supporting positive mental health remains a key priority in my aims and objectives during my term as Regional Chair.  This positive step is welcomed and I hope you all are able to embrace the transition to a more relaxed society.

Building on this theme, there are a number of RTPI webinars to look out for:

This month I was pleased to join RTPI Chief Executive and the Regional Chairs across the UK as we discussed the RTPI's Corporate Strategy 2020-30, this takes a strong and innovative approach in taking planning forward into the future.

The strategy includes four pillars;

Promoting the value of membership and professionalism;
Supporting planning services;
Raising the profile of planning;
Promoting equality, diversity, and inclusivity.

I would encourage you to read this to understand the corporate aims and direction of the RTPI at a time when exiting the pandemic and establishing ourselves as a nation post-Brexit.

We have also recently hosted the RTPI President- Wei Yang at a virtual event where we explored new woodland in Northumberland, picking up on one of her key themes for the year. Informative and interesting presentations were provided by speakers from the Forestry Commission and Northumberland County Council. We look forward to inviting Wei Yang to the North East later in the year for a traditional visit, fingers crossed.

I wish you all the best for the forthcoming months and hope to see (virtually and hopefully in person) many of you in the coming year at our events.

Joe Nugent MRTPI

RTPI North East Chair 2021

Chair gives his overview for the year ahead

I am delighted to introduce the RTPI North East Business Plan for 2020. Building on our successful programme of CPD events, participation in research and engagement with fellow built environment professionals, this year is particularly important for the profession as global concerns around sustainable development come to the fore.

In the context of many Councils declaring Climate Emergencies and a groundswell of public opinion and debate regarding waste, biodiversity, flood and water management, and an equitable transition to a low carbon future the role of Planning to address these priorities has never been clearer, set against a number of challenges.

Tackling poverty remains a regional priority and the role of the built environment in addressing disparities in health and wellbeing outcomes and the expectancy of a healthy lifespan is becoming more and more clear. Whether through the creation of quality public spaces, attractive and safe walking and cycling routes and access to the natural environment the work of planners is central to the delivery of places that support a great quality of life, good mental health and sustainable economic growth.

Our programme of CPD events for the coming year reflects these priorities and will seek to equip planning professionals with the skills and confidence to tackle these challenges head-on and put planning at the centre of the debate, speaking as a profession.

There is a need to promote the benefits of Membership of the RTPI to planners working in Local Government, where there is an underrepresentation in the region. We are seeking to engage with Local Authorities to ensure that planning is represented at a senior level and championing the role of Chief Planning Officer as an executive role.

To ensure that the Planning Profession is representative of the society it serves it is important that we engage with a new generation who would seek to create great places that support a healthy society, protect and enhance the environment, and support sustainable development and economic growth, in short, our work. As Chair I hope to reach as many people as possible to promote the aims and objectives of the Institute and the wider role of Planning in society.

At the time of writing we are entering unknown territory politically and as a society as a whole. Global challenges can be addressed locally and whatever the future brings in terms of our relationship with our European neighbours the need for great places that provide for our deep-seated need for community, contact with the natural world and a safe and prosperous place to live and work will remain. Planning provides the map and compass as we embrace the future.

I hope to see many of you in the coming year at our events.

Timothy David Crawshaw

RTPI North East Chair 2020

 

Firstly, a massive thank you to everyone who attended the Member's Reception last Thursday at the lovely Bealim House. I also wish to thank our Sponsors for the evening who made such a great night possible. There were some really good conversations happening that I was lucky enough to take part in. I thought I would add some thoughts on top of my opening speech which I hope will stimulate more debate.

You get weeks like this. When a convergence of reports, experiences, poignant happenings and chance conversations perhaps lead to more questions than answers. The week starts with the release of the "Health Equity in England: The Marmot Review 10 Years On" report that poses significant challenges to policy makers, alongside a reminder of the importance of personal choices, however, the concept of choice seems in itself a matter of privilege. There are so many things that the individual often has no control of, whether that is the quality of the home they live in (and in many deprived communities don't own), the availability of reliable transport or employment within walking or cycling distance or the availability of positive public spaces and play that don't require an entry fee or a purchase to be made.

Having been born in the North East and having lived through the economic restructuring since the late 1970's that planted the seeds of the current levels of deprivation in many of our communities across the North face on a daily basis, the outlook still looks bleak.  On Monday a presentation from IPPR North at our local RAPC meeting, based on the recently published "Divided and connected: Regional inequalities in the North, the UK and the developed world – State of the North 2019" demonstrated just how far the gap was widening between the haves and have nots. Whilst London still retains many deprived communities the national picture of the UK mirrors the continental scale divisions between the east and west in Europe. Whilst economic growth or the lack of it, however that is measures and with the outcome of some kind of paid work is one measure, the persistent problems of lower life expectancy (alongside lower healthy life expectancy), opportunity and social mobility remain a characteristic. Quite poignantly unemployment per se is not necessarily the key problem, perhaps pointing to the malaise of insecure and poorly paid work stacked in the favour of the employer.

So, in the face of what seems like intractable problems I was left with the question, that can I, as a Planning professional do? Clearly there are structural problems in the economy and some evidence points to the disbenefits of centralised government as opposed to devolution where, taking Greater Manchester as an example, in-roads are being made into climate change, homelessness, natural capital and more sustainable transport. What characterises these successes is both continuity of investment and governance and latterly, planning powers.

A key aspect of the recent Health Equity in England report is the role of place and community as a determinant of health. Turning the curve is going to be challenging in the face of deep cuts in public spending in key areas outside of Social Care. Spending on Planning has been reduced on average by 59% reducing many of the activities of councils to a one-dimensional regulatory function focussed on land supply and fending off the worst excesses of the plc housebuilders. Whilst government funding has clearly been made available this has often been a thinly disguised road building programme facilitating development in often unsustainable locations. Where viability is marginal the proactive role of the public sector is key to transforming places and regenerating the hard to reach places that have been characterised as 'forgotten'. I am old enough to remember when Planning was at the heart of this re-visioning of place, stymied in many cases, after years of work, by austerity and centralisation of funding. In the North East, I still characterise regeneration and placemaking as like trying to start the car on a cold morning, in stark contrast to many local authorities I deliver training for in the south. However, what both often have in common is the challenge of delivering appropriate density and mixed-use schemes close the town centre on previously developed land.

If the centres of our towns and cities are to thrive, we need to vision an alternative future that does not rely on the private car not just because of the impact on the environment but because of the impact on places. How many of us have driven past an anonymous Premier Inn and public house adjacent to a roundabout on a distributor road leading to monotonous suburbs and thought 'is this it?'. The next generation are actively choosing not to drive, and entrepreneurs seem to increasingly favour historic places with character in which to establish start-ups in a variety of industries. The 'Toxic High Street' has in many ways developed as a consequence of a lack of people living within walking distance or convenient public transport having money to spend on more than just survival. Additionally, the walking and cycling journey from the suburbs to the centre is often marred by the ring road, take-away lined streets and congestion that also characterises the living conditions of the 'doughnut of despair' around many urban centres. The metrics that we use to measure success in our efforts need to change; with a call for more sophisticated measures such as wellbeing and the environment and overall social conditions in the recent UK 2070 "Make No Little Plans", there is a need to measure more than growth in the economy.

In a personally drawn gloomy picture, that I make no apology for, there is hope. I call for a renewed debate about the role of Planning in securing a more sustainable future where fewer people are left behind. After having had the pleasure of meeting new entrants to the profession through being a visiting lecturer I sense that we need to inspire a new generation of Planners before they become mired in the regulatory world, the compromises of commercial pressure and the housing numbers game. It is great to see the Institute campaigning for the role of Chief Planning Officer to be reinstated at the high table of local government, however many experienced and able staff members have left the profession following cuts, natural wastage and being in the difficult position of trying to secure value in desperate circumstances. How many of us have seen the quality of a scheme evaporate in terms of public goods on the grounds of viability, only to be somewhat sickened by the annual profits of some well-known names.

The proposed Public Sector project that the North East Region are trying to establish is a key potential mechanism to attract more public sector members to the Institute. This is an essential part of us and Planners, across all sectors, sharing best practice and celebrating the role of the profession as a convenor and enabler. Above all, and I seek agreement and dissent in equal measure to this statement, that Planners are best placed to bring together not just the built environment professions but communities and developers around a common cause. The skills set of a Planner is formidable and by nature generalist, however this gives us an understanding of place that extends beyond buildings, landscape, viability, economics, green infrastructure and housing into the very stuff of life, our habitat, the realm of citizen. The synthesis of this is an artform that needs to be taken back and owned, in the round, and championed. Where places work there is often a strand of leadership and vision that has been seeded many years ago, we must support our public sector colleagues and the work they do, as this set's the scene for what is to come. Not many professions have the holistic understanding of place that Planners have, we need to rebuild trust and faith in the art and the science, if we are to imagine a better future.

So, this is a call to action; in the short term we need to raise the profile of Planning as a key part of the solution to the Climate Emergency and the burgeoning crisis in health and inequalities. This should not just be fine words or aspirations; this needs to be the reality check that underpins our daily practice. Is that scheme really a walkable and connected place, is there sufficient natural surveillance over that greenspace and is it multifunctional? As a profession we are often set against each other, using many of our skills to debate over matters that should not be in dispute. As professionals we need to re-establish some core values that underpin our practice that is visible on the ground, outside of the vagaries of legal precedent.  In the medium term the promises of Central Government about 'levelling up' need to be contextualised within a plan. Scattered investment in short term fixes don't have the impact, referring back to the Health Equity in England report the case study of Malmo highlights the need for a plan, in this case 20 twenty years, that covers not only development but the wider regeneration and curation of a community. The considered and targeted investment highlighted demonstrates the value of securing multiple benefits that reflect community aspirations. In the long term we need to ensure that communities who are the long term owners of place have a greater understanding of the mechanisms that underpin the planning and development process in order to secure their knowledge, experience and consent to the transformation that will be required if we are to imagine a sustainable future.

I am proud to be a RTPI Chartered Planner, it is an immense joy and privilege to be part of the Institute and I hope to at least try to raise the debate about what we do and how our work will be recognised.

April Update - Planning for the Unplanned…

I hope all of you are finding some order in the current chaos that we are all living though, never again will I take it for granted that what seemed normal a few weeks ago now seems so far away. Certainly, work has been a refuge alongside a renewed push on the garden and a full range of niggly jobs that have not got done on the house after twenty years. For this I feel grateful. In the short term I have work, a garden, a home we own and most poignantly at the moment access to the natural world on the doorstep. This privilege to be able to take control of one's environment and escape into the countryside make the lockdown at least liveable. For many, however, this is not their reality. If your access to nature is limited due to being shielded, or on account of physical distance or a lack of outside space the consequences for mental health can be devastating.

I heard a term today on the radio, 'The Natural Health Service' which neatly describes the role of the natural environment and ecosystems services in maintaining our health and wellbeing, if not a panacea. Our connection to the natural environment is more than just physical and on the level of appreciation and access, it is more of an inherent need for deep immersion. The nature of our senses, both the well understood five, and something more subtle are the means by which we gather and process around 34GB of data a day. All of a sudden it becomes of key importance to understand the quality of data, and the requirement for this to be nourishing. We ourselves are nature.

Wilderness as a concept is in itself an intangible concept where most of not all of our environment has been modified, planned and managed, a lot of it within living memory. I have been struck by the ability of nature however to hang on in there and get on with the business of ordered chaos. Small ecosystems often inhabit the spaces left over after the low hanging fruit of development opportunities or agriculture have had the largest bite. The picture that I quickly took whilst on my daily exercise walk is not a pristine bit of countryside by any means, being only a few steps away from the back of a normally busy trading estate, but a survivor of not being planned, managed and developed. Any amount of mitigation would take a lifetime to reach even a small proportion of the life and diversity of this postage stamp of green should it have been lost.

However, we need to develop, we need to build homes, we need to plan for a future that all of a sudden, challenges us to think again. 'Build Back Better' is becoming the new clarion call that we must, as a profession, be front and centre of. Whilst we debate the future of our town centres, many of whom were hosting businesses that will have suffered deeply through the crisis, and that are hard to imagine as 'social distancing ready', a re-visioning or our existing places seems a good starting point. Often with historic cores that have seen viruses, disease and economic strife come and go, our market towns perhaps offer some clue to a liveable environment that embraces the best of current and future connectivity whilst also being resilient 'holon'. Many small towns have a walkable character that has not expanded beyond the easy reach of the countryside on foot or cycle, let's make this peri-urban environment as good as it can be, with greater access and multifunctionality.

Instead of blindly expanding outwards in a business as usual growth ring let us consider the virtues of making good use of our existing structures and neighbourhoods, bringing them up to a future proof standard of energy efficiency, amenity and environmental quality. Like the perennial plants in my garden, outward growth has left our town centres hollow and forgotten, ready for regeneration and growth. There is garden work to do, hard work, tiring work, but the work of the custodians of our places. There needs to be a greater appreciation of our doorstep greenspaces, the rivers that were once the reason for settling in the first place, the parks that were planned before our grandparents were born, and the protection and enhancement of our local natural environment.

When I see markets selling locally produced food, I see hope. When I see allotments with people making provision for their own and community needs, I see hope. When I see bluebells in a wood, close enough to visit in a few minutes' walk at lunchtime, I see hope. Many of these things have occurred out of happy accidents, neglect and the power of traditional meeting places and spaces, how do we plan for these intangible and often unplanned outcomes? Certainly, forethought and values, as opposed to lines and the allocation of land uses comes to mind. Next time you send a postcard of somewhere beautiful on holiday, should normality ever return, think about the ingredients that contributed to the image you see. Landscape, topography, climate, food, water and old rights of way have made the greatest contribution to what we cherish. How do we plan for this in an uncertain future?

Over the next month, via the wonders of technology, I am planning to host a series of 'Open House' events where we can take time out from work and study and get together in an informal discussion about how we respond to Building Back Better. What does this look like? What is our role as professionals and how do we embrace an uncertain future?

So, look out for the invitations and Join me and colleagues from the North East Region in doing what we do best, planning for the future.

Timothy David Crawshaw - RTPI North East Chair 2020

Well, what a year!

For many of us 2020 will have been a combination of feeling like it will never end and also 'where did the time go?'.

Thinking back to February at the Chair's Reception I doubt anyone would have anticipated where we would be now and some of the certainties that we seemed to have been swept away. I hope that the pandemic has not affected you badly personally or professionally, and for those who it has, my thoughts are with you.

I want to look to the future, that is after all the business we are in. Over the summer, perhaps naively, I hosted a number of Open House events where we discussed what building back better might look like thinking that this would be an immanent challenge, it seems that this might well be more of longer burn. I can see already that some local authorities are getting on the front foot and starting to think about the future of the high street that has had yet another blow and suffered from the unintended consequences of a push to online retail and supermarkets as the remaining outlets for everyday needs alongside discretionary spending. The time is now to take a long hard look at want we want to keep and how to do this.

The challenges and opportunities go deeper than measures to support the high street Version 1.0, or possibly 2.0, if you take into consideration that not all were retail frontages for much of history. What we can perhaps see taking shape is a move from city centres as places of mass employment as the balance of joy and frustration of working form home seems to have tipped towards more time for oneself and the people we care about, and less time travelling and being present in the office.

It is perhaps helpful to capture some ideas that seem to be taking shape:

The operative word in high street is 'street' and as such is a public space with a combination of movement and fixed features. These features are not necessarily retail, leisure or hospitality. Indeed, for these traditional high street uses to be retained or re-established the quality of space between the buildings is often the catalyst for confidence, investment and people slowing their pace to linger and enjoy. Equally, aspect, orientation, public space and landscaping have a huge bearing on success and blanket policy around the continuity of shopping frontages might well work against this.


People will continue to want to work together, and for many people getting out of the house to go to work is the basis for their social interactions and the springboard to becoming established in the wider community. However, the corporate office with the demand of being present and visible is now perhaps an outmoded concept. Bearing these two thoughts in mind we need to rethink what workspaces look like in the future. Certainly, the attractions of a place that is comfortable, sociable, well connected (physically and virtually) and accessible by foot or cycle is something that I would buy into post pandemic.


There is an artificial divide between town and country that both raises and limits expectations from both points of view. In town, nature often thrives despite a lot 'harder' surfaces, whereas our countryside is becoming less and less biodiverse and becoming the canary of ecological collapse. Equally, the peri-urban places just outside of development limits have a massive potential for human and non-human ecology but remain moribund and often subject to speculation. For many this is the countryside, and our river valleys and streams are often the pathways to access, connecting the inner town and city to landscape beyond. This is particularly important in areas where car ownership and participation on visiting National Parks is low.


If town centres, in particular, are to be revitalised there are number of consistent themes that perhaps point to the future.

Most towns have a river, make the most of it and celebrate this link to nature on your doorstep, try to solve flood risk through nature-based solutions.
The town centre and edge of centre needs to be reinvigorated as a desirable and aspirational place to live, for this to happen new and crucially existing housing needs to be of the best quality and good schools, services and multi-functional green infrastructure provided.
Everywhere has a history, use it to the best advantage. An informed and engaged population that celebrates local history attracts visitors and investment.
Bring skilled employment and innovation back to the centre, most business activities, including manufacture, are good neighbours and don't produce emissions or nuisance.
Allow for adaptation and flexibility and experimentation.
Invest in greening our urban centres using green walls and roofs, trees and planting. Manage rainwater creatively and make space for wildlife.

I can't claim any of the above as being anything new and is that not the point. I have worked for many years in planning and tracked the good work over the years of others before that sought many of the same things in the face of forces beyond the control of shrinking roles and resources. The time is right for planning to be front and centre as we walk out of the woods (or into them).

This has been a challenging year, but I have enjoyed the role of Chair, nonetheless. I have missed the socials and events in person, but I am immensely proud to say the North East RTPI has stepped up to the plate and produced a great range of CPD events and an Awards for Planning Excellence that showcased the best of our profession in an engaging format. Joining with colleagues in the other Nations and Regions has in some ways been made easier through the adversity and for that I am thankful.

Turning to our Award Winners, this year has been excellent in terms of the quality of the entries, with some outstanding example of the Power of Planning to make the world a better place. I would like to thank all the entrants once again and hope that others will follow their lead and showcase their efforts next year. Also, I would extend my thanks to our volunteers on our committees who have kept the wheels turning and Kim Walker, our Regional Coordinator, for keeping us all on track.

With the very best wishes for 2021.

Timothy David Crawshaw MRTPI FRSA