During this unprecedented situation we are working hard to bring you the best of our events and training programmes online. From webinars, to online training, through to regular updates, discussions between professional planners and live events we've got a fantastic and exciting programme for you. 
If you are working from home you can keep up your CPD in many different ways. For example we'll be running weekly webinars and online talks to help planners navigate the current crisis and explore planning in a post-pandemic world.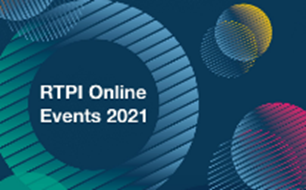 New 2021 RTPI Online Events Programme
We are delighted to announce the launch of our 2021 RTPI Online Events programme.
This is where you can access the most cutting edge events on planning.
As social distancing rules are set to continue for some time, our Regions and Nations have worked hard to offer you a new 6-month calendar of webinars. These webinars replace our face to face Regional and National event programmes, and bring all our events under one roof, keeping you connected and up to date digitally, wherever you are based.
The RTPI Online Events series is FREE to members. Non-member tickets cost £25.
Explore the programme here.
Online Learning
In addition to our new online event series there are lots of learning opportunities on our online training site, RTPI Learn. It offers FREE modules for planners. The modules are a mixture of text, web links, video clips and diagrams as well as interactive quizzes with instant feedback.
In-depth online CPD Masterclasses
If you want more in-depth online learning, RTPI Training provides online CPD masterclasses. Led by quality assured trainers and including a half-day interactive webinar, each course has a sequence of activities before, during and after the webinar, including peer-to-peer reflection, case studies and self-reflection activities to help you meet your CPD requirements. RTPI Training masterclasses are separate from our free online events programme. Prices start from £199 with concessions available.

Read more about the new online masterclass format, learning through the lens of pandemic recovery and how to keep your CPD up to date throughout the crisis in this interview.
Details of our online events
Click here to book tickets for our online events
Click here to view the latest discussions, updates and live events on our YouTube channel 
Click here to purchase our in-depth, online CPD masterclasses run by RTPI Training
Other content you might be interested in