NURTURE is a pilot mentoring programme designed specifically for RTPI Chartered Members in UK and Ireland who are at a mid-career point and looking to advance in their career and be successful in a senior role.
Mentee and mentor applications are now closed. All applicants for the programme will be notified by 6th April 2021.
The programme highlights our commitment to promoting the value of membership and professionalism – one of the four pillars from our 2020-2030 corporate strategy.
The programme includes training for both mentees and mentors, support during the programme and a commitment to six one-hour mentoring sessions between June 2021 and February 2022. The evaluation and feedback from this pilot will inform the future development of NURTURE. 
Women in Transport, a non-profit membership organisation, has been commissioned to design and deliver the pilot programme on behalf of the RTPI following the success of the former's Advance mentoring programme.
Mentoring has the potential to be a powerful professional and career development tool. It is a reciprocal partnership between two people, based upon mutual trust and respect, and a learning and development opportunity for both mentors and mentees.
Mentees might be interested to learn and gain skills in:
Strategic development
Leadership
Change management
Business planning
Goal setting
Influencing others
Motivating others
Self-confidence
Mentors can also develop learning and development opportunities of their own. Benefits include:  
Develop new mentoring skills from our training including enhanced leadership and interpersonal skills
Increased profile and networking
Personal satisfaction from developing mentees
A wider knowledge of your marketplace with fresh perspectives
To be eligible for the NURTURE mentoring programme mentors will need to ensure they are current Chartered Members. For more details on the criteria for mentees and mentors click here.
RTPI recognises the positive value of diversity, promotes equality and challenges discrimination. We welcome and encourage applications from people of all backgrounds. We particularly welcome and encourage applications from disabled, Black and Asian members who are currently under-represented at senior positions throughout planning. We also welcome applications from LGBTQIA plus members.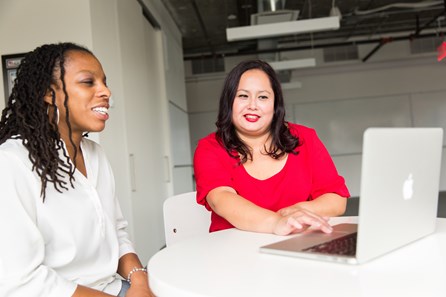 Stage 1 - Application
Complete the application questionnaire to be a mentor or mentee by clicking on the relevant link below. Please read the eligibility requirements and FAQs before applying.
The application includes a mixture of tick boxes and open questions. We ask that you consider all the questions carefully and take the time to provide as much detail as possible. All your responses will be read in detail and taken into consideration in the selection and matching process. You will receive a copy of your responses by email once you complete this form. You can edit your answers up to the closing date.
Please note that completing the application is not a guarantee for being selected for the programme. Selection is based on a number of criteria and dependent on finding a suitable match based on your responses. You will receive an email in early April 2021 to confirm whether you've been selected for the programme.
Stage 2 - Training
Mentors and mentees will be invited to a two-hour training session in April or May 2021. Please note training is compulsory for mentees and mentors to qualify for the programme.
Stage 3 - Matching
Angela Gainsford and Sonya Byers from Women in Transport will pro-actively undertake the screening process to pair suitable mentors and mentees. You will receive an email confirming your match and introducing you to each other by 7 June 2021.
Stage 4 - Mentoring
The mentoring relationship will commence with a commitment to meet a minimum of six times up until February 2022.
Stage 5 - Review
We will ask for your feedback via online surveys in September 2021 and February 2022. Angela and Sonya will remain available throughout the programme should you require any assistance and to answer any queries you may have. We are committed to ensuring that you are satisfied with the progress of the relationship and have a positive experience.
Other content you might be interested in