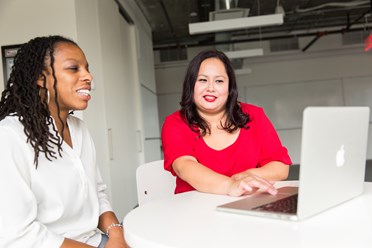 NURTURE is a recently completed pilot mentoring programme designed specifically for RTPI Chartered Members in the UK and Ireland who are at a mid-career point and looking to advance in their career and be successful in a senior role.

The programme highlighted our commitment to promoting the value of membership and professionalism – one of the four pillars from our 2020-2030 corporate strategy. It included training for both mentees and mentors.
The pilot of the NURTURE mentoring programme was designed and delivered for the RTPI by Women in Transport. In its commitment to improving and developing in all areas of its 2020-2030 Corporate Strategy, the RTPI conducted evaluation and feedback to inform the future development of the programme.
Responding anonymously to the survey, mentees highlighted the inspiring relationships that grew out of the programme, where mentors helped them to think about how they approach challenges in a more positive ways, coming away from each session with a sense of satisfaction. Some reported finding new, senior roles within the industry following their mentorship.
Mentors reported the useful feeling they had helping younger planners, as well as underpinning their own career development. Outside of professional development, however, mentors noted the feeling of wellbeing they had helping their mentees, dealing with issues from management to life changing career decisions.
You can read more about the results of the survey in our news story on the programme. We've also got some inspirational blogs from a mentor, Jonathan Wade, Head of Spatial Planning at the Royal Borough of Kensington and Chelsea, and one of our mentees, Alexandra Webb, Senior Planning Officer at Eastleigh Borough Council.  
We're delighted about the positive experience mentors and mentees have had and will now be looking at what the next steps will be following its success.
Other content you might be interested in