Chairs Message: February 2021
Tom Venables, RTPI London Chair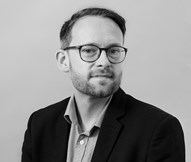 The one certainty for 2021 is that things are going to remain uncertain as we continue to respond and adapt to the pandemic.
However, RTPI in London will be here to support members through the year ahead with regular CPD webinars, podcasts and think pieces, and we have some great events planned to look forward to in the months ahead. We are also crossing our fingers that by the end of the year we may be back to face-to-face networking events. We were very proud of our swich to online events at the start of the pandemic last year, and have amassed a great back catalogue of past events that you can view here.
Our first event for 2021 set a very optimistic tone for the future of the planning profession in London with some inspirational panelists. You can watch this event on YouTube, and we are trialling sharing some of our events as podcasts.
Following on from our successful Mayoral Hustings event in 2016 with our partners from across the Built Environment to host another mayoral hustings.  Unfortunately our invitation was not taken up by the mayoral candidates, so we will be hosting an alternative hustings where we will be exploring what the asks on the Mayor should be from the Built Environment sector for the year ahead.  Book your place here.
In addition, we have a range of exciting webinars in the pipeline including Climate Action Plans in London Councils (19 February 2021) and the start of our Global Cities Exchange series where we will be teaming up with planners from other global cities to explore current issues, beginning on 19 March 2021 with Global Cities Exchange - Post Covid-19 Impacts on London and Beyond
Later in 2021 we will be hosting RTPI London's first regional RTPI Awards for Planning Excellence where we will be crowing the first London Young Planner of the Year among other categories, as well as hosting president Wei Yang at our annual London Planning Summit in September.
We have active and enthusiastic Regional Activities and Young Planners Committees who are exploring a range of ideas for the year ahead, and the Young Planners will be continuing their insightful "Young Planners Guide" podcast: available here. If you would like to become actively involved in RTPI London then please get in touch.