Our 2019 Awards
120 people attended an excellent presentation evening on 26 September at The Roundhouse in Derby. We received 26 high quality entries reflecting the expertise there is in the Region and there were some excellent examples amongst the winners.
The overall project winner for 2019 was:
Blaby District Council for the New Lubbesthorpe development which will deliver 4,250 homes, employment centre, three schools, health and leisure facilities, significant highway improvements and over 320 hectares of green infrastructure.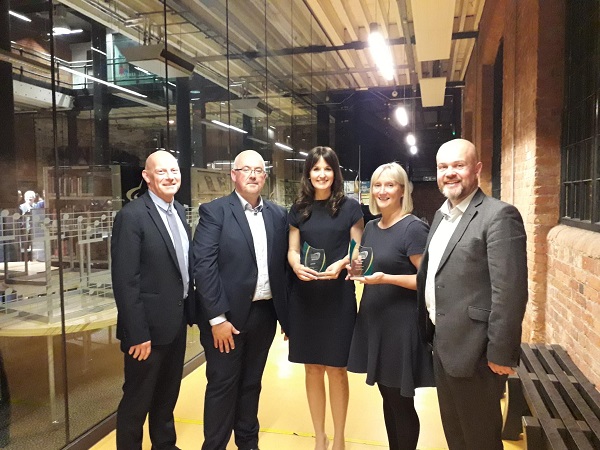 The team from Blaby District Council with their awards.
Our Category winners and Highly Commended winners in 2019 were:
Young Planner Winner: Emily Anderson, Lincolnshire County Council
Local Authority Planning Team Winner: Derbyshire County Council
Small Planning Consultancy Winner: nineteen47
Planning Consultancy Highly Commended: Marrons Planning
Planning Consultancy Winner: Fisher German
Plan Making Highly Commended: Mansfield District Council
Plan Making Winner: The Leicester and Leicestershire Strategic Growth Partnership
Heritage and Culture Highly Commended: Planning and Design Practice
Heritage and Culture Winner: Spenbeck
Deliver Homes Winner: Blaby District Council
Natural Environment Winner: AECOM
Successful Economy Highly Commended: Ashfield District Council
Successful Economy Winner: Leicester City Council
See all the winners and highly commended here.
Our 2020 Awards for Planning Excellence will open in May 2020. To find out more about sponsorship opportunities, or to receive notification when we are open, contact us.