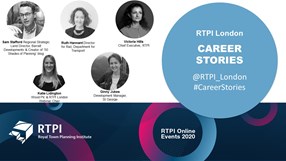 RTPI London and RTPI London Young Planners would like to present a webinar session on how careers can be fluid and not linear in progression.
Career stories is just that…stories about why each individual has chosen a career path, taken a break, worked from home, juggled work and life – whatever it may be. 
Our speakers will talk about their experienes and will include; lessons learnt, what would I tell my former self and any other advice that they think is relevant.
Speakers:
Victoria Hills, MRTPI FICE, Chief Executive at the Royal Town Planning Institute
Ruth Hannant, Director General, Rail, Department for Transport
Sam Stafford, Regional Strategic Land Director at Barratt Developments
Ginny Jukes is the Development Manager at St. George
Katie Lidington, RTPI London Honorary Secretary and Wood PLC (Chair)
Join us for the first in a series of career stories. 
This event forms part of the RTPI Online Events 2020 series and is brought to you by RTPI London