This award is presented to RTPI members (all classes) who have served and contributed substantially to the RTPI in various capacities, according to the following criteria set by the Institute. The award consists of a certificate which is presented to the selected individual on the occasion of RTPI General Assembly or at any other significant events and opportunities. This award recognizes excellence in service to the industry, which benefits RTPI members at large.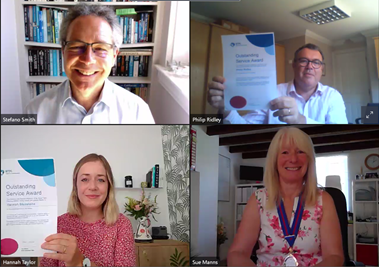 The criteria for the award are as follows:
Nominee will have exhibited sustained, outstanding and active service to the Institute (in various voluntary roles such as the RTPI Board of Trustees, General Assembly, Committees, Networks, Panels, Nations and Regions) over an exceptional period - is the basic criterion for the award. "Active service" will usually connote active participation in some defined capacity.
Nominee will be "subject matter experts", leaders who elevate and mentor others and dedicated to the Planning profession. Nominee should reflect and demonstrate how their work has made/is making a positive impact to the RTPI and its members.
Length of membership of the Institute or the holding of Branch (Regional or National) office for a limited period will not usually be regarded in themselves as constituting outstanding service. As the purpose of the award is to recognise service to the Institute, service to or eminence in the profession generally will not in themselves be qualifying grounds for an award.
Application process:
Using the nomination form, please set out in not more than 500 words, a short description/explaining how the nominee(s) enhanced the reputation of the RTPI, reflecting at least two of the following points along with a supporting statement/letter of support from two supporters (RTPI members). The supporting letter/statement shall be attached separately, each supporting letter should not be more than 500 words:
Lasting impact – How has the nominee's service beneficially impacted the RTPI over an extended period of time?
Benefit – How has the RTPI and its strategic priorities, for example stakeholders, discovery, education, people, equality and inclusion, international, knowledge exchange, outreach, professional experience/excellence, and business, substantially benefitted from Nominee's service.
Participation – How much does the Nominee exceed expectations in actively participating, interacting and collaborating with the RTPI members to provide exceptional service to the RTPI?
All nominations for an Outstanding Service Award should be referred in the first instance to the Nominations Sub-Committee for them to consider whether the eligibility criteria are met before they could recommend this further to the Board of Trustees for their decision.
If selected, the recipients of an Outstanding Services Award should be permitted to use a logo on their website recognising the award.
Please note, the decision will be taken on merit basis and no further feedback will be shared on non-selection.
Please download an application form here: OSA application form
For any further information, please contact [email protected]
Recipients
The recipients of the Outstanding Service Award are as follows:
2018: Neil Harris
Richard Arkell
Mary MacIntyre
Alan Wenban-Smith
2020:
Philip Ridley

Hannah Blunstone
2021:
Deidre Wells
Maria Dunn
Tony Crook
2022:
No awards issued
2023:
Bob Wolfe
Mark Walton
Andrew Taylor
John Dagg
Andrew Dorrian