On 16 May 2013, the Board of Trustees agreed new criteria for the Institute's Outstanding Service Award as follows: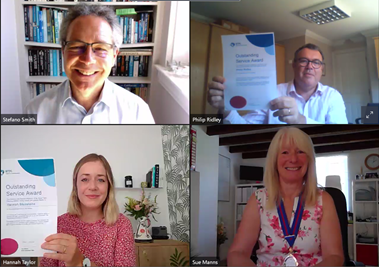 Active service to the Institute (in various voluntary roles such as the RTPI Board of Trustees, General Assembly, Committees, Networks, Panels, Nations and Regions) over an exceptional period will be the basic criterion for the award;
"Service" will usually connote active participation in some defined capacity;
Length of membership of the Institute or the holding of Branch (Regional) or National office for a limited period will not usually be regarded in themselves as constituting outstanding service. As the purpose of the award is to recognise service to the Institute, service to or eminence in the profession generally will not in themselves be qualifying grounds for an award.
If you know somebody who you feel should be considered for an Outstanding Service Award, please complete the nomination form (download here) and send it to [email protected].
Recipients
The recipients of the Outstanding Service Award are as follows:
1984: Cecil Newman
1985: Kenneth Cox
1986: Eric Higgins
Walter Bor
1987: Kenneth Pink
1988: Harry Patton
1989: Richard Pepler
1990: Stanley Baker
1991: Sir John Boynton
1992: Frank Kelf
1995: Gordon Cherry
1996: George McDonic
1997: Philip Watts
1998: John Anthony
1999: John Parry
Graham Harrison (presented in 2000)
2000: Mike Oakley
Arthur Bryant
2001: John Dean
Mike Flynn
2006: Tony Chadwick
Bob Stokes
Peter Lindsell
George Goodall
Pete Hakes
Michael Sant
Richard Chillingford
Bill Morrison
2007: Chris Geere
Andy Meenagh
2008: Paul Harris
2009: Geoff Walker
David Barraclough
Lyn Owen
2010: Chris Clarke
Chris Perrett
2012: Peter Wilbraham (presented in 2013)
2013: John Acres (presented in 2014)
Janthia Algate (presented in 2014)
Steve Bateman (presented in 2014)
Michael O'Connell
Tony Ray
Leonora Rozee
Alistair Stark
John Turner
Owain Wyn (presented in 2014)
2014: Bryan Smith
Steve France
John Knight
Ken Burley
Peter Wikinson
Ron Tate
2015: Stan Driver
2016: Graham Garnham
Pat Sutor
Ruth Richard
Iram Mohammed
Janet Rangeley
John McCarthy
Keith Thomas
2017: Martin Buckle
George Worthington
2018: Neil Harris
Richard Arkell
Mary MacIntyre
Alan Wenban-Smith
2020: Philip Ridley

Hannah Blunstone