Timothy Crawshaw MRTPI is an International Planning and Development Consultant. He is currently the RTPI's Vice-President and will become President in 2022. In the second of this three part blog series Timothy reflects on COP26 and its impact on health and wellbeing. 
Health and wellbeing is the next frontier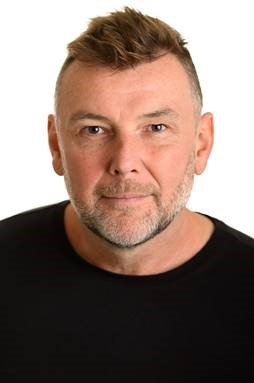 COP26 is mainly focussed on the existential threat of climate change and this looms large and was the main thrust of the conference. However, from both a campaigning and core issues standpoint health and wellbeing is a constant recurring theme. Whether this be issues of air quality, not just in emerging economies but also much closer to home, road traffic accidents and the impact that these have on travel behaviours and human tragedy, to more subtle matters such as walkable neighbourhoods and local food production, health and wellbeing is at once the reason and a significant benefit of climate action. Add to this the feelings of helplessness that we can all encounter when faced with the climate emergency and the possible catalyst of self-organisation, responsibility and social change that could form part of the solution, mental wellbeing, as well as physical survival is the new frontier.
The stark costs, both human and financial of poor health outcomes as a result of climate change are estimated to be in the order of 2-4 Billion USD per year by 2030, excluding agriculture, water and sanitation (source WHO 2021). On a global scale climate change and vulnerabilities are particularly felt in the least developed countries where health infrastructure is often weaker, and this is often allied to increased climate risks from droughts flooding and extreme weather events. Closer to home, in the UK the Environment Agency Published "Social deprivation and the likelihood of flooding" in January 2021. Whilst there have been improvements since the last report in 2004 whereby flood risk has been reduced for the 20% most deprived areas, there are still significant risks for coastal and rural communities.
The risks of poor mental health outcomes as a result of flooding are stark as described in the PHE Flooding and mental health: Essential information for front-line responders (2014) whereby the causal factors include:
health-related stressors, such as lack of access to healthcare, new or continuing health concerns or conditions, and lack of access to prescription medications
family and social stressors, such as a breakdown in household activities and separation from friends
stress relating to education and schooling, such as loss of education facilities and loss of socialisation associated with attending school
feelings of loss of control and fear of recurrence of another extreme event
economic stressors such as problems with compensation, recovery of and rebuilding homes, loss of employment and/or income, and loss of physical possessions and resources
stress arising from exposure to media reporting
This nexus of climate change, poor health and wellbeing outcomes and inequalities are interlocking themes that need to be addressed urgently and there is evidence that investment in deprived areas in flood defences has had a positive impact, although a full cost benefit analysis is required. This is just one example of where climate change mitigation can deliver multiple benefits to society, strengthening the case for investment if this could be both articulated and catalysed.
It is not just flood risk that impacts the poorest, poor air quality and heat stress are all too common risks hand in hand with flood risk. Many presentations that I saw at COP 26 focussed on the lived experience of the poorest communities. They described how many of these risks were front and centre with poor air quality in particular being cited as an immediate and  deadly risk, alongside that of road traffic accidents and the impact that this has on healthy travel choices and the lives of vulnerable road users who are often facing poverty and poor living conditions. Some might say that electric vehicles will be the answer but somehow this does not sit easy when even electric vehicles are just as deadly in a collision, let alone the impact of high torque motors that result in high concentrations of micro-plastics  in the air.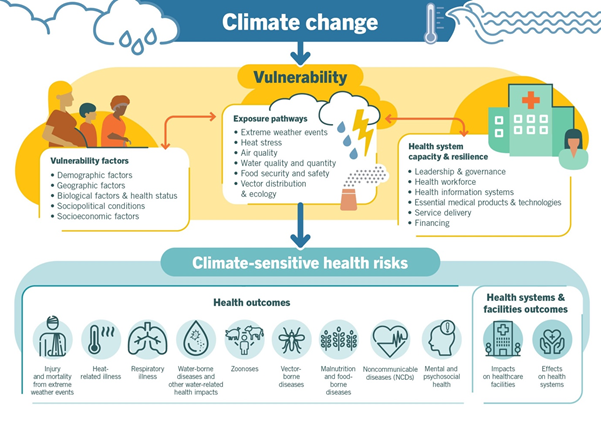 Source: WHO 2021
The challenge of climate change and health strengthens the case for investment to tackle global warming and the consequences of climate change. Whether this be heat stress, flood risk, or air quality, the use of nature-based solutions is often a cost-effective mechanism. Climate related health risks and poor outcomes mainly effect the most vulnerable and disadvantaged, including women, children, ethnic minorities, poor communities, migrants or displaced persons, older populations, and those with underlying health conditions. For this reason, the tackling of climate change for the most vulnerable is part of the just transition. Business as usual where clean technology further benefits the rich will further increase inequalities.
 It's not a case of whether we can afford to invest any more, its whether we can afford not to.
Reflections on COP26
If you're interested in COP26 outcomes why not join this special RTPI webinar on 13 December 2021 looking at reflections on the summit and the Ambitions for the North.