by RTPI President Sue Manns FRTPI
We have finally reached the end of what has been an extraordinary year. To say that the past 12 months have been like no other is perhaps an understatement.
In addition to the many challenges that we were facing this time last year, not least that of climate change, we have had to respond to the devastating impacts of the COVID 19 pandemic. Many lives have been lost, many families and businesses have been affected; our way of life will never be quite the same again. Lockdowns and the various restrictions of the 'tier' system have brought into sharp focus the strengths and weaknesses of our places and our way of life and as we look to the future, we must not forget what it has taught us about the importance of community and sustainable, resilient, inclusive places.
2020 was a year in which planning was rarely out of the news. Debates focused not only on topics including the delivery of better places, health and wellbeing, housing design, affordable housing and the decline of the high street, but also on the planning system itself. It was also a year in which we witnessed a growing appreciation of the importance of investing in place, refocusing planning on 21st century issues, tackling place-based inequality, enabling a green infrastructure revolution, prioritising healthy and sustainable ways of life and accelerating the deployment of zero-carbon infrastructure. We must ensure that this continues into 2021 and beyond, and that as we return to a more normal way of life we do not lose sight of what we have learned.
Throughout the pandemic, the RTPI and the Presidential team have remained visible and vocal. Through social media we have shared open letters to politicians and key stakeholders, news releases, member blogs, reports and publications with audiences that far exceeded anything in previous years. The reach of the RTPI's Plan the World We Need campaign has been quite stunning and the Institute was certainly on the front foot in terms of its research and publications, covering an enormously wide range of topics, from Measuring What Matters through to the provision of practical advice on Planning and Mental Health.
Although like many, we yearn for a return to face-to-face meetings, we also recognise that for those with access to technology, it has been a more inclusive world. Audiences for RTPI webinars and conferences have been higher than traditional events, sometimes by a factor of ten. We have also been able to share our virtual events and visits across the nations and regions with members and indeed all those with an interest in planning. Many of these were recorded and are available on the RTPI YouTube channel enabling us to share the learning that comes from witnessing some of the very best examples of planning practice. We would like to thank everyone who was been involved in the organisation of these virtual visits – together you shone the brightest of lights on what we can achieve as a profession.
As an Institute, we ended 2020 in a position of strength with a record number of members; the total number of RTPI members has now reached 26,000 for the first time, with a continued growth in the 'pipeline' categories of Student and Affiliate. The profession is in a good place to enable it to play a leading role in ensuring a green, inclusive, healthy, resilient and sustainable future that works for everyone.
And so to the final Presidential team report for 2020. December was an unusually quiet month with none of the usual celebrations, but this made those events that we did attend so much more special. We have captured a flavour of these below, but as usual, please do share our experiences via the RTPI YouTube Channel.
3 December – RTPI Scotland Annual Members' Meeting
This event, attended by President Sue Manns, was the perfect opportunity to reflect upon 2020 and the impact of members on planning in Scotland. Irene Beautyman MRTPI, Convenor for Scotland 2020, outlined the raft of policy consultations that RTPI Scotland had responded to, the work undertaken with the Scottish Government and Advisory Groups and RTPI Scotland's 10 Big Ideas for NPF4.
RTPI Scotland has adapted quickly and effectively to the digital world, with online events attracting larger audiences than physical events had previously done. Irene singled out two influential research reports which have been published and which will make a significant difference to the future of planning – one that looked at the benefits of investing in a digital planning service and another entitled Measuring What Matters: Planning Outcomes Research.

Barbara Cummins MRTPI, RTPI Scotland Convenor for 2021, followed Irene, setting out her vision for 2021 and leaving no one in doubt that RTPI Scotland will continue to make a real and very positive difference.

Our thanks to everyone at RTPI Scotland – your achievements in 2020 leave the profession in a strong position and well prepared to face the challenges of 2021.

8 December - RTPI Ireland Annual Members' Meeting
President Sue Manns had the pleasure of joining RTPI Ireland's Annual Members' Meeting. Chaired by Aidan Culhane MRTPI, it was wonderful insight into the work of RTPI Ireland members during this quite extraordinary year.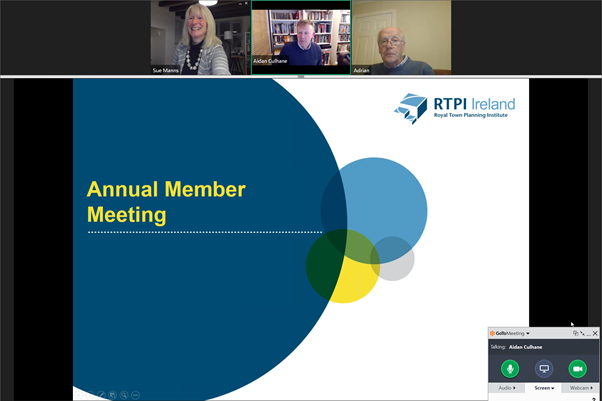 Once again, the research into the measurement of planning outcomes was mentioned by all the speakers. This groundbreaking research explored how local authorities and national governments can go beyond simple metrics, such as the speed of processing applications and the number of new homes delivered, with the ultimate aim of producing outcome measures and monitoring toolkits that can be adapted and adopted by local authorities. RTPI Ireland secured £30K of funding from the Office of the Planning Regulator and the Irish Government to support research on planning outcomes across Ireland and the UK.
Our thanks to all at RTPI Ireland - your achievements in 2020 are really impressive.
8 December – Room 101 in the North West
Have you ever wondered what planners would like to consign to 'Room 101'? A RTPI NW event chaired by Robert Phillips MRTPI invited panel members to consider which of four planning related matters they would wish to put in the bin.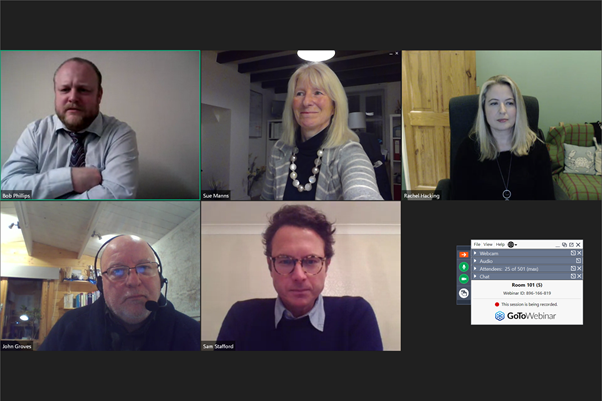 John Groves MRTPI (Groves Town Planning) argued that it should be planning committees, Rachel Hacking (Rachel Hacking Ecology) considered that it should be the new biodiversity calculator, whilst Samuel Stafford MRTPI (Barratt Homes) opted for impenetrable planning application reports and packages. For President Sue Manns, it would be the phrases 'we all think the same' and 'the community view is'.
This fun session was recorded and is a great lockdown view. The audience vote at the conclusion identified a clear winner - but we won't spoil the surprise!
8 December – Incoming Nations and Regions Chairs Meeting
On 8 December, Vice President Wei Yang FRTPI chaired the incoming Nations and Regions Chairs meeting. Wei welcomed the incoming chairs and Convenor and outlined her priorities for 2021 as the RTPI President. In return, the incoming chairs shared their priorities including climate actions, international collaborations, young planners' engagement and the resourcing of public sector planning.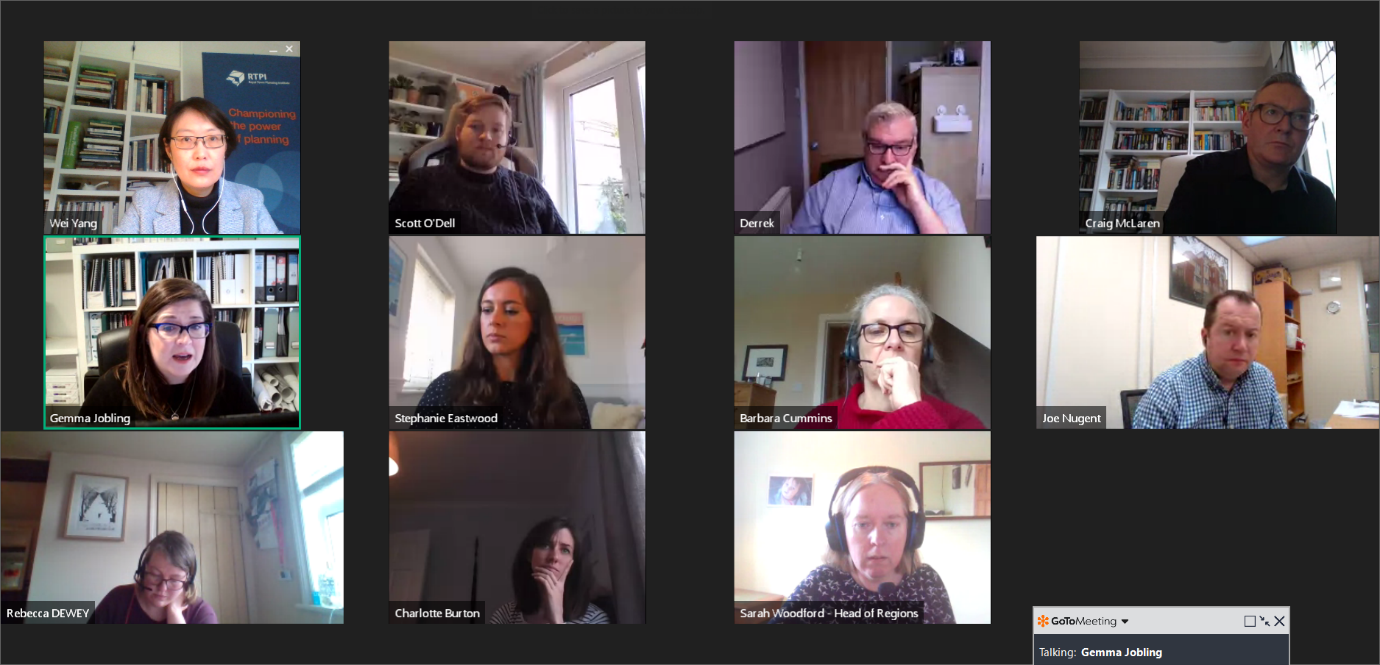 Incoming Chair of the RTPI Nations and Regions Panel Rebecca Dewey MRTPI explained how the panel will support the national and regional committees. There is no doubt that we have an exciting year ahead.
8 December – Launch of community engagement report
On 8 December, Immediate Past President Ian Tant MRTPI joined a panel of experts for an online session to mark the launch of a joint report by the RTPI and Grayling on the future of community engagement.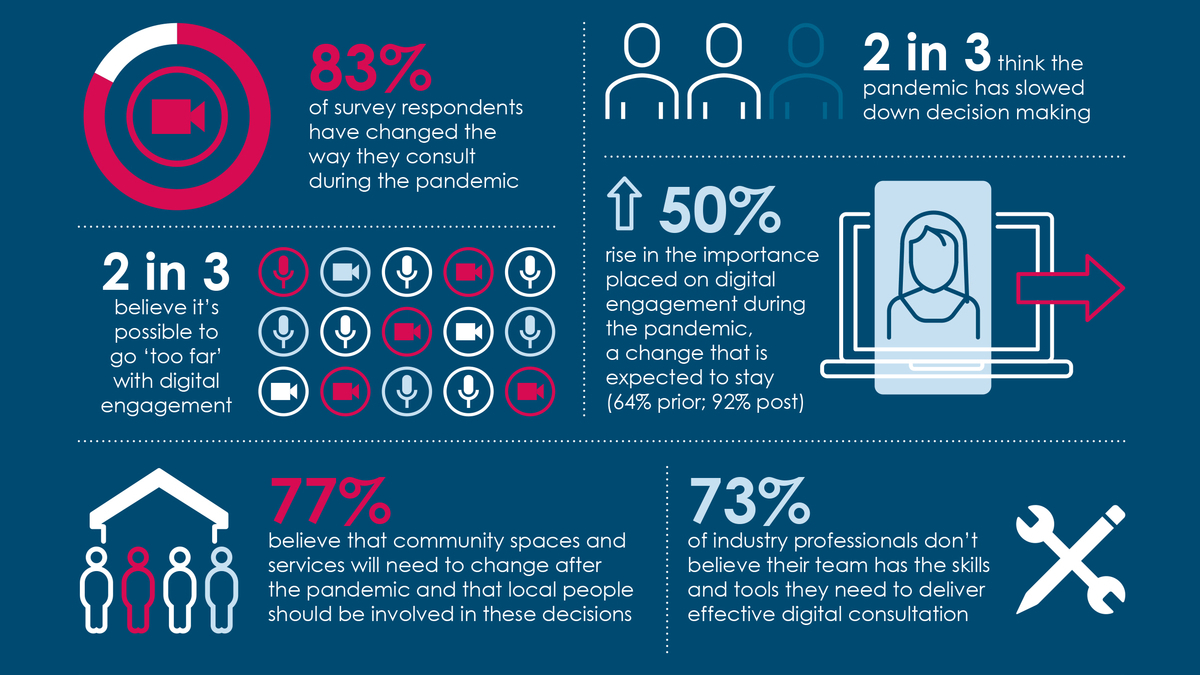 The report involved UK-wide research with the public and industry professionals working across planning, property, infrastructure and health, exploring how the pandemic has changed public decision making and what this could mean for the future.
10 December – RTPI new Trustees and General Assembly members induction meeting
On 10 December, President Sue Manns and Vice President Wei Yang joined the new Trustees and General Assembly members induction meeting.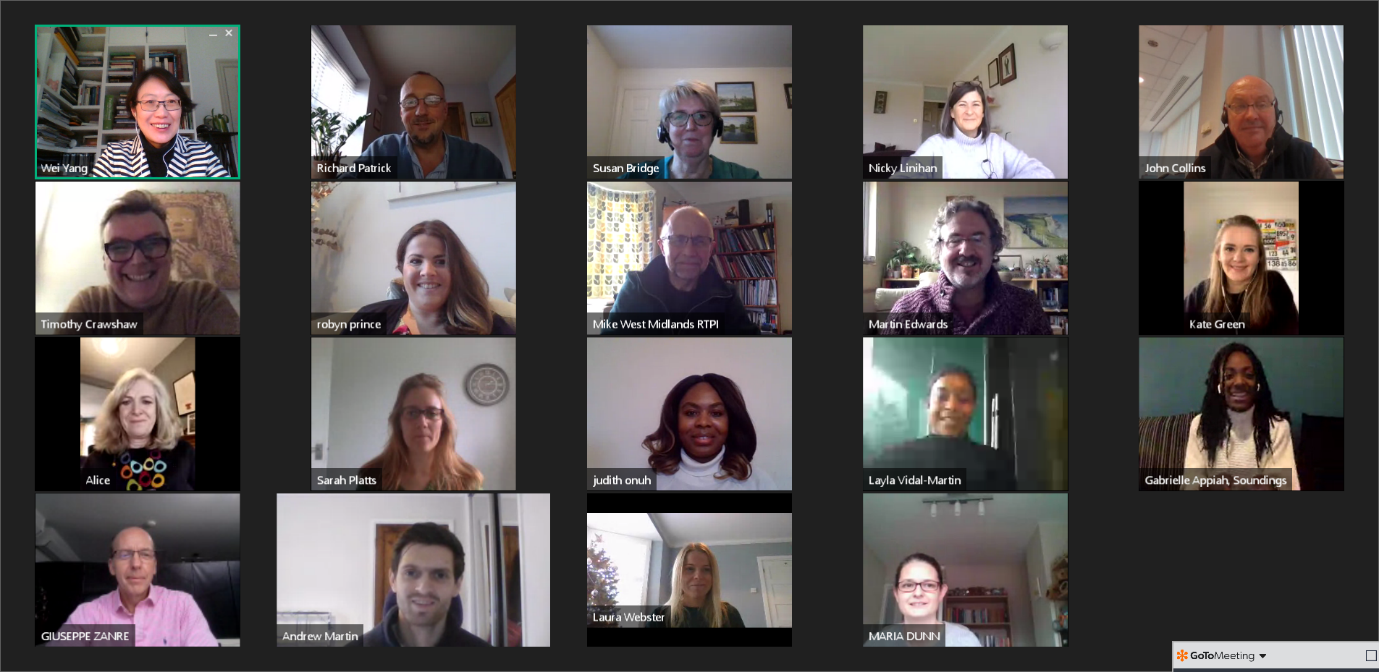 The excitement and commitment to the future of the profession was evident, as was the diversity of members who have stepped up to play their part in shaping our future – there is no doubt that the Institute will be in good hands.
15 December 2020
The final event of 2020 was the annual Christmas message to members from President Sue Manns.
This year it took the form of a written message and an accompanying video, sent direct to members and shared across social media.