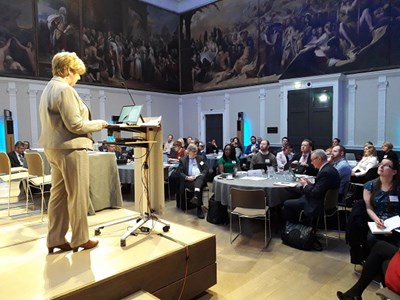 The General Assembly provides a forum for debate about the development of planning policy and practice, the corporate policy of the Chartered Institute and other issues relevant to the objects of the Chartered Institute. Each year, the Assembly elects members of the Board of Trustees.
The General Assembly is the debating chamber of the Institute, meeting four times a year. It consists of:
Twenty-eight Fellows and Members, elected by the Fellows and Members;
Two Legal Members or Legal Associates, elected by the corporate members and Legal Associates;
Two Technical Members, elected by the Technical Members;
Six Licentiate Members or Students, elected by the Licentiate Members and Students jointly;
Fourteen corporate members representing Regions and Branches (including two each from Wales and Ireland);
Two corporate members representing the RTPI in Scotland;
Two Honorary Members, elected by the Trustees;
Representatives of Associations, appointed by the Trustees;
Any Trustee who is not a member of the General Assembly in another capacity.
Meetings
The General Assembly normally meets four times a year - the dates for 2022 are 19 January, 06 April, 29 June and 19 October.
Meetings are held within normal working hours and normally start at 11.00 am. 
Meetings of the General Assembly are chaired by the President.
Please see current list of GA members