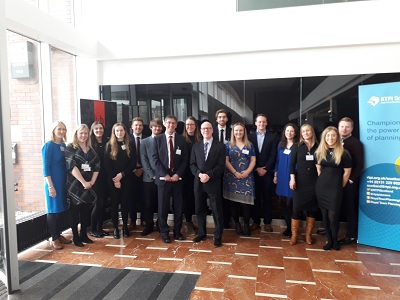 The Scottish Young Planners' Network (SYPN) has been running since 2003, representing over 300 young planners across Scotland. It aims to address the needs and encourage the involvement of young planners in Scotland by organising conferences and events that appeal to planners who are in the first ten years of their planning career.
Young planners have a different perspective on our work and the planning system we help to implement and operate. We can also have different needs and interests than those who have been established as planners for longer. We try to bring this perspective to the debate on changing Scottish planning for the better. Young planners working in Scotland have a lot in common, even if we work for different, and sometimes opposing, interests. What matters is that we are all trying to improve the physical surroundings and quality of environment we see every day. We need support and opportunities to meet and discuss how best to achieve this.
View our remit as set by the Scottish Executive Committee here.
If you are a planner in full time education, part time education, a Student or Licentiate member of the RTPI, a graduate, or a Chartered member of the RTPI within the first ten years of your career, the SYPN is here to support you. Join our mailing list by emailing [email protected].
It's your network
The SYPN has been working for years to raise the profile of the network and we now believe we have a strong voice within Scotland. The network will only continue to get better with involvement of its members. If you have any ideas about events or issues you would like us to raise or indeed you would like to write articles for any of the above publications please do get in touch.