This page is your one stop spot for local RTPI News including Presidents Visits, Awards and Branchout. Branchout is your local newsletter keeping you up-to-date with RTPI South West news and planning issues and is published three times a year.
Your editor is Alexis Edwards, South West Junior Vice Chair. Please get in touch with any suggested articles.

Branchout - Summer 2022
Articles include: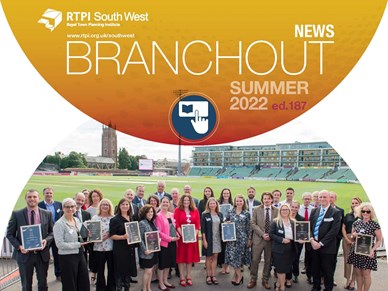 Message from the Chair and photos from the RTPI SW Dinner
Editor's Blog
Young Planners updates and events
RTPI Explore
A personal view of the UK and Brazil Planning System
Exeter City Council appoints new Director
New Chartered Members
Summer New Members Reception
A day in the life of a Planning Consultant
Results of the RTPI Awards for Planning Excellence 2022 in the South West
Bath's Heritage Action Zones
A conference of the Islands - Heritage at Risk Channel Islands
Planning in Jersey: responding flexibly to challenges
Design Code - A Blast from the Past?
Putting Nature Centre Stage - mainstreaming biodiversity
EV Charging provision
Okehampton: A Strategic Success - an ex insider view
Presidents Visit
Planning Aid Update
Regional Management Board and Activities Committee updates
Getting to know RMB Member Carla Fulgoni
Events
Latest webinars
Latest In Person events

RTPI Presidents Visits 2022
In early July we welcomed RTPI President Tim Crawshaw for a 3 day visit to the region. Highlights of the visit included: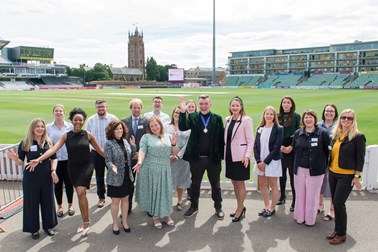 Celebrating our RTPI Award winners in the South West, thanking RTPI Volunteers and celebrating our newly elected RTPI members at the Summer Reception in Taunton.


Meeting with Planners at Somerset West and Taunton where they discussed the new Council for Somerset, their Climate Positive Planning Guidance which was recently commended in the RTPI Awards in the South West, the issue of Phosphate and the impact this is having on development, the Taunton Garden Town as well as discussions about rescourcing, skills and budgets.





Keynote speaker at the RTPI & Landscape Institute South West Natural Environment Seminar where Tim talked about the importance of using the natural environment to plan for health and wellbeing. The seminar then followed to discuss BNG and Nutrient Neutrality.






Meetings and visits with Exeter City Council including discussions about Liveable Exeter and the Future of Exeter lego exhibition at the Royal Albert Memorial Museum & Art Gallery. Then a site visit to the RTPI South West Award winning St Sidwell's Point, an exemplory Passivhaus leisure centre.


An evening with the Devon, Cornwall and Somerset Young Planners where they discussed raising awareness of planning as a profession, the many different routes into planning and recruiting the next generation of Planners from various pools of exciting talent. There was even talk of a mini festival for Planners!


Tim then spent his final day with hosts North Devon 
Council and Torridge District Council where they discussed the opportunities and challenges of planning in a rural area, the coast and estuary and the effects of climate change. Then in the beautiful sunshine they walked out to Pebble Ridge and then headed over to Braunton to discuss the Local Nature Recovery Strategy with Natural England and the North Devon UNESCO Biosphere. Then a walk out onto Braunton Marsh and Horsey Island before then a relaxing afternoon tea with many of the Young Planners from both authorities.



We were delighted to host Tim who listened, inspired and took interest in the challenges and opportunities that planning has in influencing our communities and protecting our future. We hope to welcome him back to the sunny South West in the near future.

If you would like to host the RTPI President for a visit and meetings in your area and showcase your team and local projects then please do get in touch as we work to plan the next visits for 2023 with incoming president Sue Bridge

RTPI President Visits 2021
On 28 June Wei Yang joined us for a webinar on Digital Planning, creating a modern and accessible planning profession. The discussion included the following questions - how the planning profession is evolving through the use of open data and machine-readable information. Is it working? Are there still challenges to overcome? Do we need the private and public sector to work more closely? Do planners have access to the training and tools they need?
On 22 October Wei Yang visited Plymouth to further the conversation about digital planning and visit The Box (The City's brand new museum, art gallery and archive) and The Market Hall (A brand new venue for the city with an immersive dome. It's a world class space for digital innovation).