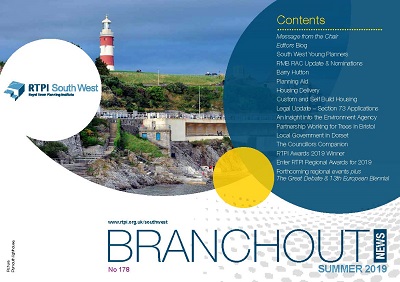 Branchout is your local newsletter keeping you up-to-date with RTPI South West news and planning issues and is published four times a year.
Your editor is Julie O'Rourke, South West Junior Vice Chair. Please get in touch with any suggested articles.


South West Young Planners
John Clotworthy Obituary
Thank you to frontline services
Priorities for Planning Reform in England
Planning Aid England
Engaging Marginalised Communities
Enforcement legal update
Biodiversity Net Gain
Jersey Shoreline Management Plan
A tale of two islands
Managing archaeological loss
RMB RAC Update
Getting to know you Alexis Edwards
RTPI Elections 2020
RTPI SW Awards 2020
RTPI SW Dinner Charity Raffle
Homeworking in the lockdown
Breathe resilience, yield results
CPD in the era of covid19
RTPI Online CPD events
Article: Strategic planning in the West of England takes a further turn
Written by
Geoff Walker, Member of the Regional Activities Committee, RTPI South West  
May 2020


An interview with Paul Barnard MBE
Young Planners
APC Q&A and Top Tips
Chartered Town Planner Apprenticeship
Five reasons for climate justice in spatial planning
RMB RAC Update
Getting to know you…Tristan Peat
Results of RTPI South West Awards for Planning Excellence 2019
Enter the Awards for 2020
Soap Box - Diversity in Planning
Forthcoming events
Annual Dinner
President's Visit
Plymouth ECTP Biennial
Promoting Planning as a Career
Celebrating student & young planner success
Delivering the Right to Build
Self Build from Tetlow King
Greater Horseshoe Bats
Legal update - EIA from Burges Salmon
Reflection on Planning for a Low carbon world
Planning for Smart Energy Research
South West International Group
A tribute to Barry Hutton
Housing Delivery
Custom and Self Build Housing
Legal Update – Section 73 Applications
An Insight into the Environment Agency
Partnership Working for Trees in Bristol
Local Government in Dorset
The Councillors Companion
RTPI Awards 2019 Winner - Plymouth takes the Silver Jubilee Cup
The Great Debate & 13th European Biennial
RTPI Public Consultation
2018 Award Winners
Entering the 2019 RTPI Awards
Raynsford Review
S106 Obligations and Health Survey
Local Plans Article
Spotlight on Torbay
Legal Update - Ashfords on Permitted Development Rights, Material Considerations and the Fall-Back Position
Soapbox
Today @SWYoungPlanners will be hosting a webinar with @feria_urbanism on how to Build a Town Square and the Implica… https://t.co/oq0y10avsB
Our @RTPIPlanners #PlantheWorldWeNeed campaign aims to raise awareness of the vital role planners have in every asp… https://t.co/c1OQg5KJTV
@PeteJBadger @plannertophd Let me know if I can help you with that.