Amy Powell works for an independent planning consultancy – Edgars Limited based in Oxfordshire.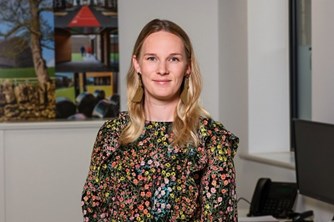 I came across the RTPI apprenticeship scheme when I embarked on a career change at 30. The opportunity to work and study, and to progress quickly to Chartership was very attractive in continuing my career progression. Through the RTPI, I found local companies who were supporting the apprenticeship scheme and I quickly made contact with Edgars Limited, a private planning consultancy based locally to me. Upon meeting Jayne Norris, director of Edgars, I was bowled over by her enthusiasm for nurturing young talent in the profession and before long I enrolled at London South Bank University under the master's apprenticeship degree course one day a week and was working 4 days a week at Edgars.
The combination of working and studying mutually supports each other, and because both elements are linked under the apprenticeship both my employer and university understood the pressures of the other. I therefore felt supported throughout the whole of the course and around submission deadlines for university work. I really valued the opportunity to conduct my own research as part of my masters dissertation, this allowed me to explore an area of planning I was passionate about and helped me build my professional network through conducting research and interviews with stakeholders. My passion for renewable energy and advocating for zero carbon development, which was developed through my masters dissertation, now feeds into my everyday work on projects which is hugely rewarding.  
At the end of my masters degree I could progress through the apprenticeship gateway and on to applying for the End Point Assessment.  Here my university provided one to one support on the process, and the RTPI's resources were instrumental in guiding and supporting me in completing my APC submission. I highly recommend attending the RTPI's workshops or webinars when you start to prepare for your submission as they helped me immensely in covering the requisite parts of the APC.  The support of colleagues who have been through the process is also invaluable and I look forward to being able to help others with their APC submission in the future.
I am incredibly proud to have now been elected as a chartered member of the RTPI, even more so as one of the first apprentices to achieve this. I hope my journey is inspirational to all ages, whether you are leaving school or university and looking to embark on a career in planning, or like me are hoping to change careers later in life. The apprenticeship allows the best of both worlds - the university experience and the ability to work and earn throughout your training. You can find information on the universities and employers supporting the RTPI's apprenticeship scheme here.
Looking to the future, I am proud to be supporting a local authority in the midlands with their Net Zero Carbon Development Plan Document and I would like to assist other authorities in preparing policies for zero carbon development, or renewables in the future. I am also very much looking forward to celebrating other apprentices' achievements and getting to meet the next generation of planners in years to come.
Find out more about apprenticeships