September was an incredibly busy month for the Presidential Team as this report demonstrates. Through digital technology we were able to 'virtually' travel far and wide, reaching members across the Regions and Nations and many others who have an interest in planning.
4 and 8 September – Interviews for new RTPI Equality, Diversity and Inclusivity Manager
President Sue Manns, who is also RTPI Board Champion for Equality, Diversity and Inclusivity, joined RTPI Chief Executive Victoria Hills and Andrew Close, Head of Careers, Education & Professional Development, to interview final round applicants for the new post of Equality, Diversity and Inclusivity Manager.
The candidates were all excellent, but one stood out above the others – that person has now accepted the position and subject to formalities, we very much look forward to having them in post in the not too distant future.
7 September – The future of the profession
President Sue Manns joined this event which was organised by Professor Gavin Parker of the University of Reading. As a speaker, Sue was able to talk about the RTPI Corporate Strategy and various actions that flow from it to support a growing and confident profession.
7 September – RTPI Awards for Research Excellence
The RTPI Awards for Research Excellence 2020 were the first ever to be presented digitally. The Awards recognise the very best in spatial planning research from RTPI members and accredited planning schools. This year there were 61 entries, across four categories. Many congratulations to the winners – they really were the 'best of the best'.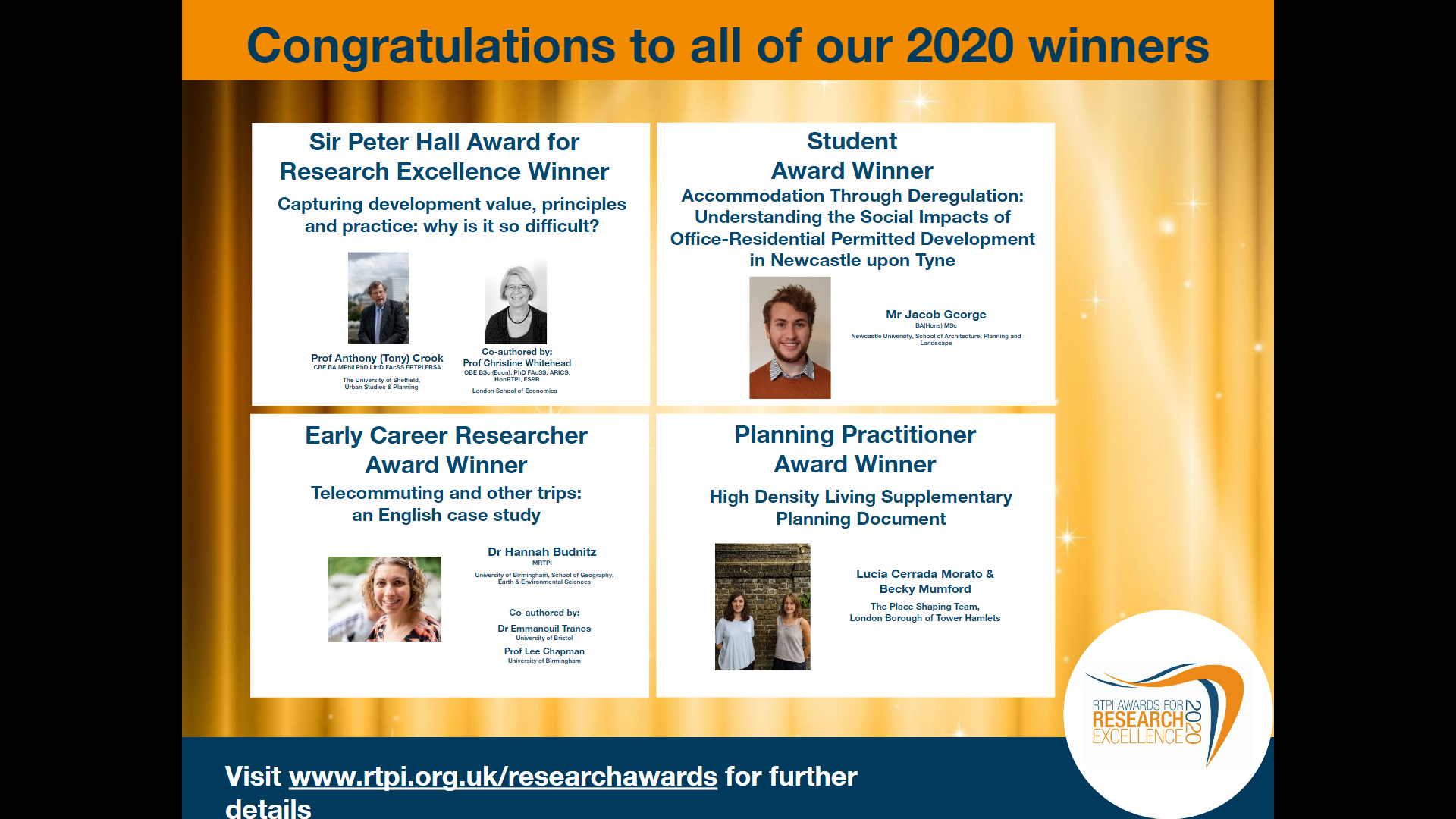 A huge thank you to sponsors Routledge Taylor & Francis Group and Idox Knowledge Exchange and to our judges – who included all three members of the Presidential team. The high quality of the entries made the judges' task particularly challenging, but also incredibly rewarding.

In addition to announcing the winners of the Awards, the evening was made very special as a result of the presence of Patsy Healey, Professor Emeritus in the School of Architecture, Planning and Landscape at Newcastle University and Professor Heather Campbell, from the School of Community and Regional Planning at the University of British Columbia, who came together to share reflections and celebrate 21 years of the Planning Theory and Practice journal.
If you missed the Awards Ceremony, or would like to watch it a second time, it's available on our YouTube channel.


9 September – President speaks at Housing 2020
RTPI President Sue Manns and new MHCLG Chief Planner Joanna Averley were among panellists at Housing 2020 for a session examining the White Paper proposals for the future of planning.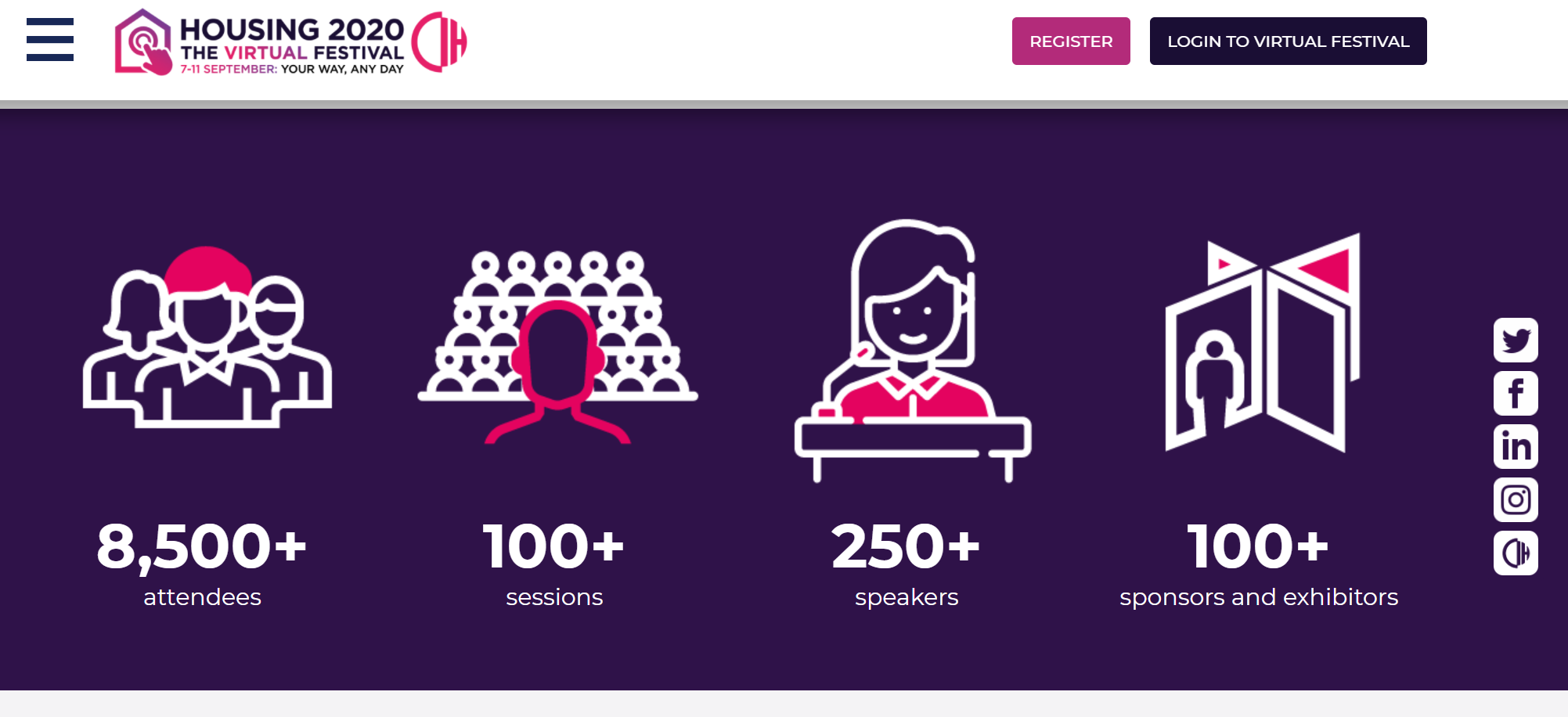 Key questions of the event were around how we can drive better quality community engagement and rebuild the public's trust in planning. It was a great opportunity to talk about planning and the value of planning.
9 September – President's visit to the North West
This really was a visit with a difference. New skills were required for this fun event – Planning Bingo!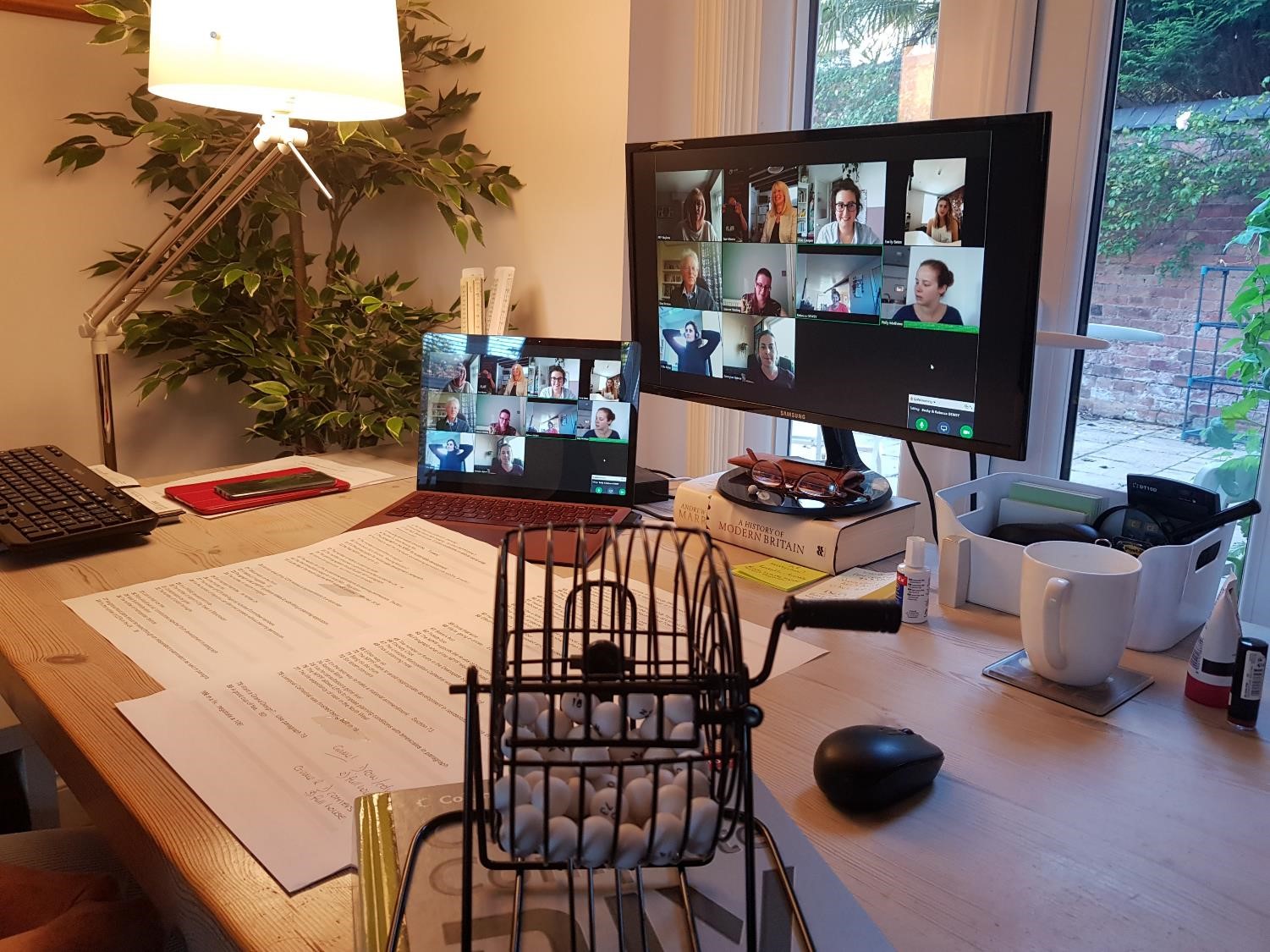 With number calls including 'Purposes of the Green Belt – number 5!', it was a really entertaining evening and a great virtual social event.
9 September – Vice President speaks at the 2020 UK-Ireland Planning Research Conference
Wei gave a presentation titled 'Good Planners, Better Communities - Developing a Modernised Planning Profession for the 21st Century' at this conference hosted virtually by UCL.
Wei reviewed the history and purpose of the planning profession, and argued that to tackle current challenges in the 21st century, we need a revival of spirit and a genuine modernisation of the planning profession and its education to serve the world for now and the future.
10 September – President's visit to the North East Region
Just what do planners do all day? That was the big question that was at the heart of the visit to the North East region.

Timothy Crawshaw, RTPI Chair and incoming RTPI Vice President 2021, provided a snapshot of the region, specific challenges and opportunities, showcasing the very best of planning practice.
This was followed by a presentation from Professor Geoff Vigar of Newcastle University who outlined the findings of a research project - Working in the Public Interest. This incredible project involved a 30-month investigation into the UK planning system. Researchers from Newcastle University, the University of Sheffield and UCL followed dozens of planners in very different organisations to answer the question, 'just what do planners do all day?'.
The presentation explained why this matters in producing the environments we might want.

Thank you to everyone who helped put this visit together – it was another very special experience in a very special year.
16 September – Immediate Past President launches the RTPI Climate Action Tools Learning Module
Immediate Past President and RTPI Board Champion for Climate Action Ian Tant launched an invaluable guide to climate action tools. The guide will help planners and others understand how to reduce carbon emissions while also managing climate impacts such as flooding and overheating.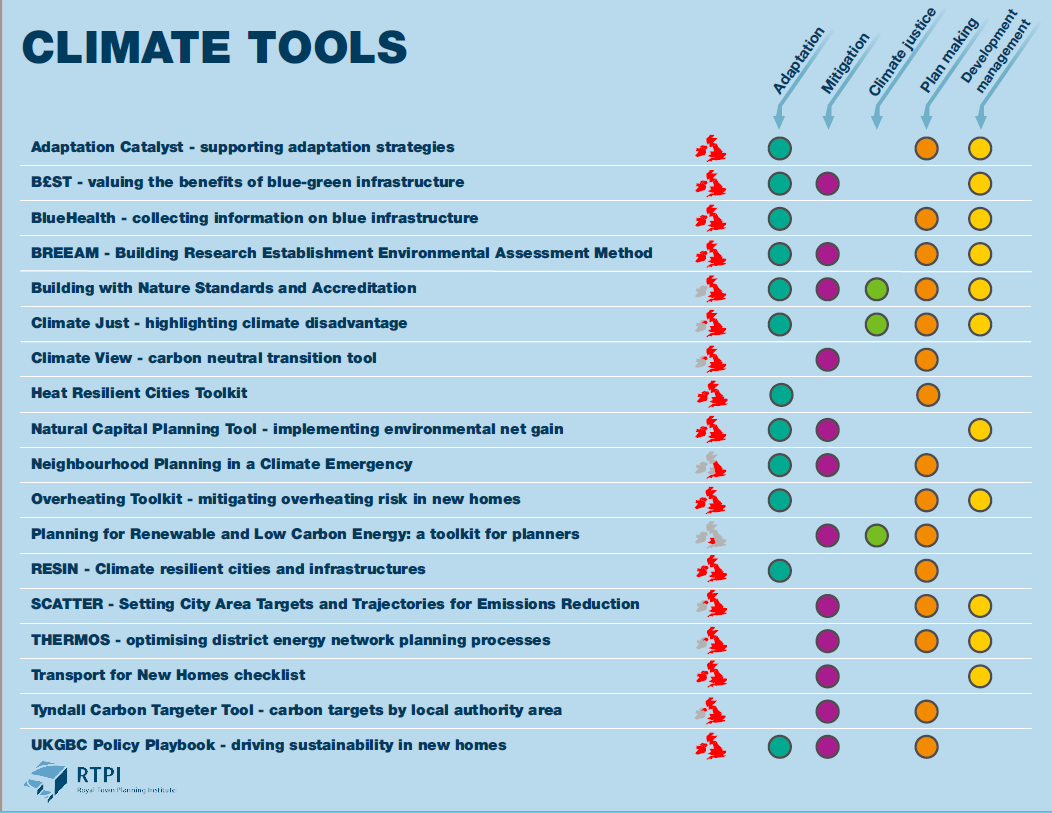 Spatial and strategic planning have a vital role to play in helping councils and communities move to carbon net zero - nearly 300 councils across the UK have declared a climate emergency and are seeking to take action to mitigate and adapt to current and future climate change.

The guide takes the form of an interactive directory of 18 climate adaptation and mitigation tools available to use in development management and plan-making. It is available as a free bite-sized module from RTPI Learn and guides members through the tools available in their nation - England, Scotland, Wales, Northern Ireland or Republic of Ireland.
17 September – President and Vice President join the Global Planners Network virtual meeting
President Sue Manns and Vice President Wei Yang joined a fascinating online meeting of the Global Planners Network. The Abu Dhabi declaration that the RTPI signed up to at the World Urban Forum in February is now gathering momentum with other countries joining as signatories.
Representatives of the Global Institutes shared experiences of the impacts of the COVID 19 pandemic – it was clear that the unequal impacts that have been seen in the UK, whereby those who are most disadvantaged are suffering the most, are shared across the world. The critical role of environment in health has come to the fore through experiences of the pandemic, along with the need to plan for a healthy sustainable, resilient, green, net zero future.
17 September - President's visit to meet the North East Young Planners
The RTPI North East Young Planners are talented and brimming with passion, innovation and creative thinking. This 'digital' Presidential visit to the North East shone a light on the professionalism, ability and quality of the region's Young Planners.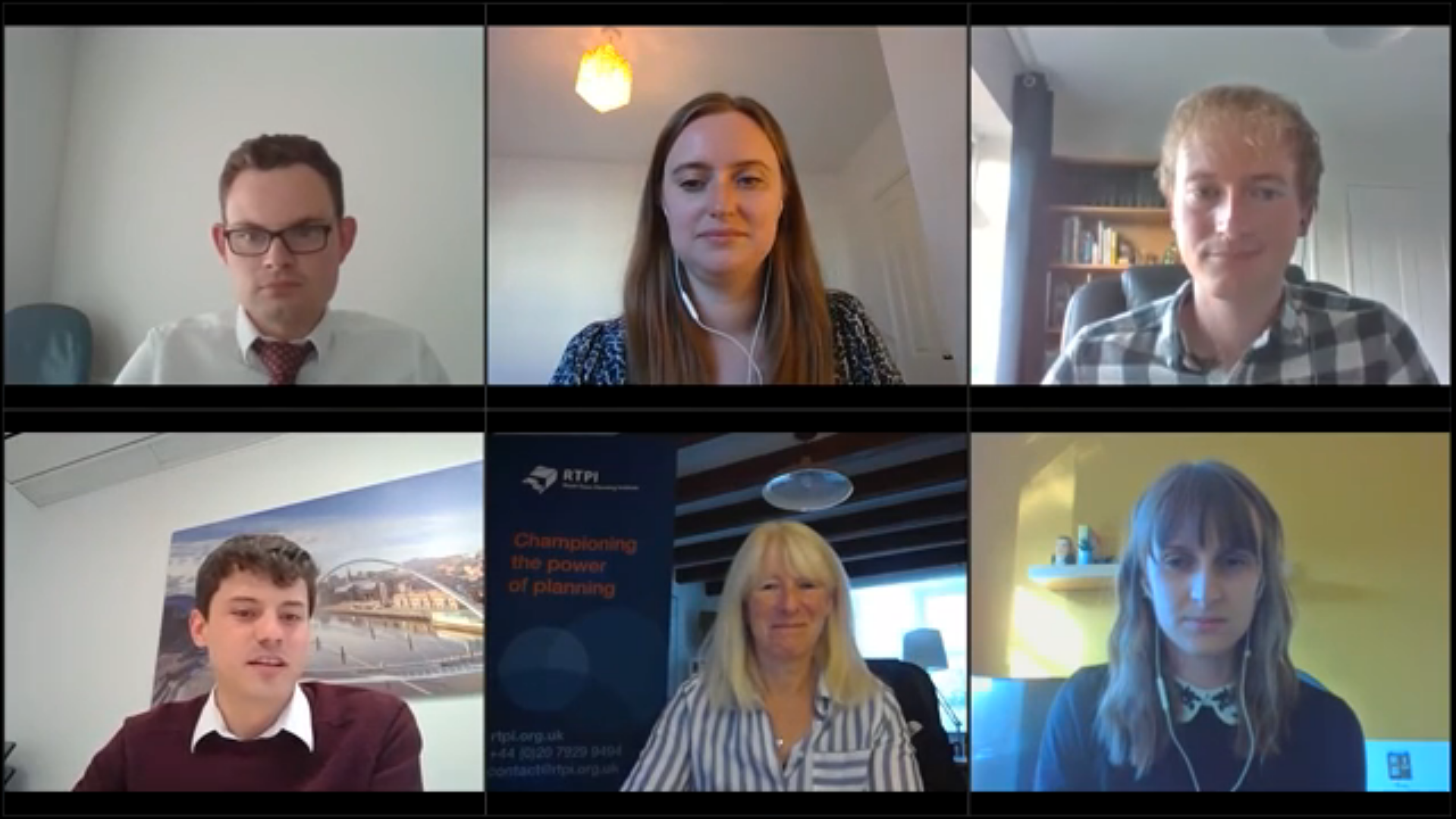 Chaired by Dominic Crowley, there were presentations from Katherine Simpson on Young People and Town Centres, Alastair Welch on Reviving Coastal Towns for Young People, Patrick Johnston on Pedestrianisation of Newcastle City Centre, and Nicola Crowley on Flexibility in Our Town Centres.

Each presentation was followed by an inspiring discussion of the issues and opportunities for planning to play a key role in the future of our places and how they can work better for young people.

A recording of the 'visit' is now available on the RTPI YouTube channel and I strongly commend it to you.
17 September – Vice President speaks at Joint AoU-UDG Online Symposium - The Fifteen Minute City
Wei gave a presentation 'Embedding urban design principles into plan-making process - How 15-minute concept has been applied in China' during the event.
Wei's talk introduced how the 15-minute concept has been applied in Chinese cities as part of the national spatial planning reform, in which urban design principles are required to be considered alongside the plan-making process. Wei also shared Shanghai's experience of applying 15-minute neighbourhood principles since 2016 as a case study.
Other speakers in the panel included Prof Carlos Moreno, advisor to the Paris 15-minute city plan, and Daisy Narayanan, Director of Urbanism for Sustrans.
18 September – President chairs session at the RTPI Northern Ireland Planner Live 
Northern Ireland Planner Live was organised by RTPI Northern Ireland with support from Landmark Chambers and Arup who were the event sponsors. It was a very special week of discussion and debate looking at how planners can seize the chance for change in a post-pandemic world.
The theme underpinning the week was how infrastructure can better be integrated with land use planning.
Sue's session focused on sharing approaches to delivering integrated infrastructure. The speakers were Jon Fudge, Head of the Planning Policy Team in the Welsh Government, Stefano Smith of Stefano Smith Planning and Susan Claris, Arup's global champion for active travel. The discussion that followed the three presentations was interesting and informed, covering a range of topics.
21 September – Presidents and Chief Executive speak at BAME Planner Network
President Sue Manns, Chief Executive Victoria Hills, and Vice President Wei Yang were delighted to take part in a positive and thought-provoking online event hosted by BAME Planner Network.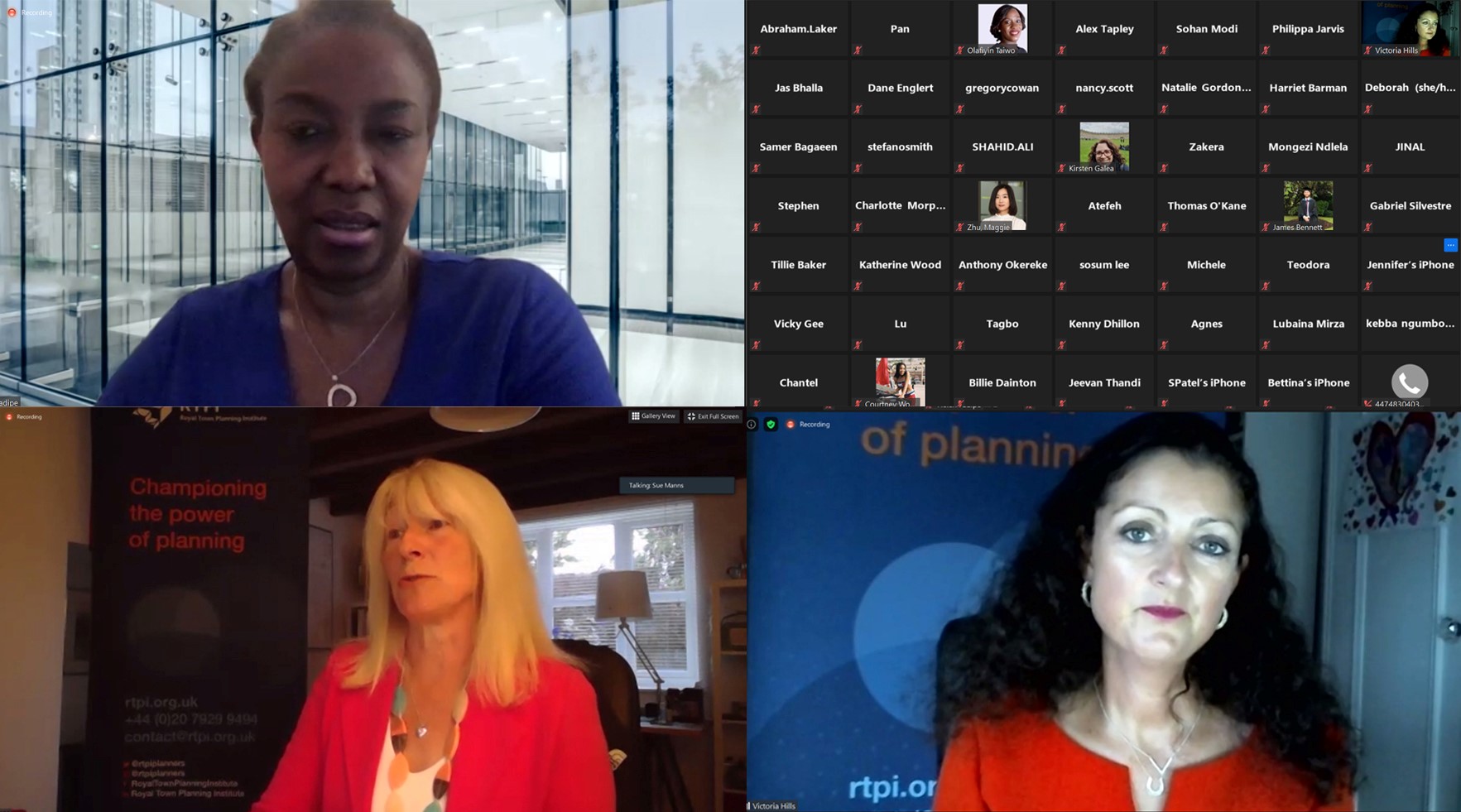 The event was chaired by Helen Fadipe. Sue and Victoria shared their personal reflections, as well as the RTPI's commitment and latest developments on the delivery of the Equality, Diversity & Inclusivity Action Plan. Other speakers included RTPI members Olafiyin Taiwo and Abraham Laker.
21 September - World Alzheimer's Day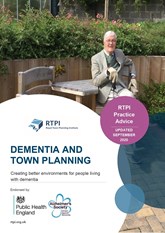 The RTPI marked World Alzheimer's Day 2020 with the publication of updated guidance on Dementia and Town Planning: Creating Better Environments for People Living with Dementia.

As someone who has witnessed close family members suffering from dementia, I understand first-hand the importance of good quality housing and well planned local environments, which can enable people living with dementia to stay in their own homes for as long as possible, in turn reducing the burden on social care.

The advice includes evidence, facts, legislative context, tools and case studies to help planners create dementia-friendly homes and urban environments. It also forms part of the RTPI's Plan The World We Need campaign that calls on governments across the UK and Ireland to capitalise on the expertise of planners to achieve a sustainable, resilient and inclusive recovery from the COVID-19 pandemic.
23 September – Immediate Past President chairs session of Creating Communities conference on planning for small sites
The Creating Communities conference – a joint venture of Create Streets (headed by Nicholas Boys Smith of the Building Better, Building Beautiful Commission) and Onward – was held over three days on the 21 – 23 September, with its final day dedicated to planning matters. Ian Tant chaired a session in which Pocket Living and Lichfields presented the results of their research into the planning issues facing small housing sites.
24 September – Immediate Past President Ian Tant launches the RTPI Climate Action Plan at the Welsh Planner Live
RTPI Immediate Past President and Board of Trustees climate action champion Ian Tant spoke at the Welsh Planner Live conference on planning policy and climate change. In the course of his speech, Ian announced the RTPI's aim to be the world's first 'net zero' membership body by reducing its own net carbon emissions to zero by 2025. 
For many years, planners around the world have been leading the way in providing solutions to tackle climate change. The RTPI in its Plan the World We Need report and campaign argues that planners should be supported to ensure that our infrastructure and our towns, cities and rural environments work harder to reach the vital carbon net zero goals set by our Governments. 
As the largest Institute for professional planners, the RTPI is now 'walking the walk', setting ourselves the ambitious target of becoming fully carbon net zero by 2025 – we believe we will be the first membership organisation to achieve this. 
The actions included in the Institute's Climate Action Plan are based on a thorough-going assessment of the Institute's carbon footprint in 2019 and include switching to green energy providers and requiring that our suppliers to join with us in reducing carbon emissions. Savings in travel are an important part of the Plan: we will be looking to adapt our offices and working practices to reduce the need for staff, members and visitors to travel in order to attend meetings and events and conduct institute business. And we'll be looking to offset unavoidable carbon emissions in the course of the Institute's work.
25 September – President chairs session at Welsh Planner Live
The focus of the Welsh Planner Live was a discussion and debate around climate action. The webinar that Sue chaired took the RTPI campaign Plan the World We Need and asked how others are addressing climate action around the UK.
Speakers included RTPI Cymru Chair Simon Powell, Jen Heal, co-chair of the Design Commission for Wales, and Barbara Cummins, Director of Heritage at Historic Environment Scotland and Senior Vice Convenor of RTPI Scotland.
Three very different perspectives were shared which led to a stimulating and informed debate around shared challenges and opportunities.
25 September – Vice President speaks at Urban Design Group event on 'Planning White Paper – Strategic Issues'
Wei gave a presentation named 'planning for the future' at the Urban Design Group (UDG) event chaired by UDG Chair Leo Hammond. The speech talked about three strategic issues, Time, People and Land, and the RTPI's Plan the World We Need campaign. Links to the RTPI's research and briefing papers on the planning White Paper and zoning were also shared with the audiences.
Other speakers included Lynda Addison of Transport Planning Society, Jenny Raggett of Transport for New Homes, and Roger Evans of Urban Design Group.
Thought-provoking discussions were generated on how the proposals for the changes to the planning system can address the strategic problems that have been identified by so many different organisations, as well as deliver on the Government's commitment to walking, cycling and zero carbon.
28 September – President speaks at the opening session of Scottish Planner Live
President Sue Manns and Kevin Stewart MSP (pictured), Minister for Local Government, Housing and Planning joined a session chaired by RTPI Scotland Convenor Irene Beautyman to explore the role and importance of collaboration between public health and planning in placemaking.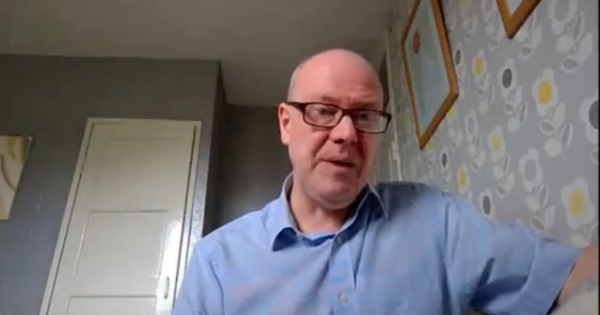 The Minister's passion for placemaking and community engagement was clear to see, along with a recognition of the need to embed health and wellbeing into the policies of development plans in Scotland.
All the sessions from the Scottish Planner Live can be viewed on the RTPI YouTube channel.