A guide for planners who want to understand how to reduce carbon emissions while also managing climate impacts such as flooding and overheating has been launched by the Royal Town Planning Institute (RTPI).
The guide, produced by the RTPI alongside CAG Consultants, takes the form of an interactive, online directory showcasing 18 climate mitigation and adaptation tools which can be used in development management and plan-making.
RTPI's Immediate Past President and Climate Change Champion Ian Tant MRTPI said:
"Spatial and strategic planning have a vital role to play in helping councils and communities move to carbon net zero - nearly 300 councils across the UK have declared a climate emergency and are seeking to take action to mitigate and adapt to current and future climate change.
"The Index of Climate Tools produced by the RTPI with CAG Consultants is an invaluable guide to help councils and planners access the best available tools and information on climate change and climate action."  
The new directory, available as a free bitesized module from RTPI Learn, guides members through the tools available in their specific area - England, Scotland, Wales, Northern Ireland or Republic of Ireland.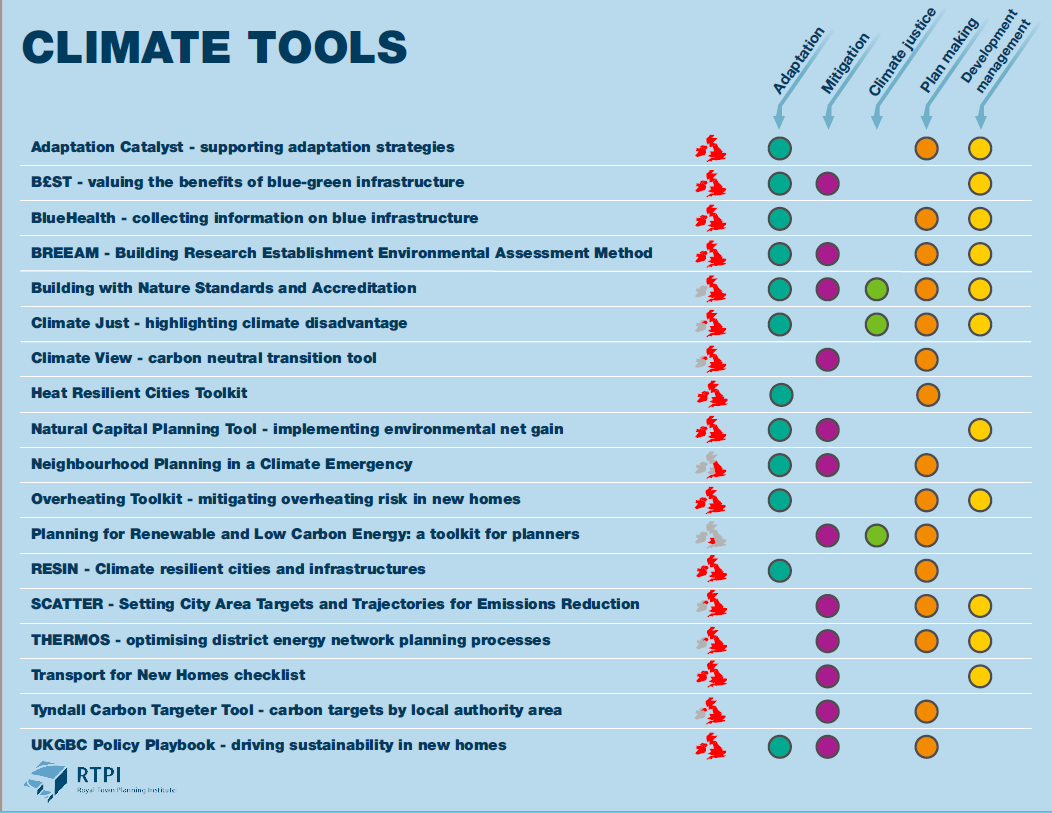 The launch of the new module follows on from Plan the World We Need, the RTPI's campaign to raise awareness of the vital role of spatial and strategic planning in reviving the economy, tackling inequality and meeting net-zero targets by 2050.
The RTPI's ambitious Corporate Strategy 2020-30 also has climate change at its heart, acknowledging the pivotal role of planning in achieving global sustainable development.
To keep the module up to date, members are being encouraged to provide their own feedback on the tools mentioned and to inform the RTPI of climate tools which are not included. Get in touch by emailing RTPI.Research@rtpi.org.uk
Climate Tools for Planners is available now on RTPI Learn, the RTPI's online training site.