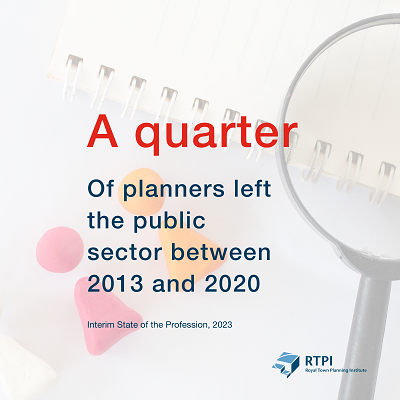 A quarter of planners left the public sector between 2013 and 2020. Meanwhile, the private sector experienced an 80% increase in the number of employed planners, according to today's analysis from the Royal Town Planning Institute (RTPI).
Budget reductions are leading to unmanageable workloads and overstretched workers in Local Planning Authorities (LPAs). Working within these conditions is taking its toll on LPAs, which are struggling to recruit and retain staff.
Responding to a survey by the RTPI, 82% of local authority planners said their employer had difficulties hiring planners in the last 12 months. 68% see competitive salaries as a key difficulty for local authorities.
Sue Bridge, President of the Royal Town Planning Institute, said: "Budget reductions in local authorities and other public sector agencies are leading to unmanageable workloads, insufficient staff, and overstretched workers. Without a sufficient arsenal of qualified, well-resourced planners, Local Planning Authorities are unable to deliver the affordable homes, public services and critical infrastructure individuals, families, and communities need and which are so vital to our economy.
"More must be done to provide adequate resourcing to the planning system. While increased planning fees would be an important first step, we do not see them as a silver bullet to meeting the capacity requirements."
Victoria Hills, Chief Executive of the Royal Town Planning Institute added: "The planning profession faces challenges to its public image. Political narratives on both left and right frame it as a barrier to the solution to the unfolding housing crisis. There are calls for 'planning reform' on the national level and widespread abuse and mistreatment of planners at the local level. It comes at a detriment to the mental health and working conditions of planners."
Are you a politician working in planning?
The RTPI's Politicians in Planning network includes over 500 elected representatives involved in planning and planning decisions.
The cross-party network was established in 2021 to help bridge the gap between planning professionals and elected politicians and support our shared ambitions for vibrant, healthy and sustainable places for communities to live, work and interact.
The network helps local authority and parliamentary politicians across all UK and Ireland's planning systems to share best practice, to access information and receive a regular newsletter on planning matters free of charge.