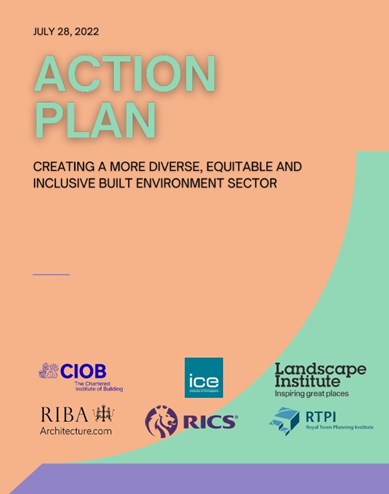 Key membership bodies in the built environment sector recently signed a Memorandum of Understanding (MoU) to drive forward the creation of a more diverse, equitable and inclusive sector - ensuring it is more representative of the society it serves. 
The MoU brings together six organisations from across the sector: the Chartered Institute of Building (CIOB), Institution of Civil Engineers (ICE), Landscape Institute (LI), Royal Institute of British Architects (RIBA), Royal Institution of Chartered Surveyors (RICS) and the Royal Town Planning Institute (RTPI) – collectively  representing around 350,000 members. 
The agreement focuses on:
Standardising member data collection: To create a consistent approach to data collection that will allow meaningful comparison across our collective membership and help to formulate a clear picture of the wider built environment sector, and inform targeted action to improve EDI outcomes.
Understanding the transition from education into employment: To develop a robust, evidence-based understanding of the disparity between the diversity of students that start on institute-accredited courses and those that join the workforce; and to build on existing good practice to improve our collective understanding of retention rates and awarding gaps in education.
Raising the sector's standards of EDI knowledge, behaviours and practice: To develop understanding and guidance for the sector and support organisations, individuals and institutes to develop, improve and maintain high professional standards; and to explore ways to collate and share relevant collateral to support all professionals working within the built environment.
A detailed action plan
A collectively agreed action plan has now been published showing a summary of collaborative aims. The plan details clear outcomes, target deadlines, required resources and responsibilities, enabling the organisations to clearly track progress and accountability. 
The action plan also puts at the forefront the role of good governance and leadership to ensure success. It stresses the significance of aligning visions and strategies with EDI principles, values, beliefs, and the lived experience of the people working within the sector.  
You can read the MoU in full here. 
Read the action plan here.