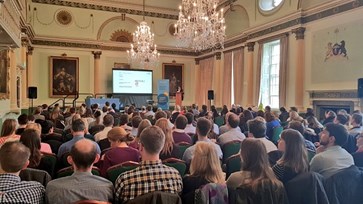 RTPI South West runs a wide range of events to support your learning needs and features popular events such as its DM/Planning Law Updates and a multi choice CPD Workshop Day.
South West CPD Events 
As a new perspective to our programme of CPD events, we are seeking to ensure that every seminar and webinar has a public, private and third sector voice, to enable discussion and debate. We hope the events are representative of the planners within our region and includes views and opinions from a range of speakers. The seminars and webinars will also have practical elements, for the participants to take away.

As well as a series of FREE* webinar opportunities which will be added to the events calendar usually up to 2 months before each webinar, we are also offering a series of in-person and hybrid event opportunities. in the South West.
All the in-person events currently have discounted fees which will end on the 28 February. I would encourage you and your colleagues to book soon to make the most of the saving.
*For RTPI Members which include licentiates and student members, a fee is charged for non-members
In person opportunities are:

More CPD opportunities
Take part in interactive RTPI Training Masterclasses online, which offer delegates a highly valuable training and learning experience to really boost their understanding of specific topics with expert trainers in small groups. These courses will replace the RTPI Training courses and will be offered at a lower cost than the scheduled in-person RTPI Training courses.
There is also lots of learning opportunities on our online training site, RTPI Learn. It offers FREE modules for planners. The modules are a mixture of text, web links, video clips and diagrams as well as interactive quizzes with instant feedback.
Networking Events
As well as the Annual Dinner, we work with LPAs and Consultancies to organise and host informal CPD events with a focus on networking. In the past this has included site visits and evening talks with a social aspect.


Young Planner Events
With three Young Planner Steering Groups across the South West, you will never be too far away from one of their popular events.
Find out more


Speakers and Topics
We are always looking for speakers and topic suggestion for events to help enhance knowledge, provide guidance, shape policy and share experiences with case studies within the region and across England. Please get in touch with your Regional Co-ordinator if you can help.
See our terms and conditions here


Sponsorship Opportunities
RTPI South West have a range of sponsorship opportunities for a number of events in the year, so please do get in touch to discuss. As well as supporting events which raise the profile of planning, they are a great way of aligning to your organisation values and goals.  
Other content you might be interested in