The RTPI Awards for Planning Excellence celebrate outstanding plans, projects and people that demonstrate the power of planning. 
The awards highlight exceptional examples of how planning and planners have a positive impact on our quality of life in creating exceptional places and protecting our environment. In recognising and rewarding excellence we aim to inspire others to achieve the same high standards.
For 2022, we have refreshed the Awards for Planning Excellence to provide a more seamless and chronological programme across the Institute. There will be one entry system for all, no matter where you or your project are based and have the same open and closing dates. We will open for entries on 10 January and close for entries on 11 March.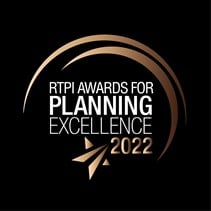 The awards will be celebrated to the full both locally (June/July) then nationally (November) all in one calendar year.
Save the date of 30 June for the ceremony in the South East of England. 
Awards will be given to:
Best Project 
Best Plan
Small Planning Consultancy of the Year 
Planning Authority of the Year 
Head Planner of the Year
Young Planner of the Year 
Chair's Award : The Chair's Award is a discretional Award chosen by the Regional Chair and agreed with the Regional Judges. This year's Chair's Award will focus on 'Greener' Planning; recognising the schemes, development plans, and planning professionals (individuals or teams) for planning for a more sustainable future. This could include contributions to net zero, biodiversity, climate change sustainability goals. The Award may be given to a person, team, department, authority or planning practice which has stood out this year.  
Submissions must be in the South East of England which covers Berkshire, Buckinghamshire, East Sussex, Hampshire, Isle of Wight, Kent, Oxfordshire, Surrey, and West Sussex.
The top scoring entries across all 15 categories will be finalists for our national award competition where we will reward and celebrate at a ceremony in central London later in the year.
For more details, including the full list of categories, a timeline, how to enter, and FAQs, please visit our awards hub.