The RTPI South East Awards for Planning Excellence celebrate projects and peop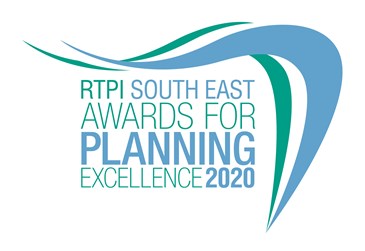 le who have helped create exceptional places and improved the lives of those who live and work there; highlighting how planning and planners work to create a safe, healthy and sustainable future.
Winning these prestigious awards is a clear demonstration of quality, and an excellent way to raise the profile of a project, team or individual.
We are delighted to announce that this year's Regional winner is Campbell Wharf, Milton Keynes submitted by Bidwells. See our winning schemes below.
Sue Percy CBE, Chair of RTPI South East judging panel, said: "The project represents a real planning success story. The project demonstrates excellence in land use planning, regeneration, sustainable transport and a wonderfully designed piece of civil engineering as a centrepiece.  The planning team managed to overcome viability issues and have delivered a project that not only regenerated the site, but will hopefully trigger improvements to the wider area to the benefit of current and future residents and visitors."
The Young Planner of the Year 2020 has been awarded to Daniel Young, Senior Planning (Policy) Officer, Portsmouth City Council.
"Daniel's enthusiastic commitment to helping to address climate change and delivering improvements through policy based on his national and international research impressed the judges. They wish him every success in taking these forward and feel he has a bright future ahead of him in Town Planning."
You can also watch our virtual awards ceremony on YouTube that took place on 16 November.
The RTPI SE Awards for Planning Excellence 2020 are sponsored by Francis Taylor Building

As a specialist planning set of chambers', Francis Taylor Building is delighted to sponsor the RTPI SE Awards which recognises excellence in planning and celebrates the professionals who help to deliver exceptional projects which help to improve the quality of lives of citizens and to create a more sustainable future.
Below are the 2020 shortlisted entries
#Planning on the #coast webinar-28 Jan.Panel will discuss strategic planning issues facing south Hampshire and West… https://t.co/QX868bi5RR
RT @samerbagaeen: Thank you @RTPISouthEast & the #Kent Young Planners for the invitation to share my thoughts on #urban #planning in a #pan…
Great start to the year!Thank you @samerbagaeen for the brilliant &informative presentation&to the panel Harriet Ri… https://t.co/LvgiXFbFtI
Other content you might be interested in