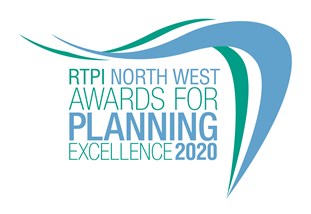 Our regional Awards for Planning Excellence celebrate projects and people who have helped create exceptional places and improved the lives of those who live and work there; highlighting how planning and planners work to create a safe, healthy and sustainable future.
Winning these prestigious awards is a clear demonstration of quality, and an excellent way to raise the profile of a project, team or individual.
See below 2020 shortlisted entries.  Virtual presentations took place on 7-8 September.  Winners will be announced at a virtual awards ceremony live on YouTube on Monday 16 November 2020 at 1pm.  Book your place now.
Join Sue Manns, RTPI President as well as some of our regional judges on 20 November for 'Top of Planning Pops' they will be discussing some of the highlights of this year's awards, judging process, future of the awards and much more.
The RTPI North West Awards for Planning Excellence are sponsored by

In a fast paced and ever changing planning climate, the RTPI NW Awards for Planning Excellence provides an important opportunity to share and reflect upon what can be achieved, and what is indeed being achieved, by planning professionals and communities across the south west. WYG is proud to sponsor this initiative.
Shortlisted entries: