Timothy Crawshaw MRTPI is an International Planning and Development Consultant. He is currently the RTPI's Vice-President and will become President in 2022. In the first of this three part blog series Timothy reflects on COP26 and its impact on climate change.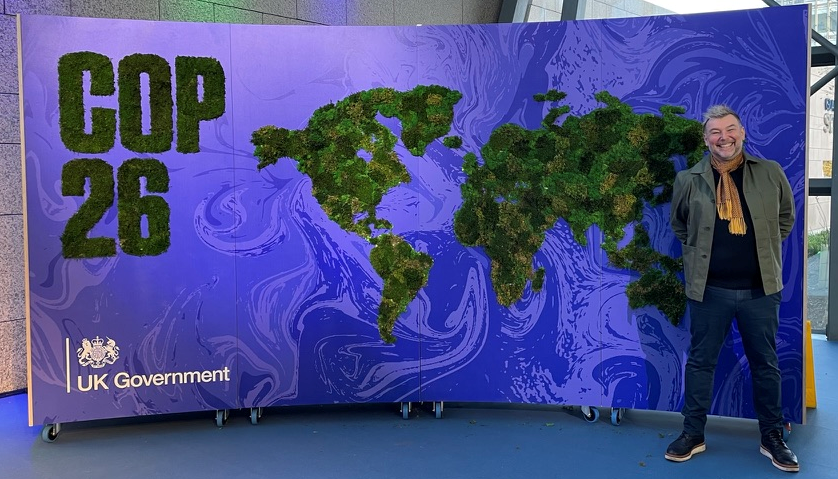 Can COP26 deliver a fair solution?
If there was ever a COP that cemented the role of business and finance, this was it. If the previous COPs in my memory have been about governments aligning on the extent of the crisis and seeking to catalyse private sector finance to assist in the meeting of targets, this COP felt like more of a trade fair. As shareholders have become more vociferous and with large institutions and banks seeking to clean up their act there is hope that somewhere the triple bottom line will become part of the day job. However, as reported in the Guardian a more well-worn path is being further promoted as the answer, in the form of private investment with a healthy return as long as the 'risk' is being shouldered by the World Bank and the IMF. For countries where investment is required now to prevent carbon intensive energy use being the default choice whilst continuing poverty, this may well become a scaled-up model where inequalities and exploitation are further emphasised.
This all seems a far cry from the imagery and positive narrative of self-organisation and inclusive growth that are still present and are to be celebrated. I hope the co-benefits for community cohesion, wellbeing and sufficiency are not lost in the application of a flawed model that will ultimately hand the risks back, and where the profits evaporate back to the source of finance.
Where's the Plan?
On the second from last day of COP26 the spotlight was turned to cities which consume 78 per cent of the world's energy and produce more than 60 per cent of greenhouse gas emissions. Whilst many of the themes of the previous days were rightly urban issues, for example Energy, Nature and Transport these run the risk of becoming silos without wider coordination and the identification of co-benefits. The benefits of an integrated urban planning approach were not front and centre which is a missed opportunity to target finance and deliver stacked benefits for communities, the economy, nature, health, and wellbeing whilst also reducing greenhouse gas emissions.
Hope was not absent however, on the Monday of the second week the RTPI hosted a well-attended global event in central Glasgow The Race to Zero: Plan The World We Need. Chaired by Victoria Hills this event with an all-female panel of eminent speakers including RTPI President Wei Yang and Maimunah Mohd Sharif Executive Director of UN Habitat highlighted the importance of planning as the urban population continues to increase. This inspiring event brought together Planners from around the world with many delegates reflecting on the feeling of being connected to the international planning community. In future COPs I would call for planning and integrated approaches to Cities, Regions and the Built Environment to be at the start of proceedings. In the meantime Urban planning after COVID-19, an RTPI research paper forming part of the Plan the World We Need campaign, was made available for all delegates and sets the scene for a plan led future.
RTPI Chief Executive Victoria Hills, and President Dr Wei Yang, join an all female panel at our Race to Net Zero event held during COP26
Nature based solutions
Amongst the heavy lifting of pledges to phase out fossil fuels and finally some in-roads into global methane emissions by 2030 with a reduction of 30% COP26 still had a strong theme throughout of the importance of nature based solutions to ensure that not only CO2 is sequestered from the atmosphere but also that our towns and cities remain liveable through extreme weather events. The importance of nature and green infrastructure in our towns and cities was a strong theme that came through in many presentations and questions of stewardship and maintenance were touched on. As a reflection this area was not as well covered as I would have hoped as a specific theme and is still more of a symbolic gesture.  Forming part of an exhibit in the Green Zone Exhibition (which itself appeared to have been re-heated from the Millennium in places) was some more nuanced information including the potential for seagrass to sequester carbon 35 times faster than rainforests. A bit if research afterwards led to this fascinating talk that demonstrates leading edge thinking and the need to value less obvious ecosystems.
From a planning perspective green infrastructure needs a higher profile and when associated with health and wellbeing and walkable and inclusive places there is more work to do which is symbolic of the feeling that cities are an afterthought, currently.
Technology and Consumption
Upon arrival at the Green Zone the exhibitions sometimes veered towards business as usual with a green tinge. With exhibits from Ford and Polestar electric cars were a key feature including a garish bright orange Hot Wheels style sports SUV dominating the forecourt. What was revealing was the reliance that current electric car technology has on rare earth metals and the consequences of large-scale extraction. In an inspiring presentation form Advanced Electric Machines, based in Washington in the North East of England demonstrated that it does not have to be like this and that with changes in customer expectations and mass market adoption a better way is possible that will transform electric vehicles and the resource burden that they currently represent.
What this highlights is the power of consumers to change patterns of consumption and the need for research and development to be brought to market rapidly if we are to solve the current climate crisis in time. It was fantastic to see innovation happening in the North East of England, the cradle of the industrial revolution and instrumental in the mass adoption of fossil fuels, redressing the balance and tackling climate change. Perhaps innovation needs to be rewarded in a different way if technological solutions are to be adopted at scale as the market can be slow to act under traditional models.
Looking ahead
COP26 was an energising, terrifying, inspiring, and stimulating experience that gave me much food for thought. In future years I would like to see planning more central to the debates and identified as a key part of the solution. With populations daily migrating to cities and often smaller to medium sized ones of up to around 500,000 people, the role of Planners has never been more important. It was fantastic to feel part of the global Planning Community of which the RTPI is a key force for good in promoting best practice and providing support for professionals at the cutting edge of climate action and making the world a better place. In 2022 I hope in my role as President to meet many colleagues who share the vision of a fairer, cleaner, greener and well planet Earth.
Reflections on COP26
If you're interested in COP26 and the fight against climate change why not join this special RTPI webinar on 13 December 2021 looking at reflections on the summit and the Ambitions for the North.