Come join Agent Plan-it helping Anna discover important issues affecting the environment and places around you and how the job of a town planner can help!  There are 10 topics including:
Why do we need town planners;
Building a new development – Geography;
Digital world - future spaces; and
Solving problems where you live.
What do town planners do?
Planners are interested in people, places and sustainability. A town planner helps find the solution to these issues and 'planning' has been around since the first settlements were built thousands of years ago.  Then the Romans located their cities by rivers and near to food, and the Victorians developed new towns as railways expanded.
We work with construction professionals such as builders, architects and engineers as well as the local community. The community includes politicians, businesses, shops, schools, older residents, families and young people. You can can meet a planner with the RTPI.
What is Town Planning?
Imagine what kinds of buildings, places and spaces your local area need? Think about all of the houses, shops, parks, your local library, even the roads and railways. Town planning works to put communities together, in a way that's sustainable for current and future residents.
Guidance for teachers
You can use this engaging educational material for ice breakers, or plenary discussions about the places and people around the school, climate change and the environment, geography, history and citizenship.  Students can practice analytical, problem solving, creative thinking and debating skills.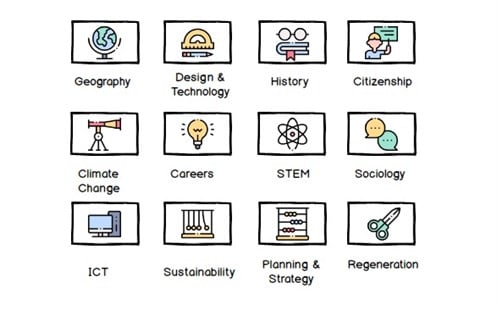 Want to find out more:
Follow our Become a Planner YouTube channel and see the cartoon resources.
Request further information and support for the classroom, email [email protected]
Other content you might be interested in