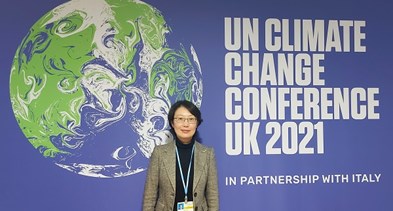 Today I am in Glasgow attending the UN Climate Change Conference (COP26). It is my honour to represent the RTPI and the planning profession around the world.
I've come here to tell world leaders and civil society that planners have a SOLUTION – a place-based systems approach to tackle the climate crisis.
Now the whole world's attention is on Glasgow – the host city of the crucial climate change summit. But before the conference itself became the headline, last week news of flooding in Glasgow dominated the media.
It seems that nature set a loud wake-up call for world leaders ahead of the summit - if you don't wake up now, you will miss the last opportunity to save the planet and save humanity!
The recently published UN Environment Programme Emissions Gap Report 2021 starkly shows that 'new national climate pledges combined with other mitigation measures put the world on track for a global temperature rise of 2.7°C by the end of the century'. This is well above the goals of the Paris climate agreement to limit global warming to 1.5°C over pre-industrial levels and would lead to catastrophic changes to the Earth's climate.
The UN Secretary-General António Guterres has articulated the reason for this failure - "The emissions gap is the result of a leadership gap." In my view, this leadership gap needs to be filled both politically and professionally. COP26 has a clear agenda to engage and convince global political and business leaders to take urgent climate actions. What shouldn't be forgotten is the power of professionals in creating a valid range of practical solutions that effectively underpin measurable actions. The best COP26 outcome is to align the climate actions around the world for one goal – to save our planet – our shared world.
The emissions gap is the result of a leadership gap.
António Guterres, United Nations Secretary-General, 26 October 2021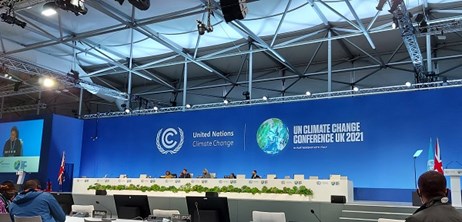 Currently, there is a global vacuum to be filled by a profession to take the lead and enable built and natural environment professionals to tackle the multiple crises we face and to achieve the UN Sustainable Development Goals. I believe that role must be taken by town planners.
Why? Because the vast amount of research and studies for decades about climate change and bio-diversity decline are calling for one thing – utilising place-based spatial planning in a long term, strategic, multi-disciplinary, systems approach can be a transformative solution to coordinate the efforts from different professionals to achieve our overall mission of controlling climate change within the 'safe' limit.
It is also the most direct way to influence human activities and lifestyles. According to the Sixth Carbon Budget published by the UK Climate Change Committee, societal and behavioural change can contribute to as much as 59% in the Balanced Net Zero Pathway. World leading scientists have pointed out that treating climate, biodiversity and human society as coupled systems is key to successful outcomes from policy interventions.
I believe it is time for the planning profession to take a leadership role in forging a common and collaborative sense of purpose with other good forces in wider society. Recently published guidance by the RTPI and the Town and County Planning Association (TCPA) - The Climate Crisis - A Guide for Local Authorities on Planning for Climate Change has stated our proposition - "Planning is a key part of our national survival system. It should embed the principle at all levels, nothing should be planned without having successfully demonstrated it is fit to take its place in a net-zero emissions future."
As planners, we are also concerned that the effects of climate change will disproportionately affect the most vulnerable individuals around the world. We believe utilising planning system properly can prevent this. Also, many of the actions necessary to tackle the climate crisis are also key in creating healthy, ecologically rich, prosperous and beautiful places for us and future generations.
Last year, the RTPI launched a major new campaign – Plan the World We Need. The campaign and its supporting paper brought confidence to society and illustrated a positive roadmap on how the planning profession can contribute to a sustainable, resilient, and inclusive recovery from Covid-19.
For COP26 the RTPI published a globally focused research paper - Urban Planning after Covid-19: supporting a global sustainable recovery. It complements the RTPI's ongoing work to understand how planners are responding to the challenges presented by the Covid-19 pandemic and our engagement with COP26.
The report reflects on the current situation, and more importantly highlights what needs to change – we need green, collaborative, creative, smart, and inclusive actions to resolve multifaceted challenges. Utilising a place-based systems approach, spatial planning plays a vital role to enable and coordinate these actions. Working in silos and non-place-based policies will lead us to a dead end – a catastrophe.
During the COP26 summit, I look forward to meeting as many world leaders and key stakeholders as possible and I am determined to deliver planning profession's message – WE HAVE A SOLUTION TO OFFER. It is a place-based systems approach to tackle the challenges of our times shoulder by shoulder with scientists, world leaders and the wider community.
COP26's official website is https://unfccc.int/. To learn more about RTPI's COP26 engagement and our key messages please take a look the RTPI's COP26 Hub and follow our social media accounts.