by RTPI President Sue Manns FRTPI
17 March 2020
Since the Presidential team's report to members at the end of February, the world around us has changed. The arrival of the COVID-19 virus onto our shores has led to restrictions on travel and attendance at events by RTPI volunteers, including the Presidential team, as we all do our bit to slow the spread of what is now a global pandemic. These restrictions will continue until 29 May 2020, by which time we very much hope that the peak of infections will have passed. We would like to send all members, their families and friends our very best wishes for what is undoubtedly a rough few weeks / months to come.
As John F Kennedy said, "When written in Chinese, the word crisis is composed of two characters -- one represents danger, and the other represents opportunity." This crisis is no different and we see it as an opportunity for the Presidential Team to do things differently. Whilst you won't see us in person, we will be taking advantage of social media to reach out to members, stakeholders and the wider community to promote the value and importance of planning. We will be reporting on our activities in the usual way and hope that members and others will continue to find our reports interesting. Please connect with us all on LinkedIn.
Just before the travel restrictions were put in place, the Presidential team had continued to raise the profile of the RTPI and planning as you will see if you read on.
For us to be an effective and sustainable profession, we must be genuinely representative of the society in which we work. This includes recognising and addressing the need for broader visibility of diversity at all levels of the profession, from entry to the most senior. We need to be accessible and inclusive, adaptable to change and proactive in our support for members, wherever they may be. On 25 February, as a part of the first Presidential visit of 2020, it was a pleasure to be able to launch the RTPI's Action Plan – known as CHANGE.  This Action Plan has been developed to help guide both members and employers as they work to achieve a more balanced profession and provides a toolkit to guide RTPI members and their employers as they work to achieve a more equal, diverse and inclusive profession. It is an online tool which can be accessed via the RTPI website and represents a strong and measurable commitment by the RTPI and its members to tackle the challenges of equality, diversity and inclusivity and, in doing so, to bring about real change.
The West Midlands Presidential Visit was about much more than the launch of 'CHANGE', it was also about promoting the value and importance of planning. It was an amazing and inspiring visit which started in full sun with Ian Macleod and Ashley Innis of Birmingham City Council explaining the role of planning in delivering the Perry Barr Regeneration Scheme. This massive project must be completed by 2022 in time for a very important athletics event (we cannot name the event, but the clue is in the year). With less than four years to clear and redevelop the area for an athletes' village, the City Council had used their CPO Powers as a tool to accelerate delivery along with a neutral funding model for the city. A key legacy of the project will be an additional 2000 new homes – over and above the Local Plan allocation (which has a shortfall of 37,000).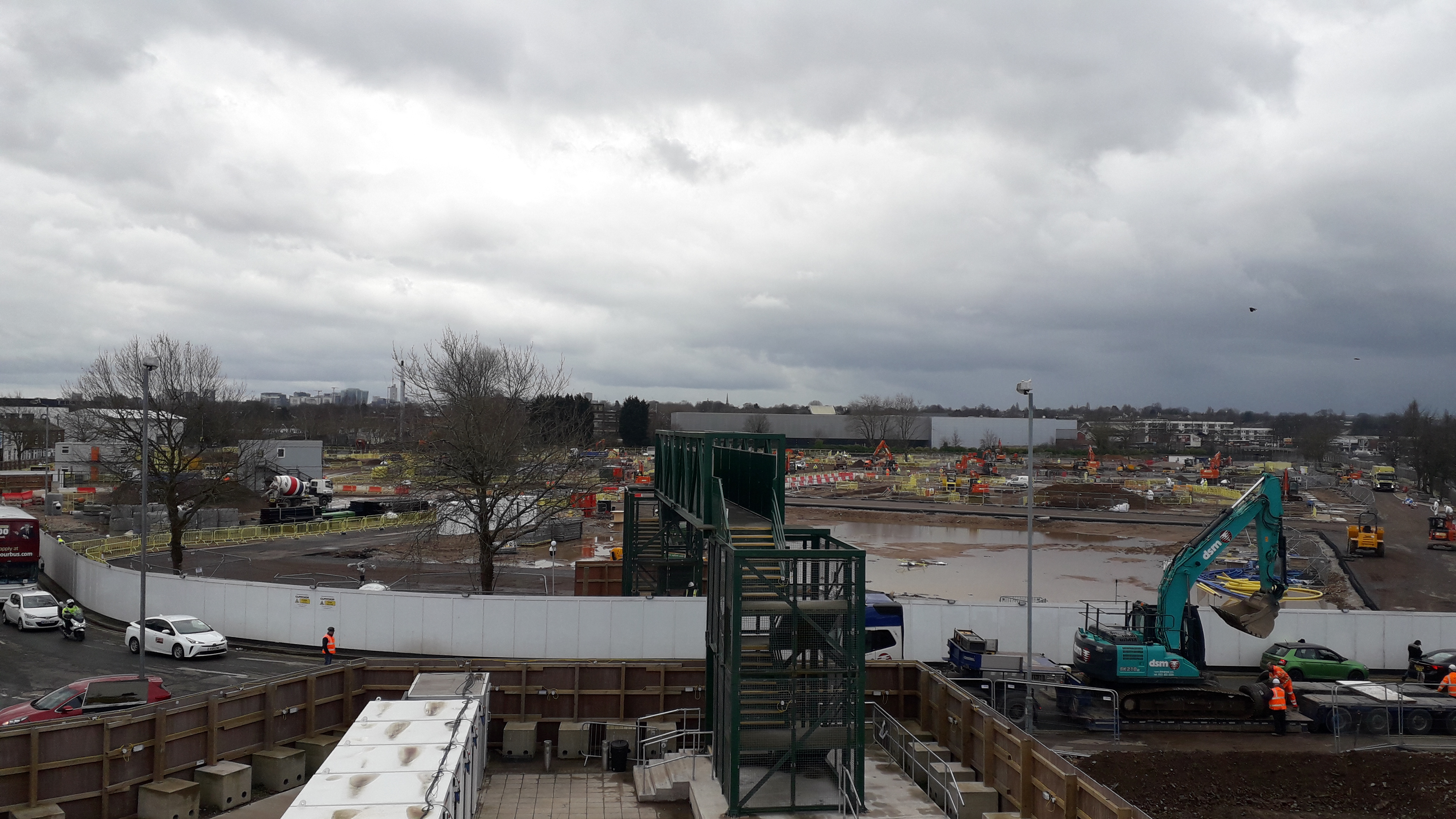 Above: Perry Barr Regeneration Scheme - work progressing on site
An enjoyable hour followed with Molly Gallagher and Vicky Madden who were shadowing Ian as part of the RTPI Chief Planners of Tomorrow scheme. Their talent and commitment to planning is evidence that the future of the profession is in good hands.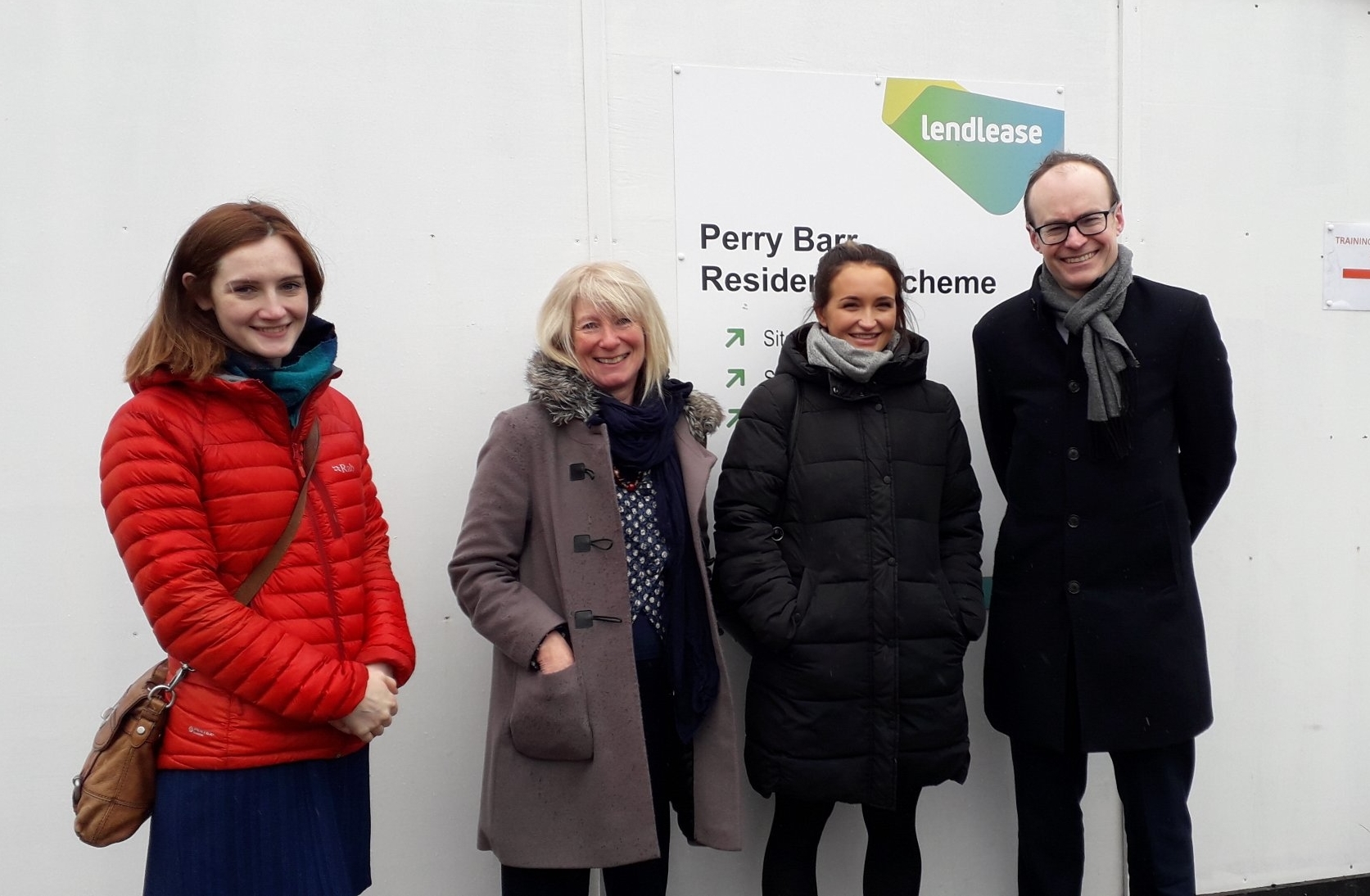 Above: Young Planners Molly Gallagher (far left) and Vicky Madden (second from right) spent the day with RTPI President Sue Manns and Ian MacLeod (Interim Director, Inclusive Growth Directorate - Birmingham City Council) as part of the RTPI's Chief Planners of Tomorrow scheme
Later that afternoon we met with Jodie Stokes, Anthony Harding and Jez Collins to hear about their work to integrate culture into a new development in the Digbeth area of the city. The importance of culture to place featured heavily in many of the recent discussions at the World Urban Forum.  
After battling a snow storm we were hosted by Cat Salter and John Round at Birmingham University for the launch of the RTPI Equality, Diversity and Inclusivity Action Plan referred to above. A West Midlands RTPI Reception followed at the Lapworth Musuem where, standing beneath a dinosaur skeleton, I was privileged to award Fellowship of the RTPI to Abigaile Bromfield. My sincere thanks to all those who made the visit so very special.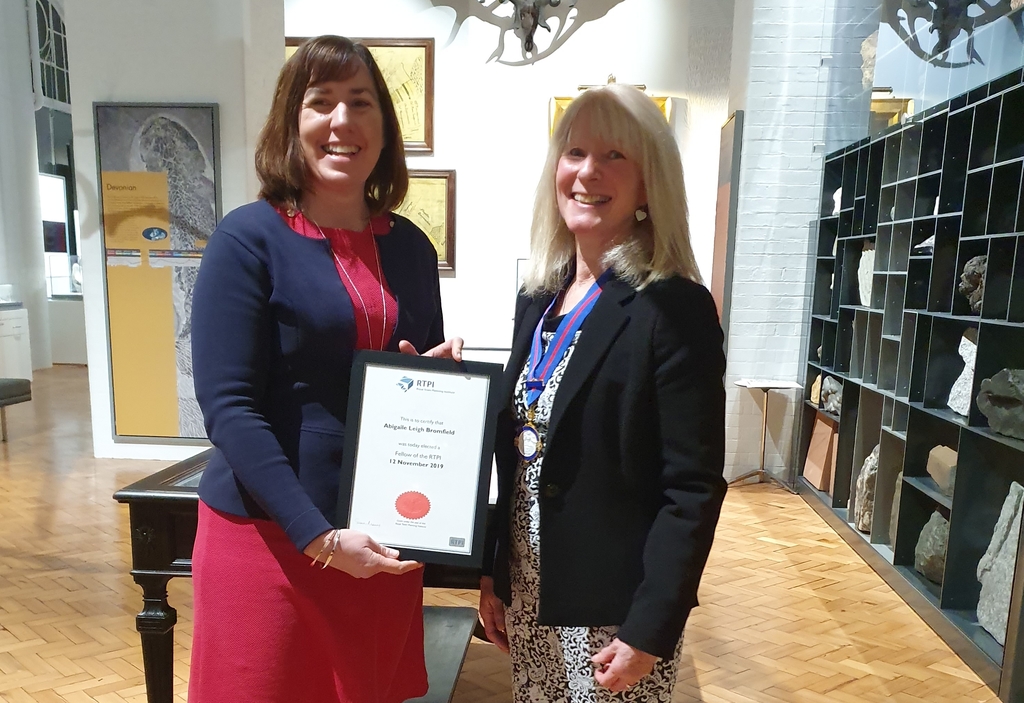 Above: Sue Manns presents the award of Fellowship of the RTPI to Abigail Bromfield
On 27 February, Wei attended the UK2070 Commission Final Report launch in Salford University, Media City. The report - Make No Little Plans - calls upon Government, local leaders and all parties to start now with urgency to implement the programme of action for creating a fairer, stronger and more sustainable future for the whole of the UK. It's remarkable to see that more than half of the UK 2070 Commissioners are RTPI members, including two of our past presidents (Vincent Goodstadt, Phil Williams), our former Chief Executive (Trudi Elliott), and several distinctive fellows and members. It was also delightful to see so many RTPI friends and colleagues attended this important event. As planners, we make no little plans, because we want to create a brighter future for everyone!
Above: RTPI vice-president Wei Yang (sixth from left) and guests at the launch of the final report of the UK2070 Commission at Media City, Salford

Monday 24 February saw Ian attending the Chartered Institute of Building Parliamentary reception.  The event was the opportunity for CIOB to launch their updated overview of the construction industry, The Real Face of Construction 2020, which provides a socio-economic analysis of the value of the built environment. 
The following week we switched to social media to get our messages out. You have seen articles on Linked In by each member of the Presidential Team focusing on our role models. I found this particularly challenging as so many people have had a positive influence on my life and in so many different ways. However, I decided to share the names of two planners who made a huge impact on me. Sadly, both have recently passed away, both were Fellows of the RTPI and both were awarded OBEs; they are Graham Shaylor and Corinne Swain.
Wei focused on Octavia Hill (1838 – 1912) who, before women were even allowed to vote, was one of the most influential English social reformers. To quote Wei, "She inspired me enormously. I realised that regardless of gender, age, race, or disability etc., if we believe in ourselves and carry on, we can all make a difference".
Ian's choices were Professor Tim O'Riordan, Chris Swanwick and the singer Paul Simon. In selecting these three people, Ian was conscious that "As I was writing, I couldn't help but reflect that my role models - those ahead of me as I entered in my profession - were almost exclusively men. Today, there are so many inspiring, energetic women in planning …"
Please connect with us all on LinkedIn to read more about our role models.