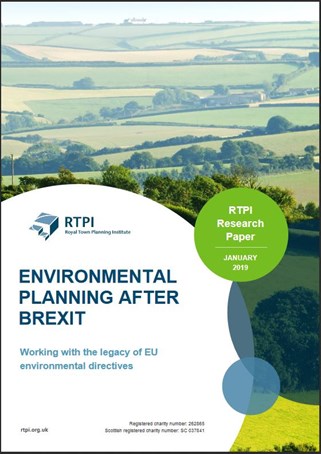 This research considers the future interface between planning and environmental management, after the UK leaves the European Union.
The June 2016 referendum result in favour of leaving the EU has created a level of openness about the future trajectory of life in the UK almost unparalleled in living memory. This openness comes with profound uncertainties and risks and it may be a sound strategy for the planning profession to wait and see how events pan out before contemplating the implications for our sector. Equally however, there is a case for trying to peer through and beyond the uncharted waters, to identify areas where significant and progressive change can be made.
In 2018 the RTPI commissioned research to explore this. Through documentary analysis and interviews and focus groups with planners and other professionals, it sought:
To identify ways of improving the relationship between inherited EU environmental legislation and planning.
To see where there may be opportunities for enhancement or simplification, in the way that environmental standards are achieved, and especially whether there is duplication between environmental and planning regimes.
To do so on the basis of careful analysis of whether, how and how far EU environmental directives have contributed to positive outcomes.
The research was led by Richard Cowell from Cardiff University, supported by a team from around the UK including Geraint Ellis, Thomas Fischer, Tony Jackson, Thomas Muinzer, and Olivier Sykes.
The final report summarises the findings from this research and presents two heuristic tools designed to inform the debate moving forward.
Other content you might be interested in