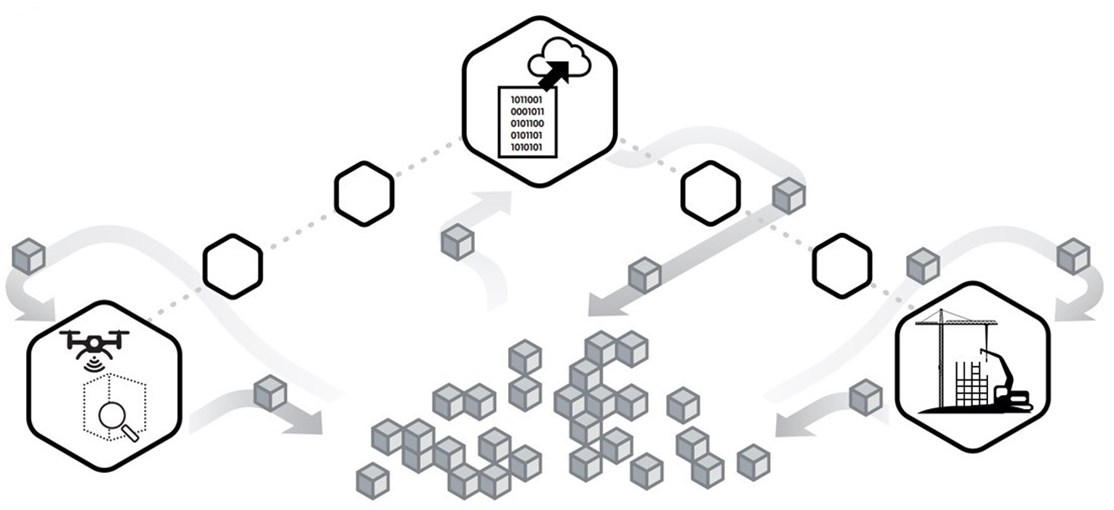 (image credit: CPC 2019)
Advances in technology present an opportunity to make our planning system more efficient, innovative, accessible and responsive to environmental, social and economic objectives. The RTPI is working with the Connected Places Catapult (CPC) to envisage what the digital planning system of the future might look like, and to set out principles which can guide the development of digital planning technologies, or PlanTech. 
Our vision is for a digital planning system where data is collected, used and shared in ways that promote transparency, understanding, interoperability and inclusiveness. Anyone wanting to develop property, improve places or understand why and how decisions are made should have better access to the information and knowledge they need.
A digital planning system must make it easier for diverse voices to participate in the creation of long-term visions for place. Plans must be supported by data which enables interventions to be made at the right scale, time and place, and agile enough to accommodate change. Policies must make it explicit where professional judgment is needed, and where common rules can apply.
This digital planning manifesto was developed through discussions with planners, developers, academics, civil servants, community groups and technology experts. It was launched at PlanTech Week 2019, and has been updated and refined since. It aims to support planners, digital teams and decision-makers when making choices about how to design, procure and build the various components of a future planning system.
1. Standardise common built environment language, processes, documents and data, and ensure all published and commissioned documents, Planning Application, Local Plans and Spatial Development Strategies are in a machine readable format
Why?
This will allow easy sharing of planning data, documents and methods, support cooperation between government, developers, and infrastructure providers, and engage wider audiences. Provide data for new entrants to the planning sector to develop innovative tools, techniques and technologies which collect, analyse, and visualise data.
How?
MHCLG should lead on the creation of national standards for key datasets, as they have with brownfield sites, developer contributions and more.
Local Planning Authorities (LPAs) should include a requirement in all procurement documents for the raw data of any outsourced study/report to be provided in a machine readable format.
The Geospatial Commission should give free access to key datasets such as UPRN and Mastermap, as these are critical identifiers in most planning data.
2. Invest in open source digital planning software which Local Planning Authorities can deploy and run without significant cost and technical barriers 
Why?
To facilitate the scaling and adoption of digital applications and give Local Authorities the basic building blocks of a digital planning system (in line with GDS Service Standard 12).
How?
Through the Local Digital Fund from MHCLG, partnership between innovation agencies and LPAs should be set up to target and co-develop specific components of a digital system.
Where external funding is not available, LPAs should build consortia around common challenges and partner with others to develop and fund common solutions in a shared and open way.
3. Ensure that local planning authorities have the digital literacy, skills and capacity to procure and deliver the right digital tools, and the skills to use them and interrogate their outputs
Why?
To ensure that Local Planning Authorities are well equipped to procure and/or develop their own digital services, and use them to make informed data driven decisions whilst being aware of their strengths and limitations.
How?
The RTPI should ensure that their education and CPD programme addresses digital literacy and skills amongst planners at both graduate and senior levels.
Other professional organisations such as POS and TCPA should use their networks to promote the importance of digital skills and literacy across the industry
Organisations such as CPC and Public Practice should provide Local Authorities with the people and skills to support the digital transformation
4. Be inclusive and diverse, considering everyone's needs and making our services, data and tools accessible to all, including those without the confidence or skills to use digital 
Why?
Digital planning tools should be built and designed to be easy to use for all, regardless of age or accessibility needs. This will ensure that they can be adopted and used by all planners without significant technical knowledge or skills (in line with the GDS Service Standard 5).
How?
MHCLG should continue to require all Local Digital Fund projects to meet Government Digital Service Standards by default.
Local Planning Authorities and other organisations that develop digital planning applications should voluntarily adhere to Government Digital Standards.
5. Develop tools and methods for better analysis, monitoring and reporting of the economic, social and environmental outcomes of planning policies and decisions, beyond those usually measured
Why?
New technologies create the opportunity to develop improved metrics to better understand the impact of planning. This will support the move from simplistic outputs such as housing numbers, towards more qualitative outcomes such as health, productivity and wellbeing.
How?
The RTPI should continue to promote and develop research around outcome based planning.
Other professional organisations such as POS and TCPA should use their networks to promote and engage industry on the development and use of new metrics to measure the impact of planning.
6. Communicate the differing weight and flexibility of individual policies and trade offs between them, and attempt to write less flexible policies in a way which can be interpreted by computers
Why?
Under a discretionary planning system, the weight and flexibility afforded to different policies can create uncertainty for developers and the wider public. Digital technology could increase transparency by showing where policies are subject to discretion and flexibility, increasing confidence for different users.
How?
MHCLG should incorporate suggestions for how Local Planning Authorities can better communicate the flexibility of policies as part of the standardisation of Local Plans and how to work towards encoding some policies.
Local Planning Authorities should seek to develop an understanding of how discretionary policies are applied in practice, and attempt to encode less discretionary policies.
7. Harness digital technology to foster participation in planning, unpack the decision-making process, and communicate the impacts of development
Why?
To engage local communities earlier and more effectively in the planning process, increasing support and trust in the planning process, and making it easier for case officers to analyse large numbers of representations.
How?
CPC should bring together the emerging SMEs in this area to identify the needs and opportunities around standardising data on community representations to planning.
Local Planning Authorities should develop and experiment with running digital community engagement processes.
8. Create regional data observatories which develop and host common evidence and analysis data to support plan-making across geographical boundaries, and which can be easily accessed and queried by planners, developers and local communities
Why?
To avoid the need to collect and commission consultants to collect the same data repeatedly, and to create a trusted repository that both the public and private sector can use.
How?
Local Planning Authorities should partner with neighbouring authorities to jointly commission their evidence base.
MHCLG should pilot common evidence base data platforms for regional projects such as the OxCam corridor.
--------------------------------------------------------------------------
These principles will continue to evolve based on feedback from the sector, changes in planning legislation and upgrades to technology. If you would like to suggest ideas for improvement, or tell us about your experiences with PlanTech, please contact [email protected]. 
Click here to view the latest work from the RTPI on digital planning