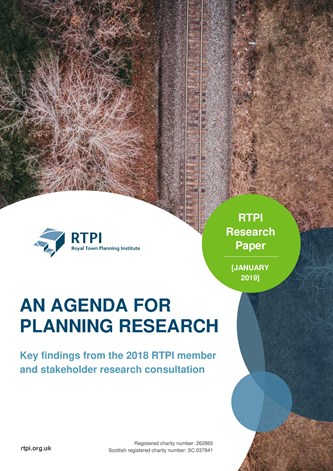 This report is the findings from our 2018 consultation on planning research. It explains what the RTPI learned from speaking with hundreds of members and external stakeholders about the future of planning research. It covers the principles and aims which should guide research into planning, as well as highlighting some of the most important issues facing planners today. It also considers ways that the RTPI can collaborate with others to create or disseminate quality research.
From January to September 2018 the RTPI's Policy, Practice, Research & International (PPRI) team organised a wide range of focus groups, interviews, and surveys with RTPI members and other key stakeholders around the RTPI nations. The main goal was to inform the RTPI research programme for 2019-21. We also wanted to contribute evidence to guide planning research more broadly.
This report summarises some of the key findings of the consultation. These findings were used to inform the development of RTPI's research programme, including priorities for topics to research in 2019-21, and how we approach the research process. They will also be useful for planning researchers in a variety of contexts, as well as those who support planning research. We hope they will also be of interest to members of the RTPI who want to understand the issues their colleagues thing are most important.
A range of key topics were identified by participants, along with particular research areas and questions within each. These included Housing; Climate change and mitigation; Spatial governance and infrastructure planning; EU withdrawal and the future of environmental regulation; Health, inclusive ilanning and ageing; Planning and the public sector; Planning education and the profession; Urban planning and the future of cities; Rural planning; Community planning; Planning and the Economy; Technology and horizon scanning; Poverty and inequality; and International.
The report also considers learning on the principles which should guide planning research, and opportunities for collaboration on this research.