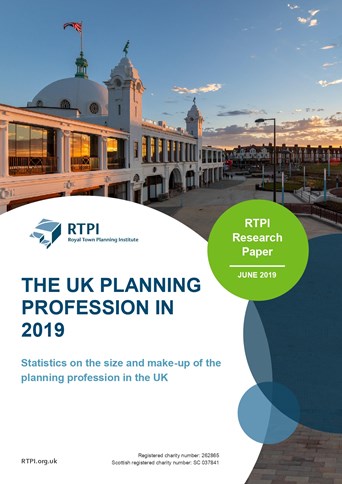 This report considers the size and makeup of the planning profession. It uses Annual Population Survey (APS) data on individuals working in the UK who describe Town Planning Officer as their main occupation.
It also draws on the RTPI's membership records and the RTPI Member Survey 2017, both filtered to focus on UK planners who would be likely to fit in the APS occupational group.
Chapters
Chapter 2 explores the size of the planning profession and the number of RTPI members currently working in it. We estimate that there are around 22,000 planners currently working in the UK, about three-quarters of whom are RTPI members.
Chapter 3 explores the demographics of UK planners. We estimate that around two-fifths of planners are women and three-fifths of planners are men. The most common age group for planners is 35 to 44 (just under a third of the total).
Chapter 4 explores the national and regional split of planners in the UK, and suggests it is similar to the overall working population. We estimate there are around 18,300 planners working in England, 2000 in Scotland, 1000 in Wales, and 600 in Northern Ireland.
Chapter 5 makes estimates about the employers of UK planners. About 44% of planners work mainly in the private or third sectors compared to 56% in the public sector, and there appears to be a trend towards a greater proportion of planners employed in the private sector in recent years.
Chapter 6 considers the built environment profession in the EU. Using the European Labour Force Survey it estimates that there are around 87,000 planners in the EU. It also finds major variation between countries in terms of the relative size of each individual profession.
Finally, we conclude by considering the finding's reliability and remaining research gaps.

A technical report with a full set of tables is also available to download here.