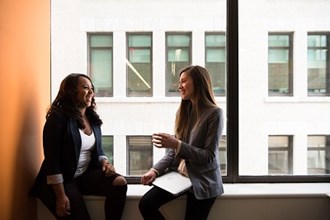 More students across England will benefit from a £5,000 bursary to pursue careers as planners designing greener neighbourhoods and thriving towns, the Housing Minister announced today.
Over 50 young professionals will be offered a bursary through the Royal Town Planning Institute (RTPI) to study a planning masters, attracting the next generation of students aspiring to train and work in the planning sector.
This funding from the Department for Levelling Up will back more careers in the planning sector, helping councils recruit staff and create better communities that people are proud to call home.
The new scheme, launched today, increases the size of the bursary from £2,000 to £5,000, covering up to 50% of the cost of the student's university fees. It is aimed at disadvantaged students including those who struggled financially, with care responsibilities, or those with disabilities, helping to boost diversity in the planning sector.
Victoria Hills, Chief Executive of the Royal Town Planning Institute, said:
"Local authorities and planning consultancies alike are struggling to attract and retain talent. This matters not just to the future of planners, but to the communities we represent.
"To deliver for communities, it's essential that we continue to attract diverse talent onto accredited planning courses and support the development of a professional planning workforce that is open and inclusive. This important bursary scheme, delivered by the Department for Levelling Up, Housing & Communities, will help more students access an RTPI accredited Masters programme and inspire and prepare the next generation for a rewarding career in planning."
The Department for Levelling Up, Housing and Communities has already funded over 150 bursaries in the last three years.
Former students who have benefitted from the scheme include 36-year-old single parent Jennifer Campbell, who was able to pursue an Urban and Regional Planning Masters course with the government backed funding.
Jennifer is currently gaining work experience at TMC Planning Consultancy while completing her dissertation. The experience of a bursary has relieved her of financial stress and offered a platform to acquire valuable skills to be successful in the planning sector.
Rachel Maclean, Minister for Housing and Planning, said:
"Planning is an incredibly rewarding career and planners across the country are helping us to level up by delivering more homes, better infrastructure and the communities of tomorrow.
"This funding will attract fresh talent and ideas to the planning sector, including a more diverse range of students who will help deliver a modern and efficient planning system."
The Government recently announced £1 million to help councils recruit and train skilled planners and increase awareness about careers in local government.
Together with this funding, a new generation of trained planners will offer key expertise to support local planning authorities as we deliver vital infrastructure and tens of thousands of homes right across the country.
The Government is supporting local planning authorities to speed up the planning process and combat recruitment and retention challenges as we create a modern and efficient planning system through the Levelling Up and Regeneration Bill.
Apply for £5,000 to support your next step into town planning here.