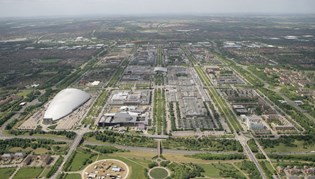 The Royal Town Planning Institute (RTPI) has announced that it has signed a Memorandum of Understanding (MoU) with Milton Keynes Council Planning Service to champion professional planners and their career journey through a local 'planning academy' programme.
The MoU set outs how the RTPI will collaborate with Milton Keynes Council Planning Service to support the development of a planning profession that is as diverse as the communities it represents, ensuring it makes a major contribution to achieving sustainable development in ways that are fair and equitable.
Andrew Close, the RTPI's Director of Education and Profession, said: "It is exciting that we have signed this MoU with Milton Keynes Council Planning Service. The MoU is an important pilot project for both Milton Keynes Council and the RTPI, as it shows clear dedication to creating a strong, knowledgeable, and diverse planning system.
"We are pleased to recognise that Milton Keynes is developing proposals for a Planning Academy to support the future pipeline of planners and placemaking skills, a great example for local government as we collectively strive for fair and equitable development and regeneration outcomes. At the RTPI, we will learn from this collaboration, share good practice with other partners and hope that this is the first of many such memorandums for local councils to champion and invest in their professional planning services."
Leader of MK Council, Cllr Pete Marland said: "Milton Keynes is a modern, forward-thinking place, which is iconic for planning and urban design. We have ambitious growth proposals for MK to establish itself as a smart city, which will be home to over 400,000 people and the world's leading businesses.
"The Planning Academy will help us attract the best planners to the city, provide high quality on the job training and develop best practice through our work with the RTPI. This is really important step and I look forward to working with everyone involved as we continue our work to provide better planning services for our residents."
Read the full MoU here. For more information on the Planning Academy, contact Olivia Drury [email protected]