This article was originally published by Hertsmere Borough Council about the RTPI's Chief Planners of Tomorrow initiative and has been kindly reproduced with their permission.
A work-shadowing scheme has enabled one young planner to get a glimpse of Elstree Studios' new soundstages, as part of a day's experience stepping into the shoes of a Chief Planner. 

Harriet Young, who is a Planning Assistant with PowerHaus Consultancy, joined Hertsmere Borough Council's Executive Director, Peter Geraghty and the senior management team for a day's experience of local authority planning. As part of her visit, Harriet was able to check out the council-owned Elstree Studios, where work on two new soundstages, The Platinum Stages, on the site of the former Big Brother house, are nearing completion. At the end of the day, Harriet was presented with a goody bag which included merchandise from the Elstree Studios.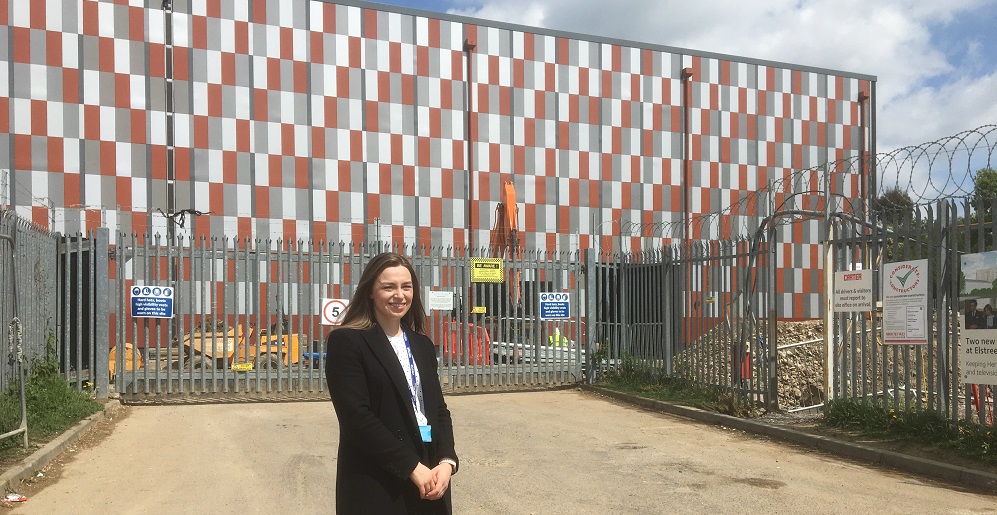 Harriet, outside the new soundstages at Elstree Studios in Borehamwood

Harriet's visit was organised through the Royal Town Planning Institute's (RTPI) Chief Planners of Tomorrow initiative, which enables Young Planners to step into the shoes of a Chief Planning Officer. The initiative aims to champion good leadership in planning and provide future planners with professional development opportunities.

Ahead of her visit, Harriet said: "I intend to observe and learn from the experience of a Chief Planner to appreciate the leadership qualities required to meet often ambitious planning target under constrained timescales and limited resources. 

"In addition, I would like to observe the planning team, to understand how those around them provide the support they require to meet such targets. 

"I hope this opportunity will provide me a valuable insight into what it is like to be a Chief Planner and/ or part of the Chief Planners team but also to further my understanding of local authority procedures. 

"I hope this will enhance my perspective of the career progression paths available outside of private consulting and open my eyes to planning within a local authority."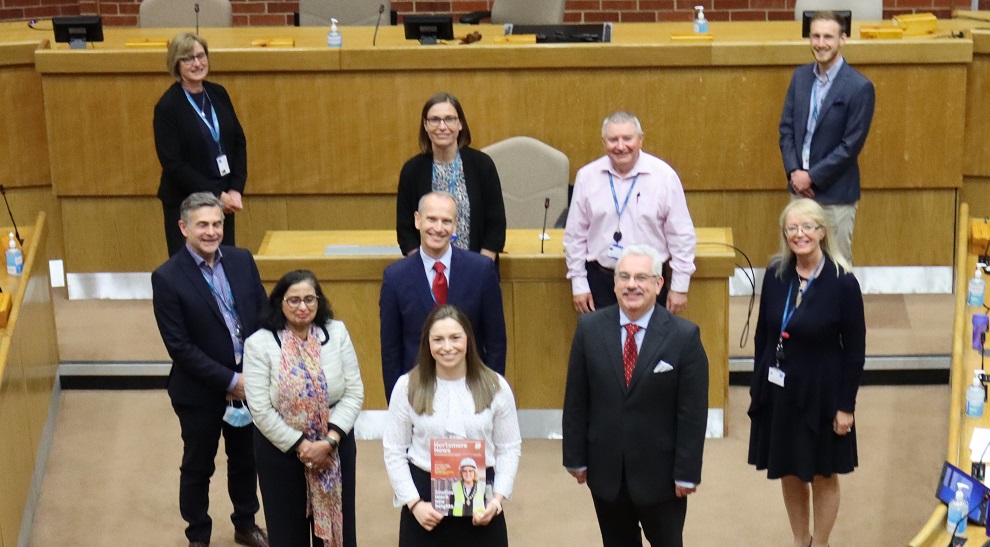 Harriet, centre, with members of the senior management team at Hertsmere Borough Council

Peter said: "We were delighted to have Harriet join us for the day so she can gain valuable insight into the world of planning from a local authority perspective.

"Hertsmere is a relatively small borough, but it's a vibrant and attractive one. Our communities are diverse, and though we sit so close to London, much of our borough has a rural character. It means, in planning terms, there is never a dull moment.

 "Fortunately, we have an exceptional planning team here at Hertsmere, who day-to-day are adept at dealing with issues and decisions that will affect the lives and futures of all our residents and businesses now and for generations to come.

"I hope for Harriet she has found today interesting and informative and for us, it's been wonderful to have Harriet join us and share her own experiences. 

"I would like to take this opportunity to wish Harriet the very best for her future career."


For more details about the RTPI's Chief Planners of Tomorrow initiative including how to apply please click here. For the latest job vacancies at Hertsmere Borough Council go to their website.