RTPI President Timothy Crawshaw visited key locations in his tour of the East of England this week, including Platinum Stages, BBC Elstree and Sky Studios.
Each year, the President seeks out inspiring locations throughout the United Kingdom to visit during their presidency. This year, Crawshaw, spent time in the recently expanded Elstree Studios in Hertsmere, home to Netflix production "The Crown" and top television entertainment shows such as "Strictly Come Dancing" "The Voice "and "A League of Their Own". The aim was to see how planning has supported the heritage and creative industries.
At BBC Elstree, Crawshaw viewed the external set for the long-running soap opera EastEnders. In November 2015, planning permission was approved to create a new set on the front lot of the site, which would be built in full, with interiors and exteriors out of 'bricks and mortar.'
In December 2019, Sky Studios, the next leg on Crawshaw's tour, announced plans to develop a new studio facility at Rowley Lane, Borehamwood, creating 2,000 jobs. Sky predicts up to £3bn would be invested in new production at the site over the next five years.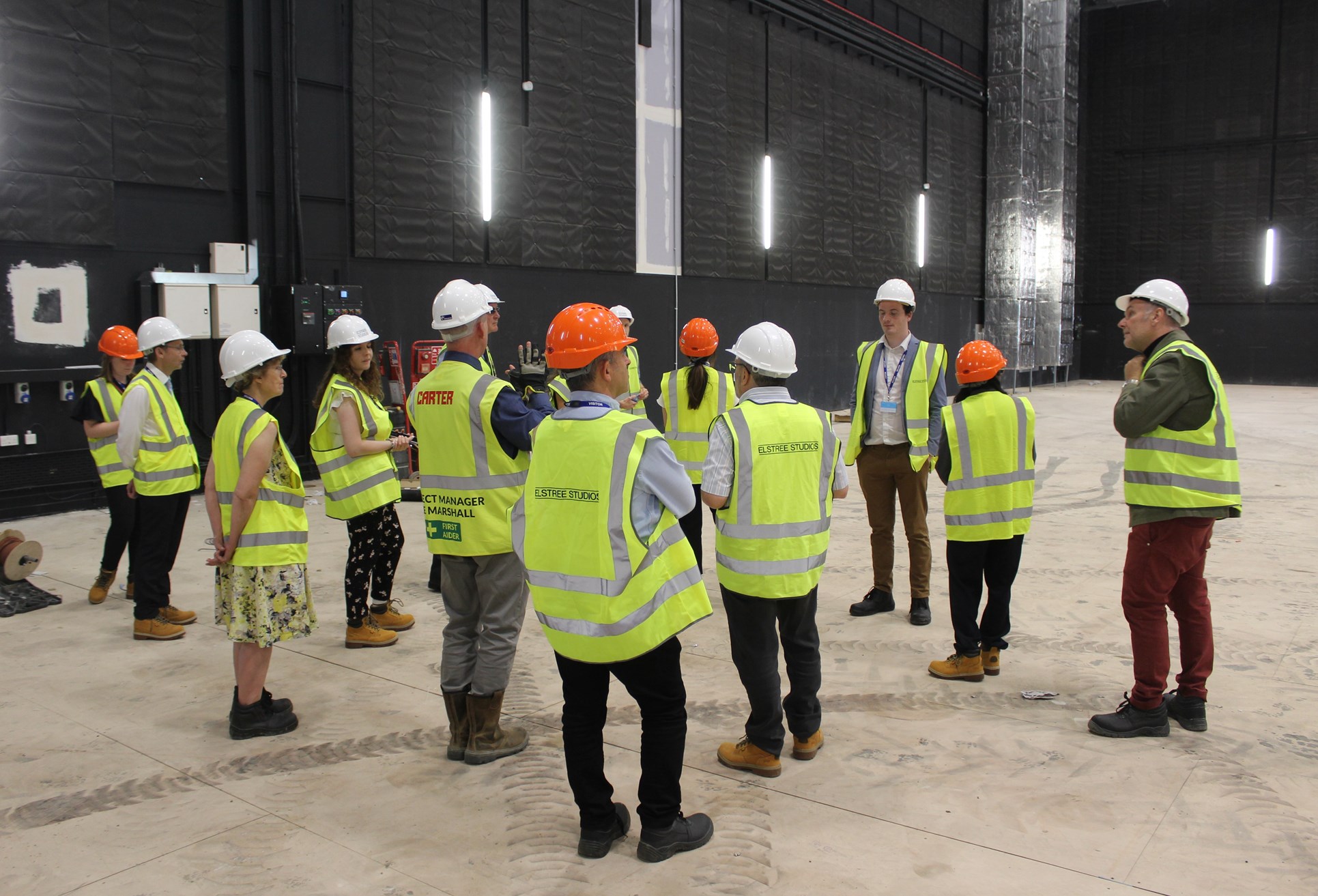 He also spent time at Hatfield House, one of the most important stately homes in the region, to hear about the way the team have balanced sustainability and heritage and their aspirations to deliver a series of new garden village schemes in Hertfordshire.
Timothy David Crawshaw, the RTPI's President in 2022 said: "My visit to the East of England was an inspirational example of planners working to secure great outcomes in a challenging context. Whether experiencing the blend of cutting-edge sustainability and traditional approaches to building around Hatfield House or the rapid and efficient delivery of new film studios in and around Borehamwood in Hertsmere, the work of professional planners was evident on the ground.
"It was fantastic to meet Young Planners who are demonstrating ambition and passion for their chosen profession and to also hear about the benefits of a supportive culture in local government for early career officers. My thanks go out to our hosts and the Regional Chair and RTPI team for an informative and enjoyable day.
"Regional trips such as these are an essential component to my term as President of the RTPI. In this way, I am not only able to extend the influence of the RTPI and the professionalism of its members, but learn important lessons to bring back to the Institute."
Hertsmere Borough Councillor Dr Harvey Cohen, Portfolio Holder for Planning said: "This visit was a wonderful opportunity for Tim and the other members of the Royal Town Planning Institute to get a closer look at the projects taking shape or already in operation in Hertsmere, particularly the new stages at Elstree Studios, which are part-funded by the council.
"We're fortunate to have a dedicated, efficient and hardworking planning team at the council. Through their efforts, we've been able to facilitate the changes needed to enable the creative industries to thrive, while retaining the distinctive character of the area, and the needs of other residents and businesses."