On Tuesday 22 November 2022, Ethical Partnership/SLC planners Alannah Healey and Jo Rogers spent a day shadowing Michael Chang in the Office for Health Improvement and Disparities (OHID) within the Department of Health and Social Care (DHSC) as part of the RTPI's Chief Planners of Tomorrow initiative.
The scheme aims to give young planners (up to 10 years post qualification) insight into 'planning at the top'. That could involve shadowing heads of departments in local authorities, directors of large consultancies – or in this case, a senior planner embedded within a multidisciplinary team in a central government department.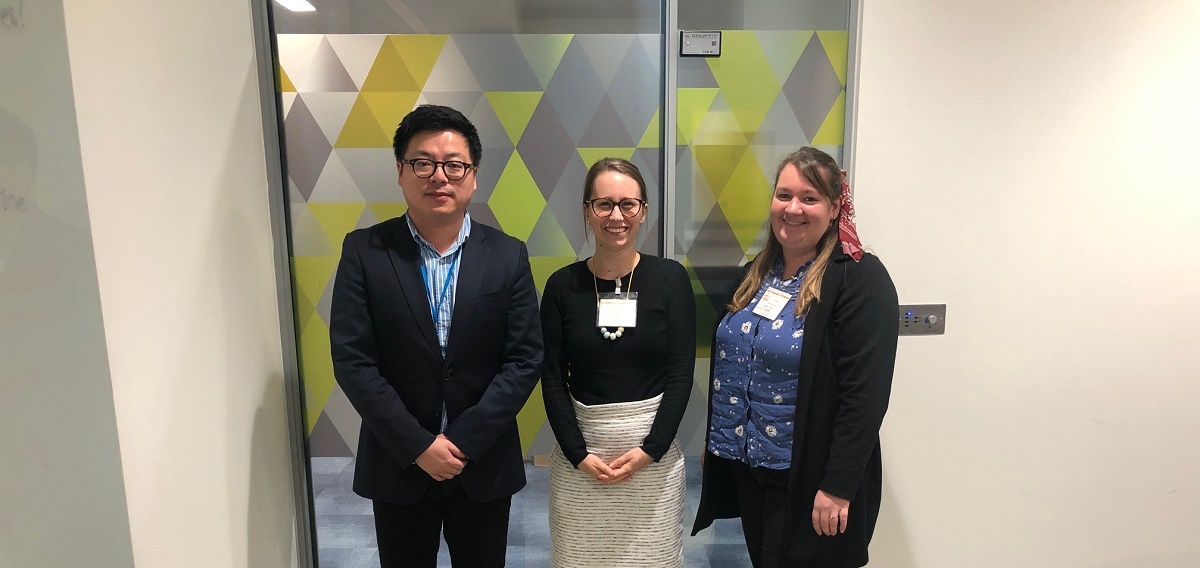 Jo (centre) and Alannah (right) meet Michael from the DHSC

"I was really impressed by the warm welcome we received from all members of the Healthy Places Team and by their desire to also learn from us as professionals. I am passionate about learning how to make towns, cities and rural areas more user-friendly for those with disabilities and long-term health problems; so seeing this in action in the team's work spurred me on to keep going with this."
Jo
Modern planning and public health emerged in 1854 as a result of John Snow identifying a cholera outbreak was caused by a contaminated water supply. Planning was used as a mechanism for implementing infrastructure to improve public health. Our health and wellbeing is hugely influenced by our built and natural environment. Yet, in the 21st century the two professions are seemingly divorced from each other. So, meeting Michael at the DHSC on a busy, cold and bright Tuesday morning in London Victoria seemed a perfect opportunity to look at what can be done to bridge the gap once again.
The day started with introductions, orientation around the department and a short walk for coffee – a moment to take a breath before a packed timetable which included participating in the Healthy Places Team meeting, meeting Deputy Chief Medical Officer for England Dr Jeanelle de Gruchy, joining a project meeting to develop guidance, and discussing how health can be better encapsulated as a thread running throughout town planning policy, legislation and delivery.
"I very much appreciated that we were given the opportunity to participate, not just to shadow", says Alannah. "This included being able to critically review and input into design guidance. In doing so, we could reflect on the parameters within which we work. Crucially, we do not just work within the planning system, we can influence its outcomes for the benefit of people and the planet. What an opportunity that is!"
"It is very easy to get swept up on the treadmill of daily working life. The day gave me the opportunity to take that step back from day-to-day project delivery and remind myself what we seek to do as a profession- create healthier places. It is as simple as that."
Alannah and Jo are looking forward to sharing insights from the day with the rest of the planning team – and to putting into practice what they've learnt to deliver excellent work for their clients and the public. They are also excited about the prospect of future collaboration with Michael, his team, and other public health professionals to champion the power of planning to facilitate healthier people and places. They would like to thank Michael and OHID for hosting us and the RTPI for facilitating this fascinating shadowing opportunity.
Chief Planners of Tomorrow
Chief Planners of Tomorrow will re-open for applicants in 2023. Please watch this space for the launch date. If you would like to register your interest with us, please email [email protected]