The Royal Town Planning Institute (RTPI) is pleased to announce that Sue Bridge FRTPI (pictured) will become the Institute's Vice-President in 2022.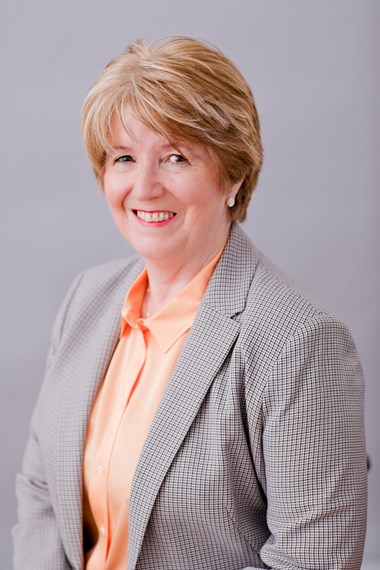 Sue, who has been a Trustee of the RTPI Board since 2016 and Chair of the Board since July 2019, emerged victorious from an election that was open to all Chartered members (MRTPI and FRTPI).
Following her year as Vice-President, working alongside 2022 President Timothy Crawshaw MRTPI, Sue will become President in 2023.
She will remain in her current role as Chair of the Board of Trustees until the end of 2022.
Sue was Head of Planning for six years at Northampton Borough Council and has worked since 2014 as an independent planning consultant. She became a Fellow of the Institute in May 2018.
As well as her work on the RTPI's Board of Trustees, she has also volunteered on the Planning Policy and Practice Committee and on the English Policy Panel.
RTPI Chief Executive Victoria Hills MRTPI said:
"The RTPI is delighted to have a planner of Sue's calibre as its next Vice President. Sue has many years' experience as a planning practitioner in both local government and the private sector and has served the Institute in a range of voluntary roles. I am sure she will bring a range of interesting and challenging ideas to the table at this fascinating time for the profession.
"I'd also like to take this opportunity to thank the other vice-presidential candidate Tony Crook FRTPI, and I'm delighted that he will be part of the Board from 2022 as a Chartered Trustee."
Also announced today were the results of elections for a range of other roles on the RTPI's Board of Trustees and General Assembly, and in the Nations and Regions.
Full list of election results:
BOARD OF TRUSTEES
Vice President for 2022 (President for 2023): Sue Bridge FRTPI
Honorary Secretary and Solicitor: Bernadette Hillman LARTPI
Nations and Regions Trustee: Rebecca Dewey MRTPI
Young Planners Trustee: Jeffrey Ng, Chartered Member
Chartered Trustees: Janet Askew MRTPI, Tony Crook FRTPI, Tom Venables MRTPI
GENERAL ASSEMBLY (GA)
Chartered Members
Alison Blom-Cooper MRTPI
Pippa Cheetham MRTPI
Jean Florence Churchill MRTPI
John Coleman MRTPI
Uche Echeozo MRTPI
Peter Geraghty FRTPI
Joanne Harding MRTPI
Thaddaeus Jackson-Browne MRTPI
Kirsty Macari MRTPI
Adele Maher MRTPI
Michelle Quan MRTPI
Tania Skelli MRTPI
Deb Upadhyaya MRTPI
James Wilson MRTPI
Please note: Andrew Taylor FRTPI and Janet Askew MRTPI applied and were elected to the Chartered GA positions. As they are already a part of the GA being the Hon Treasurer and Chartered Trustee respectively, they agreed to step down from their GA roles to allow the opportunity for the next succeeding candidates.
Legal Member/Associate
Student/Licentiate
Cara Chambers, Licentiate Member
Joanna Dymowska, Licentiate Member
Gwen Thomas, Licentiate Member
NATIONS AND REGIONS
North East Regional Representative on General Assembly: David Stovell MRTPI
Scotland Junior Vice Convenor: Kirsty Macari MRTPI
Details of new Regional Management Board and National Executive Committee members will be published on the relevant Regions and Nations pages of our website.