The city of Lincoln has hosted the first in-person visit for Royal Town Planning Institute (RTPI) President Wei Yang.
The visit, organised jointly by the Lincolnshire Chamber of Commerce and City of Lincoln Council, was curated to showcase key areas of the city's development and share how the public and private sector have worked collaboratively to deliver this vision.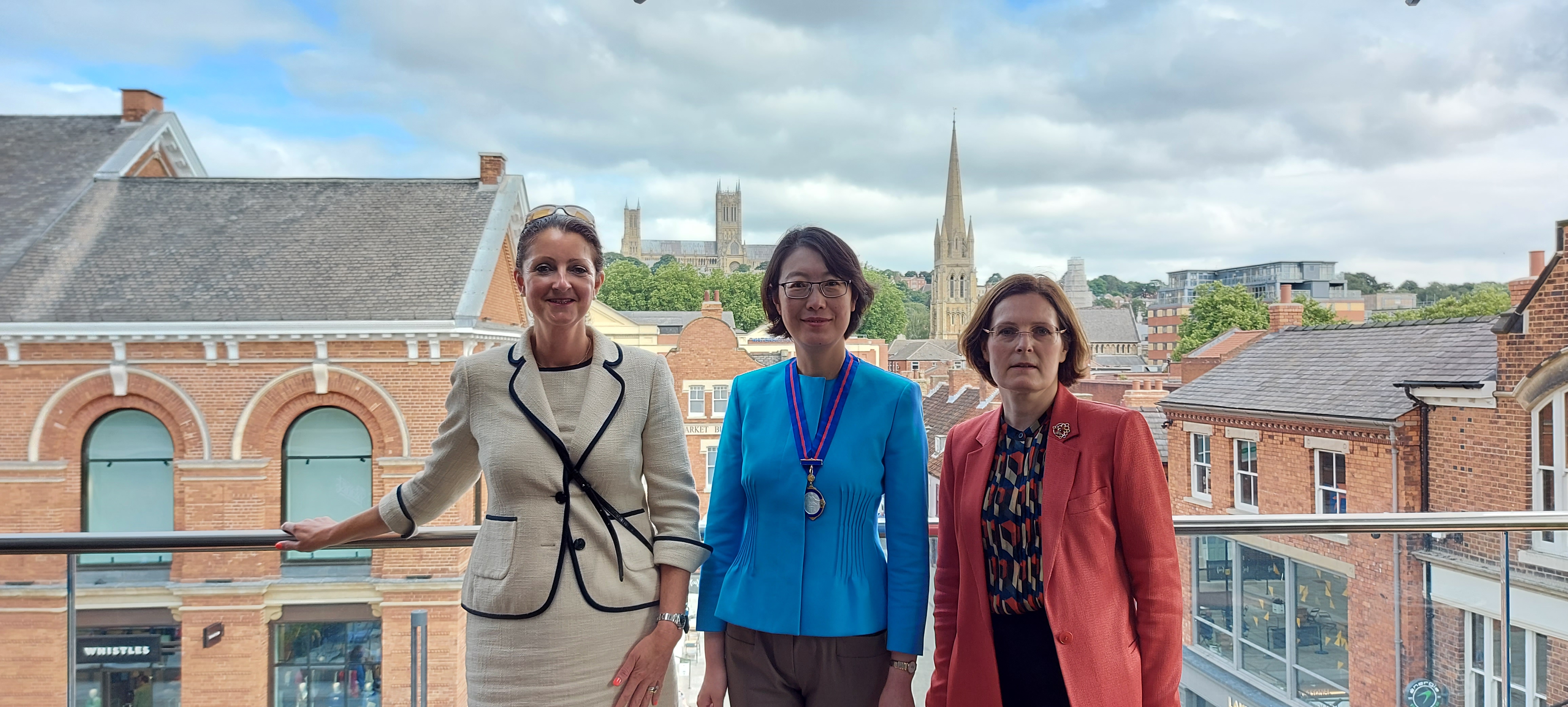 Above (l-r): RTPI Chief Executive Victoria Hills, President Wei Yang and Lincolnshire Co-op CEO Ursula Lidbitter
Wei, along with RTPI Chief Executive Victoria Hills, East Midlands Regional Chair Scott O'Dell and other delegates, started their visit at Lincoln Central train station, before moving on to the £14 million Lincoln Transport Hub redevelopment, where guests were given a view of the city from the roof of the 1,000-space multistorey car park.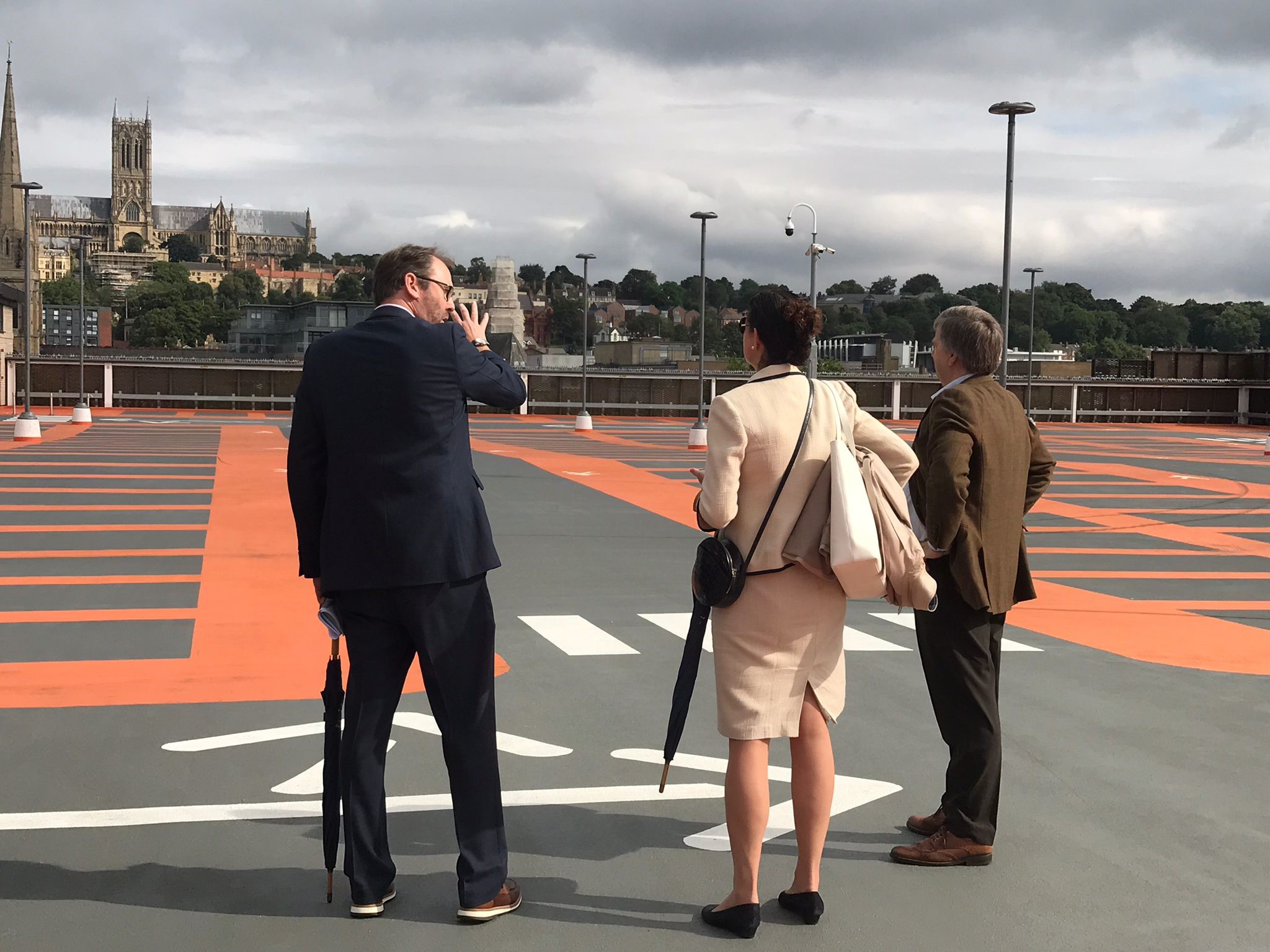 Above: Victoria Hills is shown the view from the Lincoln Transport Hub by Tim Bradford (Banks Long & Co) and John Latham (University of Lincoln)
Delegates were also shown around the Cornhill Quarter development, a regeneration zone which has delivered more than 150,000 sq ft of mixed use commercial floorspace, a £1.5m urban realm enhancement and a £30m investment in the city's infrastructure.
The tour moved through the city taking in the developments to the University of Lincoln campus including the most recent addition to the estate, the Medical School - home to a living wall holding approximately 5,000 plants of 11 different varieties sitting around solar panels.
The tour finished at Lincoln Cathedral, where the group had the opportunity to see first-hand the restoration programme and the new £17 million Lottery-funded extension, providing new meeting, exhibition, education rooms and a café.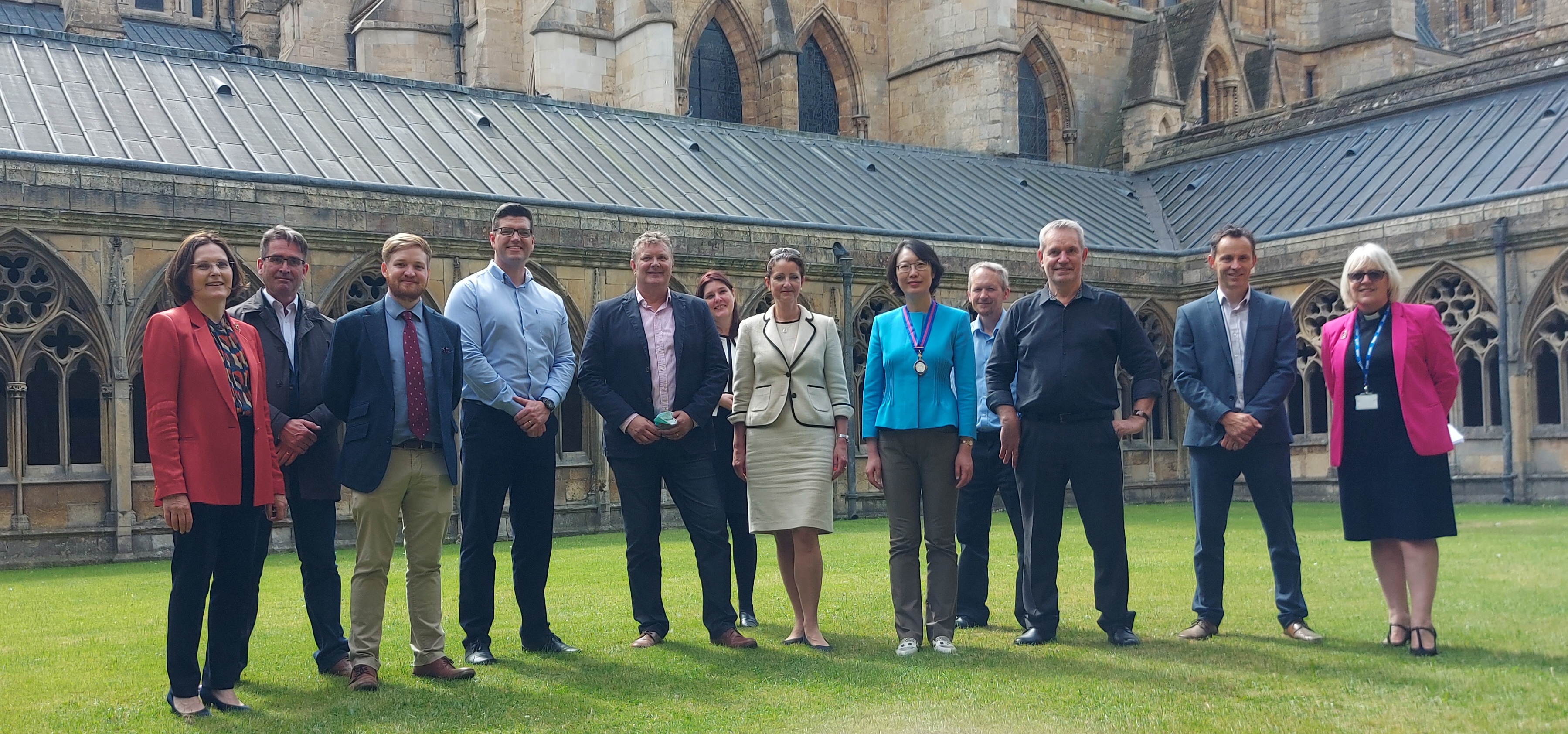 Above (l-r): Ursula Lidbitter (CEO, Lincolnshire Co-op), Steven Pretlove (Head of School of Architecture and the Built Environment, University of Lincoln), Scott O'Dell MRTPI (RTPI East Midlands Regional Chair), Kieron Manning (Assistant Director - Planning, City of Lincoln Council), Phil Scrafton (Globe Consultants), Kate Ellis (Strategic Director, City of Lincoln Council), Victoria Hills, Wei Yang, Mark Williets (Development Manager, North Kesteven District Council), Steve Kemp (Executive Director, Open Plan), Toby Forbes Turner (Principal Regeneration Officer, City of Lincoln Council), The Very Reverend Christine Wilson (Dean of Lincoln)
RTPI President Wei Yang FRTPI said:
"Our visit to Lincoln was special not only for the city's magnificent history, architecture and cityscape, but also for the warm welcome we received from the amazing team and the inspirational projects we visited.
"I was fascinated by the way the historic city has embraced the modern spirit and successfully evolved into the 21st century. I was particularly encouraged by the long-term vision and the collaborative approach of the local councils who have used planning as a positive force to engage everyone and create beautiful places for generations.
"I would like to thank Lincolnshire Chamber of Commerce for inviting us and everyone involved in organising the visit."
Kate Ellis, Strategic Director at City of Lincoln Council, said:
"This city has grown into an internationally renowned creative and innovative world class historic destination, and we were proud to share our hard work so far.
"Lincoln has a strong city centre with an equally powerful tourism offering and it was a great experience to highlight this during the Presidential visit."
Kieron Manning, Assistant Director for Planning at City of Lincoln Council, said:
"The visit was a great opportunity for us to showcase the fantastic results we have achieved from positive and proactive planning of our city over the past 25 years, and to highlight that a collaborative approach based on negotiation yields the best results.
"It was heartening to receive such positive feedback about our approach from the delegation and we look forward to continuing our efforts in making Lincoln the best place it can be."
Simon Beardsley, Lincolnshire Chamber of Commerce Chief Executive, said:
"We were delighted to welcome representatives from the RTPI to Lincoln to not only see the many exciting new developments which have been going on, giving the city a fresh look as well as keeping the wonderful historic aspects we love so much, but also to give delegates the opportunity to meet Council and local business representatives, who have been working collaboratively to bring the Cornhill Quarter project to life.
"Lincolnshire is the second biggest county in England, and we have so much to offer to visitors and businesses alike, so this opportunity really was invaluable."