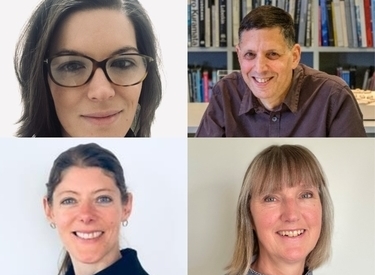 Research highlighting declining design quality after planning permission is granted has won the top prize at the 2021 Royal Town Planning Institute (RTPI) Awards for Research Excellence.
Hannah Hickman MA, MSc, MPhil, MRTPI, senior research fellow at the University of West England [pictured bottom left], was announced as the winner of the Sir Peter Hall Award for Research Excellence at a virtual ceremony today.
Ms Hickman's research explored the under-researched and poorly-understood area of post-consent – the journey of a development from the point of permission through to delivery and on-going management. In particular it evidenced a worrying decline in design quality occurring at this point; it identified some of the causes; and, considered what local authorities might do to address this decline.
In the same category, professor Jo Williams, of University College London, received a commendation from judges for her book 'Circular Cities: a revolution in urban sustainability'.
Award winners in three other categories were also announced at the event today including the successful entrants in the Student Award, Early Career Research Award and Planning Practitioner Award categories. The winners are as follows:
Early Career Research Award winner: Dr Meadhbh Maguire MRTPI PhD MSc MA [top left], McGill University, School of Urban Planning.
This project considered the use of survey data in planners' decision making processes. It found that survey methods ae heavily used within planning but are often influenced by political contexts.
Commended: Jianting Zhao, University of Hong Kong
Planning Practitioner Award: Antony Rifkin BCom MCRP Dip Urban Design MRTPI FRSA [Top right], Allies and Morrison
Mr Rifkin's 'Complex City: London's Changing Character' project made the case for character-based densification and provides recommendations for local authorities and cities attempting to meet growth demands while preserving local character.
Commended: Colin Robinson, Lichfields Planning
Student Award: Nicole Collomb BA (Hons) MSc [bottom right], University of Brighton, department of architecture and design
Nicole Collomb was handed the Student Award for her research into the effectiveness of green factor policies, in which she identifies a need for robust evidence base for these policies to be successful.
Commended: Samuel 'Nepo' Schrade, University of Brighton
Also announced at today's ceremony were the two recipients of the two £5,000 grants from the Practitioner Research Fund.
The winners of the grants are:
Oscar Wong for the project: 'Strategic legacy planning for mega-events to achieve sustainable development goals: critical lessons learnt from London Olympics 2012 and Rio 2016'
Timon Moss for the project: 'Regional community wealth building in Scotland'.
Dr Wei Yang FRTPI, RTPI President, said: "After receiving many brilliant entries for this year's awards, the RTPI is now delighted to announce the stand-out projects across our four categories and recipients of the Practitioner Research Fund.
"I would like to congratulate all the winners and those who were shortlisted. The quality of submissions was exceptionally high this year, and we thank all the entrants for their submissions.
"The RTPI is grateful to all applicants for sharing their fresh and innovative work. The awards give us the opportunity to celebrate the best and brightest work in the sector which is vital in driving the profession forward.
"I would like to extend our great appreciation to the awards sponsors, Routledge Taylor & Francis Group and Idox Knowledge Exchange.
"The awards would not be possible without our excellent judges, who have volunteered their time to review all of the entries in their categories and we would like to thank you all for your continued support for the research awards.
"As in previous years, this awards ceremony forms part of the UK-Ireland Planning Research Conference. This year it is hosted by the School of Architecture, Planning and Landscape at Newcastle University to mark their 75th anniversary of planning education. Many congratulations for the anniversary and thank you for the school's excellent contributions to the planning profession over the years."
What the winners said
Hannah Hickman: "I am honoured and delighted that myself and colleagues at UWE have won this fantastic award. The aspiration to achieve high quality design outcomes in new development is really important, especially at a time of housing crisis.
"It was thus fascinating to learn in our research, how the development process post-permission (a previously neglected area of planning research) can result in significant reductions in the quality of development, such that final built schemes can appear quite different from that contained within original consents.
"Particular thanks should go to the many planning officers who participated in this study, as it is their experiences and knowledge we sought to reflect. We have plans to extend this West of England focused study to look at post-consent outcomes across the four nations of the UK."
Nicole Collomb: "I am thrilled to win in the Student Award category of the RTPI Awards for Research Excellence and very grateful to Brighton University for their support and for encouraging me to apply. My research focused on the use of green factor policies which aim to ensure sufficient green infrastructure is included in new development.
"As we face a 'code red for humanity' due to the changing climate, finding ways to ensure our cities become greener as they grow has to be a priority for city planners and is an area of research I am interested in exploring further."
Meadhbh Maguire: "It is wonderful to have won the RTPI Early Career Research Award and to have had the opportunity to celebrate planning research with the other nominees. I undertook this work in order to gain a better understanding of how planners undertake public consultation in situations where large volumes of input are required, which inevitably led me to studying survey methods within planning, as this was found to be a key method of choice by planners in these situations.
"The findings are of key importance to those involved in shaping curriculum within planning programmes, as I find that many planners use survey methods routinely, but have limited understanding of survey limitations and how these can be mitigated. I am delighted that this work has been recognised by the RTPI and look forward to keeping abreast of planning research over the course of my career."
Antony Rifkin: "London's rapidly changing character has become a critical issue facing Local Planning Authorities across the capital. Our research argues that good growth in these areas can be truly context-led if the social and physical character of the city are integrated into the process of urban design and development.
"Building on the success of Complex City, Allies and Morrison are now exploring how this approach can be taken in other parts of the UK and internationally."