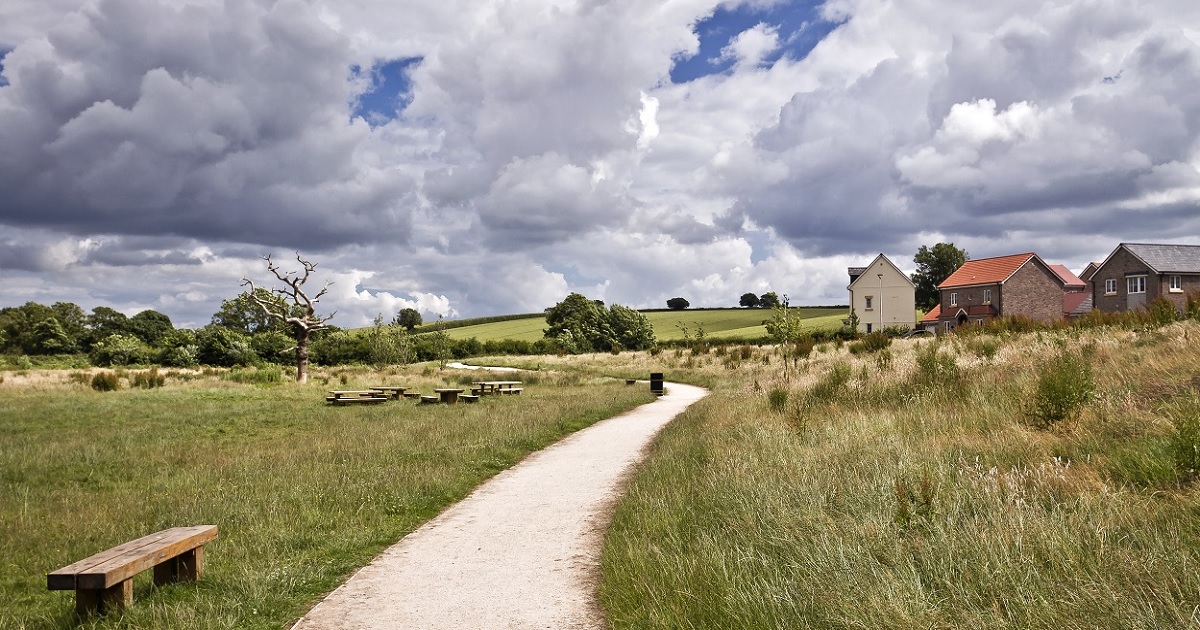 [Pictured: Cranbrook Country Park is part of Clyst Valley Regional Park] 
The Clyst Valley Regional Park Masterplan has been declared the overall winner of the RTPI South West Awards for Planning Excellence 2021. Entered by East Devon District Council and judged as an excellent project setting out a framework for action on the ground, the masterplan was also the winner of the Awards Category 'Excellence in Plan Making' and highly commended in the RTPI South West Chairs award for Health, 'Wellbeing and Inclusivity'.
The South West Awards for Planning Excellence 2021 celebrate projects and people who have helped create exceptional places and improved the lives of those who live and work there; highlighting how planning and planners work to create a safe, healthy and sustainable future.
Winning these prestigious awards is a clear demonstration of quality, and an excellent way to raise the profile of a project, team or individual.
East Devon District Council started small, sharing resources across local authority boundaries and grew into a partnership of seventeen organisations. The council's springboard 'Great Trees' project won Pride of Devon for its practical engagement of volunteers and focus on wellbeing. With a strong brand, clear vision and action plan, defined in a 25-year masterplan generated through open dialogue, they demonstrated the impact that planners can have on sustainability.
The RTPI South West Chair 2021, Angharad Williams, commented "In a year of uncertainty, I am delighted by the broad range of inspirational entries that we received this year.
"Celebrating planning excellence allows us to reflect, reward and learn from exemplar projects, teams and people as we move forward in transforming our communities, protecting and enhancing the environment, creating successful economies and delivering exceptional places. Congratulations to all of this year's finalists and winners."
The RTPI South West Awards for Planning Excellence 2021 are sponsored by Stride Treglown and TetraTech Planning
The presentation to the winners took place in a virtual ceremony on YouTube on 23 November at 14.00.
The 2021 category winners are:
EXCELLENCE IN PLANNING DELIVERY
Commended - Millbay Boulevard and Associated Works, Plymouth (Entered by Plymouth City Council)
EXCELLENCE IN PLAN MAKING (i.e Local Plans, Strategies, Neighbourhood Plans, Local Plans)
Winner - Clyst Valley Regional Park Masterplan (Entered by East Devon District Council)
Highly Commended -Torbay Heritage Strategy 2021-2026 (Entered by Torbay Council)
SOUTH WEST PLANNING TEAM OF THE YEAR
Joint Winner - Sedgemoor District Council Development Management Service
Joint winner - Feria Urbanism
SOUTH WEST YOUNG PLANNER OF THE YEAR
Winner - Frances Summers, Dorset Council
Highly Commended - Emily Johnson, AECOM
Commended - Christopher Lee, Dorset Council
RTPI SW CHAIRS AWARD 2021
Winner - Feria Urbanism
Highly Commended - Clyst Valley Regional Park Masterplan (Entered by East Devon District Council)