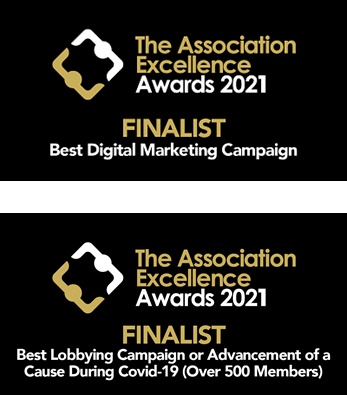 We are delighted to announce that our Plan the World We Need campaign has been shortlisted as a finalist in the Association Excellence Awards 2021 in two categories: the Best Digital Marketing Campaign and Best Lobbying Campaign or Advancement of a Cause During Covid-19 (Over 500 Members).
The Association Excellence Awards salute, celebrate and encourage the vital work that associations, trade organisations, unions and industry bodies do for and on behalf of their members to ensure their voices are heard and their causes are championed. This year's awards in particular are recognising the remarkable achievements in the face of a year that has required us to show more resilience, resourcefulness and tenacity.
Against a backdrop of a global climate change crisis, brought into sharp focus by the Covid-19 pandemic, our Plan the World We Need campaign, launched in June 2020, sought to raise awareness of the vital role town planners play in creating resilient, sustainable and inclusive places that deliver on net zero targets.
Through a series of press releases, blogs, member bulletins, a film, a dedicated website hub, a targeted public affairs effort and social media activity, the campaign surpassed its objectives of securing at least 25 pieces of media coverage, increasing social media engagement by at least 10%, prompting a response from government with MPs, member satisfaction and wider stakeholder engagement.
The campaign secured 34 separate pieces of coverage, increased social media engagement by more than 30%, prompted numerous supportive messages from members and was cited several times in the House of Commons and the House of Lords. It was also mentioned in the government's 'Planning for the Future' white paper. Furthermore, the film is currently being used to illustrate the role of planners, especially post-Covid, on the Greater London Authority's website. 
Please continue to support the cause and join the conversation on social media #plantheworldweneed
The Association Excellence Awards winners will be announced on Tuesday 29 June. The full list of finalists is published here.