Nominations open today for the RTPI Elections 2021, and members around the globe are being encouraged to put themselves forward.
A range of vacancies are available on the Board of Trustees, the group responsible for the management of the RTPI's affairs, and the General Assembly, which provides a forum for debate about the development of planning policy and practice.
Following a year during which we all faced unprecedented challenges, the RTPI says it wants to hear from a diverse selection of members with 'bold and practical' ideas that will help it deliver value for members and contribute to the Institute's continued success.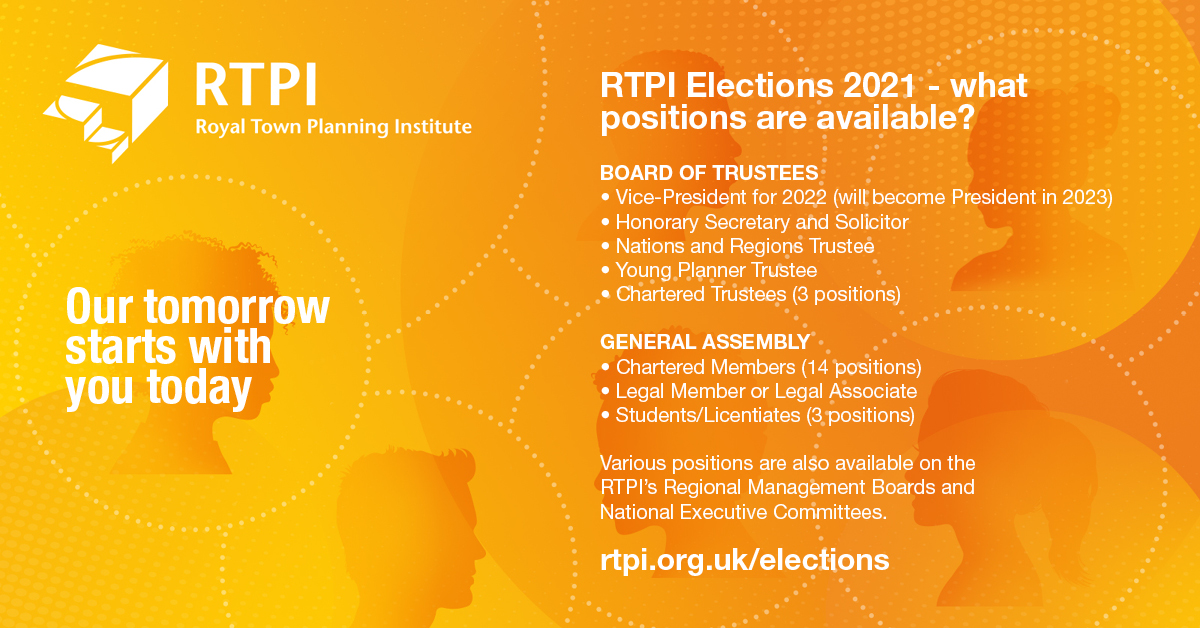 RTPI Chief Executive Victoria Hills said that this year's elections were a great opportunity for members to have real influence on the direction of the RTPI.
She said: "2020 was a year like no other, both on a global level and for the RTPI. We saw the world change at record speed and with it, the planning profession and the Institute.
"But now is not the time to stand back. The current situation is constantly changing and we need to be visionary and adapt quickly to new situations as they arise.
"That's why we want to hear from members from a wide range of sectors, geographical locations and backgrounds, who want to contribute to the big discussions and decisions that impact the profession. 
"Good planning is fundamental to the future of society and, by putting yourself forward, you could be at the forefront of the decisions that shape quality places and spaces."
This year, as part of the elections, vacancies are also being advertised for positions on the RTPI's Regional Management Boards around the country and on National Executive Committees, which are tasked with creating the pathway to achieve the corporate strategic goals for different areas of our work.
>> Nominations for all RTPI elected positions are open until 28 July. For more information, visit rtpi.org.uk/elections