Royal Town Planning Institute (RTPI) Chief Executive Victoria Hills has been named today as a member of the Advisory Board of MHCLG's new Office for Place.
The government says that the Office for Place will help councils and communities 'banish ugly developments and deliver beautiful, green homes and places using Britain's world-class design expertise'.
Joining Victoria on the new taskforce will be developers, architects and other planners. The group will be chaired by Nicholas Boys Smith, director of Create Streets and previously co-chair of the Building Better, Building Beautiful Commission (BBBBC).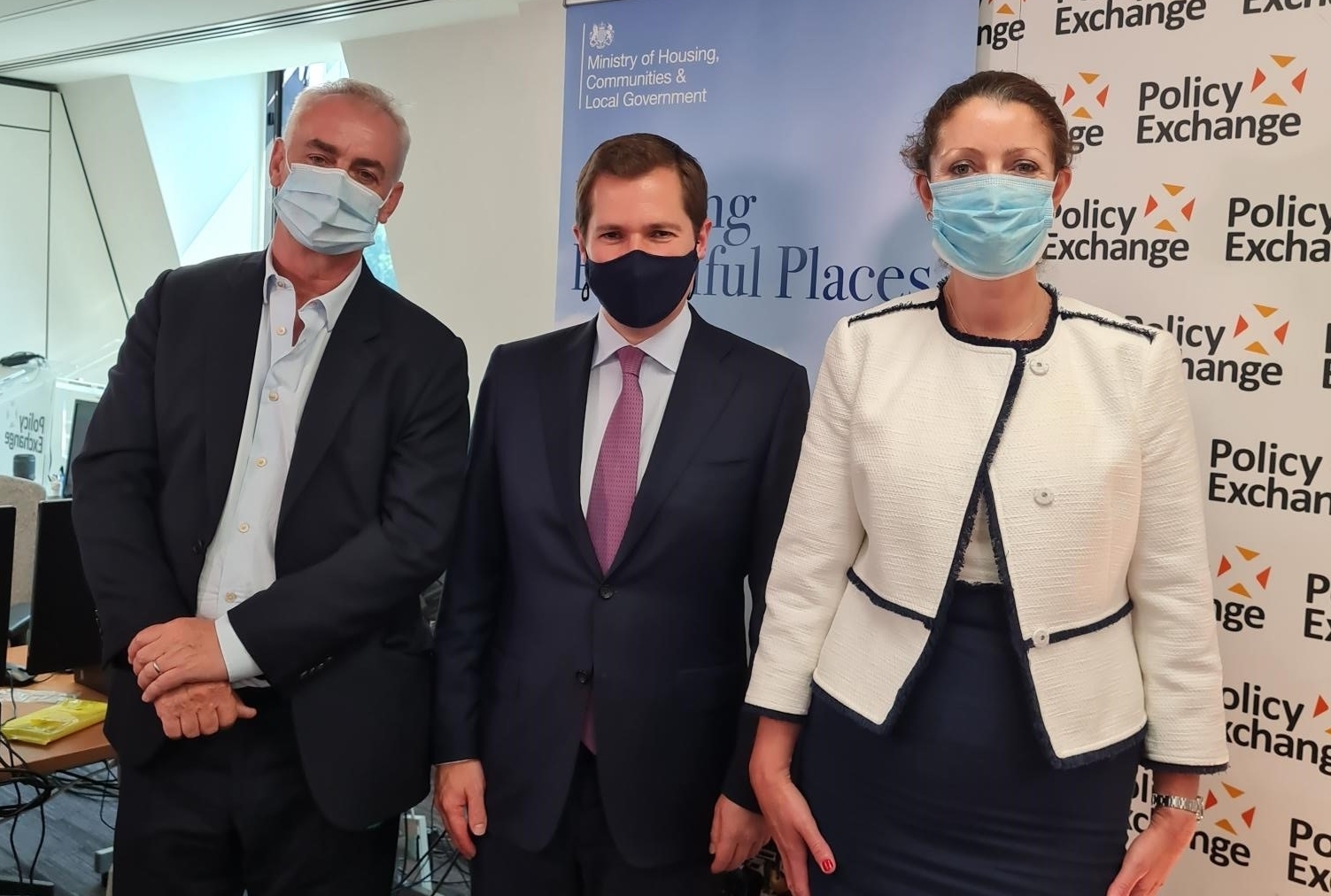 Image: The RTPI's Victoria Hills (right) with Housing Secretary Robert Jenrick (centre) and fellow Office for Place Advisory Board member Paul Monaghan at today's event at Policy Exchange
Also announced today were revisions to the National Planning Policy Framework following a consultation earlier this year, enabling planners to reject ugly, unsustainable or poor quality design – something that the RTPI has called for on numerous occasions.
A National Model Design Code has also been launched to help councils and communities to create their own local design requirement. Guidance will be provided across all aspects of new development including tree-lined streets, sustainable drainage and design to support walking and cycling.
The announcements by Housing Secretary Robert Jenrick were made during an event at think tank Policy Exchange in central London attended by Victoria Hills and streamed online.
RTPI Chief Executive Victoria Hills MRTPI said:
"I'm delighted to have been appointed by the Housing Secretary to be a member of the Advisory Board of the new Office for Place.
"Over the coming months, I look forward to working with Nicholas Boys Smith, Chief Planner Joanna Averley and other board members to support local planning authorities to drive up design standards, testing and piloting the National Model Design Code with more than 20 local councils and communities. 
"Experience from around Europe suggests that a small and agile national design taskforce like this can have a huge impact, but only if it reaches out to work with an inclusive network of local partners to build capacity and approaches that are right locally and that have local buy-in.
"Among today's other announcements, I particularly welcome the strengthening of the NPPF to enable RTPI members to reject poorly-designed developments. In our response to MHCLG's consultation, we set out how it can often be hard for an LPA to refuse a scheme only on the grounds of bad design.
"The input of Chartered planners will be essential if the government's plans to promote and increase the use of high-quality design for new build homes and neighbourhoods are to succeed."
The RTPI is commissioning consultants to undertake research on design codes, net zero and nature recovery, with publication of the research due in Autumn 2021.