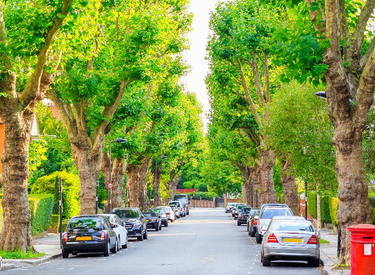 The Royal Town Planning Institute (RTPI) has appointed consultants LDA Design to produce research on how design codes in England can help the UK government achieve its Net Zero targets and tackle the ongoing ecological emergency.
The project, being conducted in partnership with the Royal Society for the Protection of Birds (RSPB), will look to stimulate bold and innovative thinking about how to use design codes to secure transformative change in the built environment's contribution to hitting net zero targets and promoting nature recovery.
LDA Design will consider how to produce design codes that specifically address climate energy and biodiversity, so they become a far stronger framework for users, which include council officers, applicants and the local community.
LDA Design will work with ecology consultants BSG Ecology and technology firm City Science to produce two design codes based on fictional towns. The codes will cover net zero and nature recovery and be designed for use in conjunction with existing government guidance on design for site specific development and district-wide development.
Richard Blyth, head of policy at RTPI, said: "At a time when the world finds itself in the midst of a climate and ecological emergency, and with the UK hosting COP26 this year, planning can be a force for good. With the UK government setting ambitious targets to bring net emissions to zero by 2050 the way we design our towns and cities must align with these goals.
"With this research we want to contribute new ideas about how design codes can be used specifically to address the issues around climate change, energy efficiency and ecology. This project will build upon the National Design Guide and National Model Design Code in England, assimilate existing best practice and signpost how design codes can be used in a cost effective and clear manner."
The research comes as the UK government has proposed an overhaul of the planning system in England, part of which involves shifting to a zonal planning system with areas designated as growth, renewal or protected.
Richard Blyth added: "In a zonal planning system design codes would have to do heavy lifting. The RTPI has commissioned this work to explore how the wider issues around planning could be delivered by codes."
LDA Design was appointed to lead the research following a tender process. It follows a successful partnership between RTPI and LDA Design which looked at how spatial planning can deliver net-zero transport.
LDA Design's findings will be published in Autumn 2021.
Emma Marsh, director of RSPB England, said: "Nature is in freefall. This is a critical time as the scale and significance of the most pressing challenge of our age – the nature and climate crisis – is becoming ever more clear and immediate. We are at the point of having already lost more wildlife than we have left. It is critical that steps are now taken not just to protect our biodiversity, but to actively support its restoration and recovery including within the new developments and places that we build.
"The RSPB therefore welcomes the opportunity to work in conjunction with the Royal Town Planning Institute to showcase to the development industry and local planning authorities how design codes and guides can be positively harnessed to create genuinely vibrant and sustainable places that contribute towards nature's recovery."   
Spencer Powell, principal consultant at LDA Design, said: "Planning has a key role to play in responding to the climate and ecological emergencies. Every decision we make from now on has to consider the impact on climate, ecology, and what it means for all of us if the status quo continues. We need to look beyond the red line and the short-term, and ensure that the development we plan today takes us a big step towards a zero carbon future and a healthier, more resilient ecosystem. It is important to get design codes right because in a zonal system they can provide greater certainty for communities, and lock-in the big moves needed to get us onto a more sustainable footing."