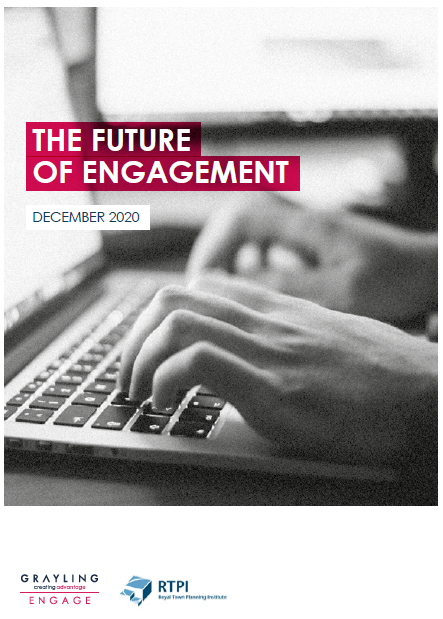 The need for the UK's local places and services to adapt to a new world following the COVID-19 pandemic – and the desire to involve local people – has been highlighted in a new report. 
The report published today by consultation and engagement practice Grayling Engage and the RTPI, which involved UK-wide research with the general public and industry professionals working across planning, property, infrastructure and health, also explores how the pandemic changed public decision making, and what this could mean for the future.
More than half (53%) of the general public surveyed agreed that changes to local places, spaces and services will need to happen to adapt to life post pandemic – and that they want to be involved in these decisions.
Changes to reduce carbon emissions and adapt to climate change was the biggest priority for the public, with almost half (45%) saying this will need to change and they would like to be involved. This was a particular priority for young people (60% of those aged 16-24, compared to 33% of those aged 55 ).
This was closely followed by the need for more communal areas and green space, for example parks and playgrounds (44%) – which have provided a haven for many families during lockdowns throughout the year.
Rikki Butler, Head of Grayling Engage and co-author of the report, commented:
"People are more interested and invested in their local communities than ever before. Our research showed that more than half (53%) of the population could be motivated to contribute to future decision making. Given how much local areas and services will need to adapt after the pandemic, harnessing this interest will be essential to ensuring the decisions that are being taken truly reflect the needs of local communities."
Sue Manns FRTPI, President of the Royal Town Planning Institute, said:
"I am delighted that the Royal Town Planning Institute and Grayling have come together to produce this timely report on the future of community engagement.  It is vital that we capitalise on the renewed interest of communities in shaping the way places recover from the pandemic, and on new ways of reaching out to more people. The pandemic has shone a light on place based inequality, access to green spaces and local amenities, housing and how we travel around – whether that be for work or leisure.
"Planning will play vital role in delivering a holistic recovery which accelerates progress to a zero carbon economy, increases resilience to risk, and creates fair, healthy and prosperous communities.  Local knowledge, which has been key in responding to the crisis, must be at the centre of this place-based approach to local decision-making. Planners should be resourced and ready to respond with inclusive and innovative ways of engaging people across society in shaping their future places."
As well as considering what is needed for the future, the report also examined how industry has involved local communities in key decisions during the pandemic, finding that the vast majority (83%) had changed the way they consult, moving conversations that traditionally took place in town halls, libraries and other public spaces, online.
This is a move that will be welcomed by the general public, with almost half (49%) saying that having the ability to respond digitally as well as face-to-face would make them more likely to get involved in consultations, particularly with younger respondents (54% of people aged 16-24 vs 43% of those aged 55 ).
This suggests digital engagement could be the key to unlocking participation from a larger, younger and more diverse cohort – which would help ensure the many decisions needed to help the country adapt after the pandemic more accurately reflect the needs of a rapidly changing society.
The new report comes as Grayling Engage launches its new virtual engagement offering, EngageOnline, a user-friendly, fully-customisable platform to facilitate online consultation programmes.
Designed to provide the tools needed to comply with the consultation requirements for Nationally Significant Infrastructure Projects, the platform is flexible to meet the needs of a wide range of other projects from planning applications for housing developments, to change programmes being run by the NHS.
For more information, please contact [email protected] or Lauren Garnet on 07950 186 027.
Research methodology
Industry research with Grayling Engage and the RTPI's professional networks, including:
Written survey conducted by Grayling Engage and the RTPI with 115 industry professionals. Survey undertaken between 18th November – 30th November 2020.
24 phone interviews undertaken with consultation and engagement professionals spanning planning, property, infrastructure and health across the UK.
Consumer survey conducted by research agency Opinion Matters, with 2,002 UK nationally representative adults. Survey undertaken between 18th November – 23rd November 2020.
About Grayling Engage
Grayling Engage brings together a multi-disciplinary team of specialists covering community relations, public affairs, stakeholder engagement, media relations and digital communications. We help organisations understand who they need to engage and consult in order to meet their business objectives and then help them to do this effectively. This could see us working with a client to build support for a specific proposal, such as a planning application for a new development, or gathering public views on how NHS services can be better delivered to support change within the health sector.
Our approach ensures our clients understand all points of view so that advocates can be mobilised and objections mitigated or countered. We deliver programmes that are innovative and creative whilst also being robust and proportionate.
For more information about new platform EngageOnline, visit www.graylingengageonline.co.uk
Grayling Engage is a division of Grayling Communications Limited.
About Grayling Communications
Grayling is the UK's best-connected communications agency. We've got nine offices across the length of the country, which is a powerful advantage. It gets us closer to the audiences we need to reach, and it gives us a unique perspective. Combining our breadth of expertise across public relations and public affairs, our proprietary technologies and a creative and inclusive culture, we develop and deliver award-winning communications solutions that create advantage for our clients.
Find out more at www.grayling.com. Grayling is part of Huntsworth Ltd.
About the Royal Town Planning Institute
The Royal Town Planning Institute (RTPI) is a leading membership organisation and the only body in the United Kingdom that confers Chartered status to planners, the highest professional qualification sought after by employers in both private and public sectors. We set the standards of planning education, accrediting world class planning courses nationally and internationally and are responsible for maintaining professional standards. We have over 25,000 members in the private, public, academic and voluntary sectors. Using our expertise and research we bring evidence and thought leadership to shape planning policies and thinking, putting the profession at the heart of society's big debates and championing the power of planning in creating prosperous places and vibrant communities.