Date
28 September 2020 at 12:30 PM - 01:30 PM
This webinar forms part of The Scottish Planner Live week and is brought to you by RTPI North East.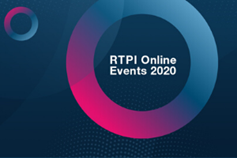 In recent years the connection between planning and health and wellbeing outcomes has been re-established. With a greater society level understanding and greater openness regarding mental illness and more people living with dementia the need to create places that cater for all is increasingly urgent. Whilst the connection between access to greenspace, active travel opportunities and physical health is well understood, the subtle but fundamental impact of the built environment on mental health requires a deeper understanding of the importance of place, distinctiveness and an environment that supports overall wellbeing.
Speakers;
Michael Chang, Programme Manager - Planning and Health, and Claire Mathews, Health and Wellbeing Programme Lead - Public Health England - Health matters: do we have the tools to deliver healthy communities
Mark Cope, Associate – Hoare Lea -  Influencing health and wellbeing outcomes in planning and design

Rachel Murtagh, Nature Partnership Manager - Tees Valley Nature Partnership. Natural health and well-being - Reconnecting People and Nature.  Why we need to do this and what can partnerships achieve.
CORE CPD Framework

  Health and Inclusive Planning
  Championing Planning
  Environmental Planning
Delegates can expect to:
Gain an understanding of the importance of planning to support wellbeing
Have a better understanding of how we can help people to live independently