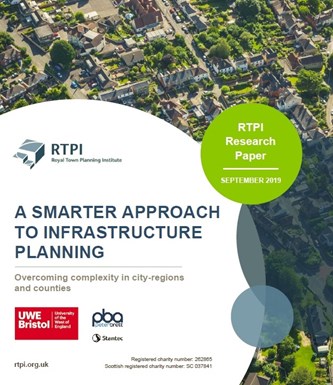 Introduction

As towns and cities expand, they create a need for more transport, energy, water, waste and digital networks, schools, hospitals, community centres and green spaces, and measures to prevent flooding and overheating. The right kind of infrastructure, delivered on time, is key to sustainable growth.

However, infrastructure planning and delivery is highly complex. It involves a web of national and local government agencies, regulators, utility companies and service providers, as well as developers and investors. This wide range of stakeholder are often working to different timeframes, across different areas, and to different objectives.

A lack of coordination can lead to greater costs and uncertainty, and development without the necessary infrastructure. Worse still, it can lead to the construction of new developments which fail to support social cohesion, good health outcomes and economic prosperity. This in turn makes local communities reluctant to support growth, and makes it hard to achieve wider sustainability objectives.

Our research

Across the country, people are developing new ways of collaborating, sharing information and using technology to plan infrastructure in a more efficient and coordinated way. As part of the RTPI's Smart City-Regions project, we want to explore how this is working, share best practice, and understand what needs to change.

To support this, the Institute has commissioned research from the University of the West of England (UWE). In partnership with PBA, now a part of Stantec, the team will interview key individuals from city-regions and counties across England and Scotland, investigating how infrastructure planning is carried out on the ground.
Click here to download

To find out more about the project, contact james.harris@rtpi.org.uk
Other content you might be interested in