Aberdeenshire Conservation Area scheme picks up top planning award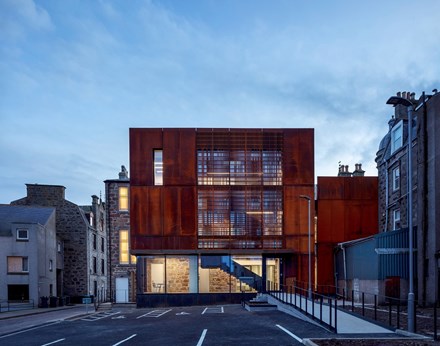 A landmark regeneration scheme in Fraserburgh, Aberdeenshire has been crowned the overall winner at the inaugural RTPI Scotland Awards for Planning Excellence 2022
The Fraserburgh Conservation Area Renewal Scheme Townscape Heritage Project won in the RTPI Scotland Best Project category and and took away the overall Award for Planning Excellence at the ceremony in Edinburgh on 16 June. 
Aberdeenshire council picked up their award with an innovative heritage led regeneration scheme approach which used the built heritage of the town as a means to catalyse, not constrain, the economic development and economic growth of the area. The scheme has targeted numerous derelict/and or vacant properties in the Fraserburgh Conservation Area bringing them back into active use. This included shopfront improvements, reinstatement of original architectural detail, public realm and an extensive training and engagement programme.
The RTPI Scotland Awards for Planning Excellence celebrate outstanding plans, projects and people that demonstrate the power of planning. Other winners on the night included Planner Rhiannon Moore of Montagu Evens who scooped the prize for Young Planner of the Year, and planning consultancy Kevin Murray Associates, who won Small Planning Consultancy of the Year.
The City of Edinburgh Council were awarded the top accolade for their City Centre Transformation Programme in the Plan-Making category.
Partners including City of Edinburgh Planning and Building Standards, OP-EN (Optimised Environments Ltd), BIG Partnership, Turley, Moffat Centre at the Glasgow Caledonian University, Simetrica-Jacobs, Space Syntax, Citymart and White Young Green.

The Edinburgh City Centre Centre Strategy (ECCT) is seen as  a once in a generation opportunity to overhaul the operation, quality and experience of the City Centre bringing health and wellbeing as priorities to the streets, public spaces, amenity of access and movement. The strategy influenced a policy review, benchmarking and setting the scene for future developments up to 2050.  The City of Edinburgh Council  appointed Jacobs to lead the production of a coherent strategy to provide direction for future development of the city centre and detail the required changes to urban infrastructure, public transport and public spaces to achieve a transformed city centre focus in social, environmental and economic benefits for the community. The strategy is supported by an evidence-based delivery plan and a detailed business case.

A ten-year £314 million plan, the ECCT Strategy, was approved by the Council in 2019, which outlines a programme to enhance public spaces to better support life in the city by prioritising movement on foot, by bike, and by public transport. The Delivery Plan is structured within a series of gateways, currently proposed at 3, 5, 7 and 10 years, where key decisions can be taken to allow for changes to programmed activities. The proposal sat alongside and directly influenced the proposed Low Emission Zone  to tackle air pollution by reducing the number of car journeys in the city and the City Mobility Plan to maximise public participation. A joined-up public transport and active travel network were vital, with the Capital's population expected to increase by 15 per cent by 2041 to around 600,000.

Some of the interventions proposed on the ECCT Strategy allowed a quick implementation by the Council. The COVID-19 pandemic highlighted the importance of providing more space for people on foot and by bike to move safely through the city. The scheme included 39 km of segregated cycle infrastructure, 54 measures around schools to give pupils and their parents/carers more space to distance and remove street clutter such as unused poles and parking signs. Such measures had a significant impact on the community's health and wellbeing during a difficult time. Consequently, these tests and the overall strategy directly informed policies on the emerging City Plan 2030 and the City Mobility Plan (2021-2030), which the Council approved in January 2021.

Judges' Comments

The judging panel were of the view that this transformation plan sent out a number of very important messages about the future design and management of our urban places and spaces within a post-pandemic and Net Zero-driven context.  It was deliberately seen to be a placemaking strategy rather than a transport driven scheme. This supported planners to be at the centre of the work whilst breaking down silos in order to tackle the complexity of the challenges and to enable the multi-player approach required.  

The strategy also tackles some difficult and fundamental questions about what – and who - our towns and cities should be for and worked hard to bring the range of people and perspectives along with its ambitions.  The judges were also very impressed with the way the team used the SEA process and other assessments to ensure consistency of approach and develop a 'quality of life' assessment process and evidence base.  It was also pleasing to see that a budget has been identified for implementation so as to ensure that it can deliver the inspiring, forward looking and people-centred transformation of the city.

Partners including City of Edinburgh Council, Scottish Water, Scottish Environment Protection Agency.

As a progression from Edinburgh's Water Vision and to further the City Vision 2050, Atkins were commissioned by City of Edinburgh Council to develop a holistic Green-Blue Network Strategy for the City of Edinburgh in 2020. Development of the network involved bringing together information from multiple sources to consider climate change adaptation at a city scale, to support and inform environmental policies and development briefs set out in Edinburgh's Cityplan 2030. The scope of the Green Blue Network project included creation of the first comprehensive Strategic Flood Risk Assessment for the City of Edinburgh.

The key aims of the Strategic Green Blue Network are to:

provide a framework to identify opportunities to integrate nature-based solutions into the city at a strategic and local scale,
bring together information from Edinburgh Council and key stakeholders such as environmental green-blue assets, climate risks, active travel and social data,
safeguard and enhance a network of strategic green blue corridors,
support and inform future planning and investment decisions,
promote joint working between partnership agencies, and
identify opportunities to provide environmental, social, and economic benefit for people and wildlife, sustainably manage water and flood risk, and future proof the city against the impacts of climate change.

This project was developed collaboratively with input and funding support from Scottish Environment Protection Agency and Scottish Water, along with City of Edinburgh Council and Sustrans and data and expertise from NatureScot.

The Strategic Green-Blue Network was commissioned in November 2020, completed in December 2021 and adopted by City of Edinburgh Council in January 2022. Atkins are currently working on the next stage of the project, the first phase of which is a Green Blue Neighbourhood study for the Craigleith catchment which will analyse the strategic green blue network at a neighbourhood scale. The scope of this work is to undertake a feasibility study of the catchment, opportunities mapping and develop concept designs for incorporation of nature based solutions at a local scale to create a beautiful, biodiverse, climate adapted green blue neighbourhood whilst respecting the historic heritage and current uses of the area. This work responds to the new standards set out in National Planning Framework 4 calling for a spatial planning response to the climate emergency to inform and support for planning decisions and will act and a blueprint for other catchments in the city.

Judges' Comments

The panel though this was a groundbreaking approach in taking a holistic approach to sustainable water management and climate change adaptation at a strategic level, which was particularly relevant at a time of climate and nature emergencies. They liked how the strategy was also feeding into action at local levels through identifying opportunity areas. The commitment to collaboration across stakeholders to develop the evidence base and to take forward the strategy is admirable.

The judging panel was pleased to see how investment in analysis from the outset  this has allowed the strategy to developed joined up spatial evidence and data to support the direction of future policy approaches. It is important and welcome that this is feeding into the decisions on future change and development as part of Edinburgh Cityplan 2030 and City Vision 2050. 

Glasgow's City Development Plan sets out the Council's spatial vision and strategy for the City whilst also providing the basis for assessing planning applications along with its associated Supplementary Guidance. The City Development Plan marked a shift in planning practice from an emphasis on a land use planning, to an approach based on placemaking and spatial planning. This shift was highly relevant in relation to Glasgow's transitioning economic, social and place structure. This change in emphasis in planning practice allowed the planning service to be responsive to opportunities to facilitate change, whilst supporting the repair of the City's urban form, which had been badly damaged by post war industrial decline, housing demolition and strategic road building. This has led to the adoption of 3 Strategic Development Frameworks as spatial Supplementary Guidance to the City Development Plan covering the River Clyde Development Corridor; Govan; and Partick and the City Centre.

The Strategic Development Frameworks (SDFs) were seen as a necessary tool to bridge citywide policy aspirations and the need for detailed guidance in areas of complex change. They aim to support the regeneration and sustainable development of key areas of the city by:

providing a spatial overview of what is happening in the area;
developing a long term vision and strategy for the future development of the area;
seeking to understand and reflect local priorities and opportunities for delivering change;
acting as a means of coordinating existing and future regeneration activity;
adapting and interpreting City Development Plan outcomes, policies and principles at the sub-city scale;
providing a context that will support investment and attract funding;
setting out a delivery process and an action programme;
identifying areas where more detailed planning work, such as a masterplan, is required.

Delivering the 3 adopted SDFs required varied and responsive approaches to planning practice across the project areas, taking account of the place context and existing regeneration process. The 3 SDFs were delivered to adoption during the period of Covid restrictions. The City Centre SDF required responses to be prepared to consultation feedback and drafting of the final document through lockdown.

Each of the 3 SDF areas has complex challenges to be addressed. Often these are unique in their scale and intensity at the Scottish level. This required the planners leading on the strategies to be creative and flexible in their approaches. Given that the SDFs form part of the statutory adopted development plan, this required a process of engagement with communities and stakeholders which was at the same time detailed, meticulous and transparent, whilst also being open to challenge and able to build upon the knowledge and input of local place experts.

Judges' Comments

Judges welcomed the fact that the need for the Strategic Development Frameworks came directly from Glasgow's 2017 City Development Plan which identified the need for more detailed spatial planning activity to support regeneration in areas of particularly complex urban change.

The judges commend how each document was delivered through a tailored process focused to the needs of each place and community and the creative ways in which engagement with communities we embedded into those processes. They appreciated the need for strong leadership and management to provide staff with the time and space to develop these carefully and collaboratively. A testament to this is that SDF are informing and influencing the wider corporate activity of the Council and other stakeholders whilst providing a crucial spatial planning and regeneration vision to support capital funding bids and project design.

Partners including National Lottery Heritage Fund, Historic Environment Scotland, NB Planning and Architecture, Alan Marshall Conservation Architect, Doug Wheeler Associates and Elevator.

In the run up to the Fraserburgh 2021 CARS/TH project, the town  was facing many socio-economic challenges, including the town centre being significantly run down and the historic building fabric suffering from neglect and decay. The Scottish Indices of Multiple Deprivation (2012 and 2016) indicated that Fraserburgh was struggling to improve in terms of living standards, employment opportunities, health and wellbeing and other key indicators of prosperity. Town Centre Health Checks showed it had declined more than most in Aberdeenshire, with niche retailers struggling to survive and national high street brands mainly limited to bookmakers, pound shops, pawnbrokers, and payday lenders. There were a high number of vacant and under-used premises and the quality of the town centre environment was poor, with many buildings being run down and vacant units boarded up. The public realm was functional, but not at all pedestrian or cycle friendly. All of this led to Aberdeenshire Council prioritising regeneration activity in Fraserburgh.

The Fraserburgh 2021 heritage led regeneration scheme is a multi-agency, multi funder project with the core strategic aim of improving the economic success and vibrancy of Fraserburgh Town Centre. The project utilises the inherent placemaking qualities of Fraserburgh's built and cultural heritage to create building's, spaces and places that capitalised on civic pride, local identity, local connection and a sense of place. Ultimately stimulating the economy and creating more opportunities for those living and working there. It is a showcase of planning at all levels delivering strategic goals and planning policy to create a better environment for the community of Fraserburgh. The scheme has targeted numerous derelict/and or vacant properties in the Fraserburgh Conservation Area bringing them back into active use. This included included shopfront improvements, reinstatement of original architectural detail, public realm and an extensive training and engagement programme. The engagement and training programme was a means to raise awareness but also gain buy-in from the community and give them the skills and knowledge to continue to improve post project. Priorities were informed by widespread local consultation.

The project addressed aspects such as retail and the town centre, by improving the appearance, condition and or use of the premises in the town centre. Environmental improvements to the buildings and the wider public realm to create a welcoming environment for commercial and retail purposes. Improving enterprise by providing facilities such as an Enterprise Hub to support entrepreneurs in the town and shopfront schemes to better advertise existing and new businesses.

 Judges' Comments

The judges were extremelyy impressed with the way in which this project 'flipped' the idea of conservation and historic buildings being seen as a constraint on development and economic growth to becoming the key asset for the reinvention of the town. The team took their time and fully assessed the scale of the problem before they started thinking about a project, allowing for political buy in and a place-based approach. Imaginative and effective engagement, especially asking with young people what they wanted, was also very powerful. Judges liked how there had clearly been a culture changes as a result of the work undertaken with real evidence of strong collaboration across the council, between officers and councillors and with communities and local businesses. It was also good to see that the approach taken in Fraserburgh was being rolled out across other parts of Aberdeenshire.

Fraserburgh has not always been a "pretty" place and it had a poor reputation so the changes that have been delivered are welcomed and significant. Planning and investment in the historic fabric were seen as catalysts to focus on a few key sites whilst delivering training, establishing an enterprise hub. The judges saw how they were already making a remarkable difference to the town and its people and the belief in its future.

Partners including the Gannochy Trust, Perth & Kinross Council, G3, MHLA, Brownriggs, Hawthorne & Boyle and Campion Homes.

This project comprises two pieces of work carried out by Anderson Bell Christie for the Gannochy Trust – an initial masterplan (completed in 2017) and a new housing development (completed in August 2020). The initial masterplan identified that older people in the area were living in hard to adapt family homes (around 60% of households were over 55) and there were few young families. To address this imbalance, the new neighbourhood supports an intergenerational community, nurturing a sense of 'ageing well'. New homes use a fabric first approach to energy efficiency and an innovative pilot approach to 'passive stack' ventilation.

The scheme has made a positive impact on health and wellbeing. The masterplan and new housing have been informed by ongoing research and knowledge transfer partnerships with Scottish Academics including Mobility Mood and Place and "Memory Friendly Neighbourhoods" with the University of Edinburgh. These studies stressed the importance of getting outdoors for people as they age – with associated improvements in mobility and sociability. 

The approach encourages people to get outside by:

Incorporating a south facing 'Sitooterie' into every new home. These are a covered semi-outdoor space which have been very popular with residents during the Covid period. They have allowed residents to set up an 'outdoor living room' and have helped them to build positive relationships with their neighbours.
Linear green spaces have been built in to the site layout. These incorporate a range of types of sociable spaces - from sheltered seating areas where people can sit quietly and observe activity to spaces for shared activities such as community gardens. Detailed planting areas are currently being co-designed with residents.
The initial masterplan identifies improvements and connections to blue green routes throughout the wider Gannochy Estate. These are being developed to provide interconnected areas which improve biodiversity and habitat for local wildlife and better links to the immediate countryside beside the estate for pedestrians.

The project has addressed safety in the public realm; The wider masterplan identifies areas within the Gannochy Estate which are in need of improvement but the estate as a whole was already very safe and easy to get around. All new public areas are well-overlooked and carefully managed by the Gannochy Trust. The scheme has addressed issues of inequality. At present, across Scotland, people with a disability do not have the same access to attractive new homes as able – bodied people. At the Gannochy development, all new homes are wheelchair accessible, so access to new homes is equal.

Judges' comments

Judges were very impressed with the vision that drove this project - the idea of the Gannochy extension being a 'Pilot Lifetime Neighbourhood' and the commitment to provide homes and a place that embedded health and wellbeing.  The ideal of using the masterplan to create a demographic including the old and the young and singles and families to support an intergenerational community, nurturing a sense of 'ageing well' was commended.

The design of the neighbourhood and the houses were considered to be particularly innovative and effective in providing access to open space, fresh air and sunlight, whilst the commitment to the 'fabric first' approach to energy efficiency and to 'passive stack' ventilation showed the schemes ambitious environmental credentials.

Judges also very much welcomed the early engagement of planners in the process and the important role of the masterplan in supporting the development of a high quality scheme which is very fitting to the issues faced today and tomorrow.

Partners Fife Council, AECOM and Rettie & Co.

Glenrothes is a successful new town but is let down by its town centre, which has experienced gradual decline and has been described as a carbuncle. Fife Council recognised this and the need to deliver an aspirational and ambitious but realistic vision and a masterplan framework over the next ten years to support and coordinate future decisions on planning applications, regeneration initiatives and attract new investment opportunities. Fresh thinking combined with an understanding of commercial realities were required, supported by in-depth local knowledge and an understanding of the problems specifically facing Glenrothes as well as the opportunities ahead of it. This required a coordinated and committed approach to help stimulate the local economy, improve the quality of place and change negative perceptions of the town centre. The final masterplan was submitted to the Council in July 2020. A presentation to Councillors followed later in the year and the Council formally approved the masterplan subsequently in March 2021 at Committee.

Following the inception meeting, the project team reviewed all the relevant work carried out to date on the town centre as part of our contextual analysis and understanding. This was supplemented by site visits, demographic and market sector analysis and a planning application history review.  A series of targeted workshop sessions (mini charrettes) were organised covering themes relevant to the project. This included specific focuses on the evening economy, place and public realm and diversifying the uses within the centre. This involved engagement with town centre users, local businesses and other stakeholders, building upon but distinct from previous engagement exercises as a progression of the collaborative working and approaches that had been carried out to date.

Design and development were then tested, working towards developing a holistic, evidence based, plan for the whole town centre supplemented by focussed site analysis. Development concepts and design principles were prepared for the key opportunity sites within the centre, with indicative costings and options identified to support realistic change and potential for investment from various sources.  This informed an action programme that identifies project/opportunity leads over the short, medium and long term. The members of our project team combined invaluable local knowledge with high quality design expertise and renowned property market intelligence that would deliver genuine transformational and long-lasting positive change for Glenrothes town centre.

The masterplan proposes significant regeneration, replacing out-dated buildings with new workplaces to complement modern working patterns and lifestyles and will provide low energy buildings that will foster civic pride. It also looks to introduce more housing, improve public realm and greenspaces, reconfigure the town's retail infrastructure to reflect changing trends and consumer behaviours and create opportunities for start-ups and small businesses.

Judges' Comments

The judges there agreed that this was a complex and difficult project that provided many challenges for the consultants. In facing up to this, judges gave kudos to them for undertaking useful and informative analysis of the issues and opportunities in and around the town centre and for providing some creative ideas on how to take this forward. Land ownership issues and buy in from landowners and business in the area were seen as being vital to instigating the change required and to ensure that the masterplan provided the context for future investment.

Partners including Fife Council (Planning Services), Historic Environment Scotland, Fife Cultural Trust, Forth Pilgrim, University of St Andrews and Scottish Pilgrim Routes Forum

The Fife Pilgrim Way is a long-distance walking route that winds its way eastwards for 64 miles through the very best of Fife's villages, towns and rolling countryside before terminating in front of the spectacular ruins of St Andrews cathedral. Themed around Fife's rich medieval heritage, the fully way-marked, richly interpreted and actively managed walking route delivers unparalleled access to the countryside. It includes many miles of upgraded and new path and historic features along the way, whilst online interpretation, companion maps and the official path guidebook ensure an enjoyable, cultural and recreational experience for all.

Under-investment and the poor physical condition of Fife's public path network had long been a problem for which no funding could be found. The Fife Coast & Countryside Trust was established in 2001 as an arm's length/ sister organisation to Fife Council to address this issue and more generally, to deliver Fife Council's ranger and countryside management functions. But paying for this is a constant challenge that requires creativity and the ability to make opportunities happen. This was the origin of the Fife Pilgrim Way. Considerable investment was required to upgrade Fife's failing path network. Resurfacing, drainage, fencing, gates, way-marking, planting, screening, new paths and interpretation were all desperately needed, but there was no budget to pay for any of it!

The solution was the Fife Pilgrim Way. It was a heritage themed planning project that created much improved public access to the countryside whilst at the same time, delivering positive outcomes for health, education, sustainability, mental health, culture, heritage, tourism and the local economy. This breadth of outcomes allowed an uncommonly wide range of funding sources to be accessed, and ultimately, it was this creative and inclusive approach that delivered the £837,000 needed to deliver the project.

In consultation with landowners, the project allowed problem paths to be re-routed, failing paths to be dropped, new paths to be created, access to be managed and legal agreements to be signed. This has delivered a sustainable, fit for purpose path network that isn't simply intended to be supported on a begging bowl basis, but has been designed to be income-generating, shaped to support the local economy and promoted to drive tourism whilst delivering real, meaningful and tangible social, cultural, educational, health, wellbeing and recreational opportunities for the people of Fife.

Judges' Comments

The panel commended the tenacity of the team in making this project a reality, in often difficult circumstances, including challenges in achieving buy in across players and stakeholders, in attracting financing and funding and in the very practical issues of delivering things on the ground. The judges thought that the project showed great partnership working and hugely impressive engagement with communities and landowners. This included  the responsiveness to communities and giving them bespoke solutions, as well as events like archaeological  digs and using trainee placements. The judges were very taken by the way that this project had been built on dual drivers of heritage and economics,  and how  this was embedded into it  from the outset so as to ensure that it could  be self-sustaining in the future.

Partner Holmes Miller

Scottish architect Charles Wilson's 1850's Park area masterplan in Glasgow's West End envisioned a grand concentric tenement building form on the crest of the hill above Kelvingrove Park (an Historic Environment Scotland designated Garden and Designed Landscape). The masterplan was considered to be a highly ambitious form of town planning and the Park area is now one of the finest examples of townscape design in Scotland. Wilson's masterplan included the laying out of the full length of Park Quadrant and Park Circus, with Park Circus Lane running between them. These sandstone terraces were completed over a 20 year period. The limited palette of materials (e.g. natural sandstone, cast iron railings, timber sash and case windows) contributes to the unity of the architecture.

Although Wilson's masterplan intentions were clear, one part of the scheme was never implemented. The site for the final piece of the masterplan, which would continue and complete the Park Quadrant terrace, lay vacant and unused until 2016 when architect Holmes Miller (on behalf of developer Expresso Ltd – now Ambassador Group), were successful in gaining planning permission for residential development, almost 170 years later. Until then, the application site had been neglected, bound by iron railings and inaccessible to the public, unmaintained and left for invasive vegetation to self-seed.

To take this forward the site was compulsory purchased by Glasgow City Council in 1981 to facilitate residential development. A series of proposals were developed over the years for the site by various parties, however, none were ever implemented. In taking forward this development bids were invited by the Council and assessed with more emphasis on planning and design objectives than financial offer. The overall scoring of submissions was weighted at 60% planning and design with the remaining 40% based on net price. The factors included within the scoring matrix were influenced by the original masterplan, principles within Local Development Plan policy and guidance and architectural features and characteristics identified the Council's Conservation Area Appraisal for the Park. This gave bidders a clear steer on the direction which the Council wished for the development to go, which was key to realising the potential of this constrained and significant site.  By combining this assessment with the sales process, this helped pre-empt any planning issues prior to the application being submitted and ensured that the best possible outcome could be achieved at the time, in the interests of the city.

Judges' Comments

The judging panel very much agreed that The Park Quadrant project delivers high quality residential development within a uniquely sensitive historic setting. They commended the approach taken in the tendering process to ensure high quality development and the role of planners in enabling this to happen. Judges felt that this was very good example of planners providing strong leadership in keeping with ambitions of the project in often difficult and often pressurised circumstances. The team worked closely and transparently with developers throughout the process which helped to ensure a can-do approach to delivering a high quality development.  The approach taken by the Council and tools used held this project up an excellent model of proactive, constructive and creative development management.

Partners including Morgan Sindall Construction, OPEN, Urban Foresight, University of Dundee, Abertay University, University of St Andrews, Konglomerate Games, InGAME, Create Converge, Lee Simmons, Holmes Miller. In addition to infrastructure providers, construction companies, public agencies, members of the public and private development companies. 

The bold ambitions for Dundee Waterfront were set out in a Masterplan published in 2001 are now being realised, as one of the most active regeneration projects in the UK has driven the city to international acclaim. Waterfront Place is an integral and complimentary component of the wider waterfront development, which boasts high-quality design and delivers a distinctive landscape inspired by coastal forms.

The brief for Waterfront Place took an integrated approach to the design of the 7,044 sqm space to include the following facilities: hardstanding for event use; a landscaped zone; an interactive play area centred on a life-sized whale sculpture; an urban beach and an Active Travel Hub. It is a major civic space that excites, encourages a range of active uses and engages all who choose to explore the wider waterfront. The project delivers a key point of outdoor activity and interaction on the edge of the River Tay and incorporates a range of features, surfaces and opportunities for play and socialising. The space is designed to be distinctive in its own right, but also integrate with the formal layout of Slessor Gardens and the public realm associated with the V&A Dundee.

Waterfront Place is a project that offers the opportunity to create a powerful space that is both dynamic and playful, that consciously addresses the River Tay and Dundee's relationship to its maritime environment. The project is a physical example of high-quality design and placemaking, with a coherent concept of 'a walk to the beach' inspiring the proposal for the development. Planting types and landscape are combined to create this experience, moving through pine planted areas, through grassed mounds, over the urban beach and ultimately to the river edge. The urban beach helps to animate the waterfront offering an environment that was not available elsewhere in Dundee and creates opportunities to reinforce the city's connection with the River Tay by providing a setting in which to play, relax and enjoy views across the river.

The works at Waterfront Place started on site in February 2020 and despite delays as a result of the pandemic, the site was officially opened in July 2021. The planning team and other council services worked collaboratively with the contractor to deliver the project. There remains a shared optimism that it will spur the ongoing renaissance of the city's waterfront area, meaningfully promote active lifestyles and low carbon transport, while enhancing the experience for local people and visitors alike.

Judges' Comments

The judges agreed that the 2001 Dundee Waterfront Masterplan  was a key catalyst for regeneration of the area and that it was good to see how Waterfront Place had been transformed into an animated place for people that encourages a range of active and interactive uses through attracting a range of people to engage with the area. It was commendable that the project provided a focus for a number of health and wellbeing focused initiatives in the city such as walking, cycling and for promoting active  lifestyles. Judges welcomed the investment in  high quality materials and features in the area and the approach taken to to future proofing its engineering and future uses. They also praised the s the commitment to  public art to help 'landmark' the area and to allow for interactive experiences within it.

Kevin Murray Associates is a specialist consultancy in strategic visioning, action planning and research; facilitating progressive stakeholder and community engagement inputs into the planning process, both in-person and through on-line events. KMA delivers an innovative services for clients from a compact team – planning and regeneration, research, leading-edge engagement, strategy and policy development – across a wide range of locations. Their inclusive place momentum approach transcends different cultures, disciplines and administrative systems. Professionally active in circles like the RTPI, Academy of Urbanism, and teaching at various universities, the outward-looking KMA team also volunteer with community development trusts and youth organisations.

Rhiannon's passion for planning shines through everything she does. Her ambition and commitment to promoting planning as a profession across the development sector is inspirational. Be it her previous role as Chair of the Scottish Young Planners' Network, her volunteer efforts with Planning Aid Scotland and the RTPI, or her day to day job in planning consultancy, Rhiannon is an excellent role model for future young planners and the skills and knowledge she brings to her work are invaluable to her team and external networks.

Kathryn is an inspiring young planner with a broad knowledge of the planning system. She works tirelessly to promote the planning profession through her volunteering and acts as a role model for her peers. She exudes confidence and has a reassuring presence that makes other colleagues feel supported and valued. Her adaptability and proactive responses to challenges has enhanced her professional skills and knowledge – particularly in relation to communication, organisation and networking. She is a strong advocate for good placemaking and good quality design and the role that Development Management can play in delivering great places.