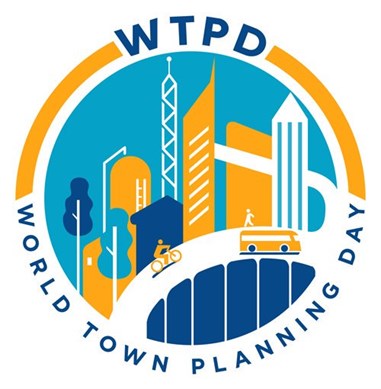 On World Town Planning Day, on 8 November every year, planners and communities all over the world come together to celebrate how good planning improves the lives of people and benefits society at large, creating places where to live, work and play together.
Argentinian professor Carlos María della Paolera started World Town Planning Day in Buenos Aires in 1949.
On 8 November planners from over 30 countries will celebrate World Town Planning Day with lectures, school competitions, fundraising, charity events, planning awards and street festivals.
RTPI's World Town Planning Day
The RTPI Regions and Nations organise events about global and local challenges for planning and communities including our special event at COP26, 'The Race to Net Zero'. Everyone is invited!
Get in touch with your local RTPI Region or Nation to see what is going on, or organise an event in your local neighbourhood, at your office, university, school etc. Invite planners, residents and students to take part.
What we've been doing
It's been a busy year and we've published some landmark reports which show the key role that planning can play in tackling major issues. For example we published a ground breaking report on urbanisation, displacement and urban planning. The report reviews the literature on the relationship between urbanisation and forced displacement, highlights gaps in how urbanisation is understood in displacement settings and how planning knowledge is formulated across humanitarian and development practice. Report author Michele Vianello, discusses the report in this blog.
Another major issue we've been focusing on is of course COVID-19 and in particular how planning can contribute to a sustainable and inclusive recovery. Our latest research paper reviews the impacts of the COVID-19 pandemic across the themes of housing, urban production and consumption and travel in global cities and reflects on their implications for fostering a just, inclusive and sustainable recovery.
And of course in terms of the pandemic, the impact on children has been significant. That's why we produced a practice note giving advice on how town planners can work within the current UK and Ireland planning systems and with other professionals to plan child-friendly places. Town planning has a vital role to play in helping children bounce back from the pandemic and World Town Planning Day is a great opportunity to highlight this.
But it's not just our reports we want to promote! Planning makes a significant positive contribution across the UK and World Town Planning Day is a great opportunity to highlight the importance of having a properly funded planning system. So let's make 8 November a day to remember and celebrate.
If you are a member, we can help you to promote your activities - email [email protected] and tell us what you are planning to celebrate.