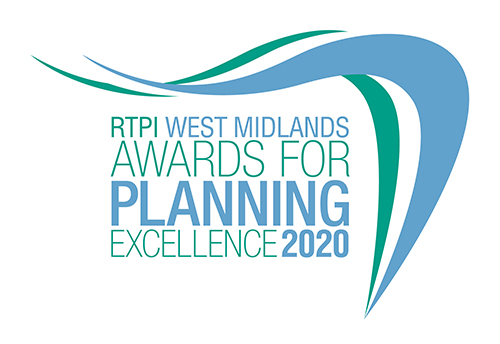 The RTPI West Midlands Regional Awards for Planning Excellence celebrate outstanding projects that demonstrate the power of planning in our region. Entries reflect the diversity of planning achievement, whether in urban or rural areas, large or small in scale, involving new development, regeneration or conservation.
Winning these prestigious awards is a clear demonstration of quality, and an excellent way to raise the profile of a project, team or individual.
The RTPI West Midlands Awards for Planning Excellence 2020 are now open.
Free to enter
Awards open: Monday 4 May 2020
Entry deadline: 26 June 2020
Two categories open to entries (click on the links to download the entry forms):
Results of the 2020 Awards announced in mid-October
Find out 'Why you should enter' and read our 'How to Win' guide below
This year the COVID-19 pandemic is having an unprecedented impact on all of us. We are very aware that this is affecting colleagues in differing ways and many are facing an uncertain future with competing demands on their time. If you are unable to meet the deadline above but would like to apply - please get in touch to express your interest by 30 May.
Read all about last year's winners here.
Planning during COVID-19 will see exceptional innovation and adaption to planning practices. If you are unable to m… https://t.co/SEA4cFkEMW
RT @YPWestMidlands: Please welcome committee member, Frances Keenan - @fmhkeenan! Frances graduated in 2015 from @KeeleUniversity. Frances…
RT @RTPIPlanners: Entries are now open for RTPI Regional Awards for Planning Excellence 2020, celebrating the power of planning at a local…
Other content you might be interested in