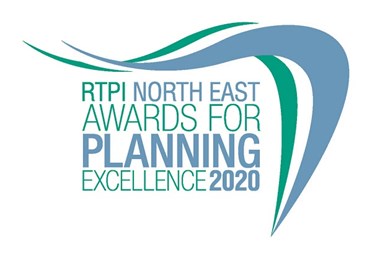 The RTPI North East Awards for Planning Excellence celebrate outstanding projects that demonstrate the power of planning in our region. Entries reflect the diversity of planning achievement, whether in urban or rural areas, large or small in scale, involving new development, regeneration or conservation. These prestigious awards highlight not only how planning and planners work to transform our environment and communities, where we live and work but also an excellent way to raise the profile of a project and your company.
This year the COVID-19 pandemic is having an unprecedented impact on all of us. We are very aware that this is affecting colleagues in differing ways and many are facing an uncertain future with competing demands on their time. If you are interested in entering please get in touch to express your interest by 30 May.
Our annual Awards Dinner would normally take place in the autumn however we made the difficult decision, in order to provide absolute clarity to our members, to cancel all RTPI in-person events until the end of 2020, in light of announcements by UK Governments regarding Covid-19. Therefore, this year we are excited to celebrate our winners via a virtual platform instead.
This year's Chair's Award: Best response to climate emergency
Entries are open to both members and non-members and can be for a plan, strategy, initiative or project.